ArtHaus directors step down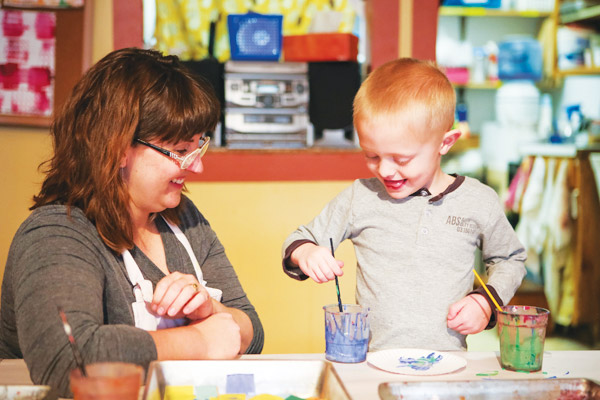 Hang on for a minute...we're trying to find some more stories you might like.
ArtHaus Directors Jenni and Eric Petersen-Brant will be stepping down on Dec. 15. The Petersen-Brants will be taking over as directors of the Chatfield Center for the Arts They will continue to reside in Decorah to assist the new director of ArtHaus.
ArtHaus has been run by the Peterson-Brants since 2014. Eric Petersen-Brant said that ArtHaus is a staple of the community.
"As directors we work for ArtHaus," Eric Petersen-Brant said. "We can give direction, but it is mainly the board that is in charge of running [the organization]. From there, we strive to make ArtHaus something that is of, for and by the community. We work with people from age two all the way to the elderly. We try to bring the community together with this common idea." 
Jenni Petersen-Brant hopes that ArtHaus events continues to bring the Decorah community closer together.
"A summation of our ideals of direction is that ArtHaus is a space in downtown Decorah that acts to bring people together through creative expression," Jenni Petersen-Brant said. "We are bringing people together from all walks of life and through the art forms that we use and all in a way that is very hands-on. Although we have concerts and poetry slams, there usually are elements of those that we ask people to get involved in."
According to Eric Petersen-Brant ArtHaus also is a strong connection to Luther. The Peterson-Brants hoped they connected the community of Decorah to the community of Luther through ArtHaus events.
"We serve as a very strong channel to Luther too," Eric Peterson-Brant said. "Sometimes the connection there is surprising, especially when we are meeting seniors that say they have never really spent any time in the downtown area. ArtHaus serves as a place where they can come to Luther events downtown and explore."
Eric Petersen-Brant said that ArtHaus will fundamentally stay the same under the new leadership.
"I think that both of us are really confident in the systems that were set up while we were here," Eric Petersen-Brant said. "The work study and the interns have increased, we have increased the amount of programming during Nordic Fest and we continue to play a major role in other festivals too. I think that those systems will not change."
Eric stated that he and Jenni Petersen-Brant were reluctant to take the position in Chatfield, but decided that it was the wisest decisions for their careers.
"We were [hesistant] to take the position in Chatfield, but the facility is amazing," Eric said. "It is a bit different than ArtHaus. This is a really cool opportunity and we didn't want to move because we like our house here, but then they told us that we could stay in town and run the facility remotely. We couldn't pass up an opportunity like that."
Arts Administration Intern and Website Administrator Martha Hall ('18) has a positive outlook on this transitional period.
"All of the same activities will go on as far as I know, " Hall said. "There will be a period of transition when they actually bring in new people, but I think it will go very well. I think that the new leader will want to keep doing poetry slams because they are a great opportunity for students to get up and share their work. And they are really fun."
Studio and Teaching Assistant Max Green ('17) will miss the Petersen-Brants' passion for the arts and addition to the community.
"I worked for them in the past and as bosses they were super easy to work with," Green said. "They were always putting the kids first and making the events the best they could for the kids. As far as them leaving, we are going to miss them. Personally, I am going to miss them a lot. They will still be a part of the community, but we will miss them being a part of running ArtHaus. We will miss their passion for everything they did."
Jenni Petersen-Brant has a very positive outlook on what is to come.
"We are excited," Jenni Petersen-Brant said. "We are referring to this as ArtHaus 3.0, and we look forward to see what this will bring. It is interesting to see how some people react to our stepping down. I think this transition will be good for us to build the identity of a non-profit. A lot of people didn't understand what [ArtHaus] was even when we took over and my hope is that the community [is] more understanding of what [ArtHaus] is."
Shannon Dallenbach Burbin has been hired as the new ArtHaus Director and will begin working on Dec. 16, 2016.