Basketball teams start up season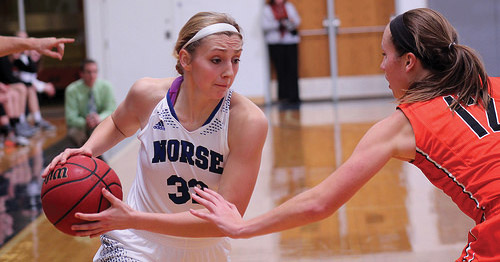 Hang on for a minute...we're trying to find some more stories you might like.
The women's basketball season started on Nov. 15 with a game against the University of Wisconsin-La Crosse in La Crosse, WI that ended with a loss of 63-73. The men's team also started their season on Nov. 15 at the University of Wisconsin-Platteville, talling a loss of 39-69.
Both teams continued their seasons with tournaments on Nov. 18-19. The men competed at Wheaton College and started the tournament with a loss to Bethel College with a score of 78-88. They went on to play Wheaton College and again suffered a loss of 51-64. The women played at UW-Steven's Point and lost to the host with a score of 51-66 in their first game. Their second game against Illinois Wesleyan ended in a 69-90 loss.
The women played UW-Platteville on Nov. 22 and won 99-90 bringing their season record to 1-3. The men's team traveled to Winona, MN on Nov. 26 to compete against St. Mary's University. They suffered a loss of 62-74. This  brought the men's season total to 0-4.
Men's Basketball Head Coach Mark Franzen said that he believes having played away for the first few games has positively affected the team's future for the season.
"It's a tough schedule, [but] we will benefit from playing on the road against high-level competition," Franzen said. "We played our best game to date versus Bethel on Saturday. [Bethel is] picked to finish second in the MIAC. We improved offensively on Saturday putting up 78 points."
Men's basketball team co-captain, Kevin Stafford ('17), commented on the large amount of new members on the team this year and how they will adjust and improve throughout the season.
"I feel good [about it]," Stafford said. "We're all learning — we're really young this year. We have a few returners who played last year, a lot of new freshmen and a lot of players who played on JV last year … I feel good throughout the first three games. The outcome on the scoreboard and record-wise hasn't been where we want it to be, but competing-wise I think it is. Everyone's been working re0..ally hard. You see the progression through each game we play."
The women's team also lost quite a few senior players last year, but they have 12 first-year players who are adjusting well to collegiate basketball, according to women's basketball team captain Anna Madrigal ('17).
"For a lot of girls out on the court, this is their first time playing college ball in a Luther jersey," Madrigal said. "But this team is so athletic and so scrappy, unlike any team I've ever been a part of, the inexperience is definitely something we can overcome."
Women's basketball forward, Solveig Nelson ('17), explained that the team has kept a focused mind-set in preparation for the season and has tried to apply their theme of GRIT: Guts, Resilience, Intensity and Toughness, to their practices.
"We have been focusing on our defense a lot, which is central to the way we play," Nelson said. "We have overall just been working extremely hard since day one of preseason. Our main goal is to stay gritty and put in everything we have for every practice and game. If we do that, we will be successful."
Madrigal commented that she thinks that the women's team will focus on getting better with each game and huge improvements will follow.
"For this team, we really only care about taking steps forward—the season is a process," Madrigal said. "Each game, each practice, we have to gain something, we have to get better. The challenges that we're facing and overcoming at the start of our season are what's going to put us in a great position come February. I have a feeling this team is going to peak at the perfect time."
The women's and men's teams will both compete next at home on Dec. 3 against Coe College.