Isaac Jensen ('17): 10th fastest man in national D3 pool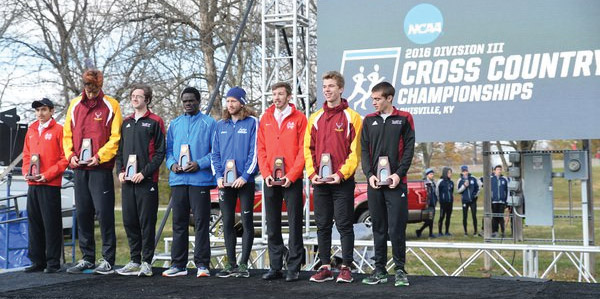 Hang on for a minute...we're trying to find some more stories you might like.
Isaac Jensen ('17) competed at the NCAA DIII Cross Country Championships in Louisville, KY on Nov. 19 and finished 10th out of 278 runners in the 8k course with a time of 24:37.9, earning himself All-American Honors.
This marked Jensen's second individual and third overall appearance at the national meet. He improved his performance from last year's National Championship where he placed 47th with a time of 25:08. All-American Honors are awarded to the top 35 runners at the National Championship and this is Jensen's first time receiving these honors. Jensen is the sixth runner in Luther cross country history to place in the top 10 at nationals, and it is the highest place finish by a Luther runner since 2008.
Men's Head Coach Steve Pasche explained how important it was for Jensen to qualify for the national championship for the third time.
"This will be his third time running at the National meet," Pasche said. "That's pretty cool. There aren't too many people out there who get to run at the National meet three times. I'm sure he would have loved to have six of his teammates with him on the line, but he is an awesome representation for us."
Jensen focused on learning from his previous experiences to help him in his final race on the National stage.
"I think that last year went well, all things considered," Jensen said. "I got a personal best by a pretty large margin, but I feel like I really underestimated what I was capable of. This season I have been more deliberate. I have been giving myself the benefit of the doubt and letting myself go out and do my best."
The whole team was excited about Jensen's success, and were eager to support him, according to team co-captain Patrick Larson ('17).
"We definitely [had] people traveling to the national meet to support Isaac," Larson said. "It's really special whenever Luther is able to send runners to the national championships and we [did] whatever we [could] to support Isaac."
Jensen's success not only benefitted himself, but also the whole Luther team. Women's cross-country team co-captain Erin Ellefsen ('17) highlighted the importance of Jensen's success for the whole Luther Cross Country program.
"Showing success in our program helps recruiting in general and generates interest when people have successful running careers here," Ellefsen said. "Also, just seeing any Luther blue on the field at Nationals suggests success in our program which is exciting, but it also keeps people hungry to send a whole team there in the coming seasons. That gives the team a goal which is really valuable going forward."
The team recognized the amount of work that Jensen put into his running career. Fellow teammate Brooke Debroux ('17) highlighted how proud the team was of Jensen's success.
"I am extremely proud of Isaac," Debroux said. "He has put a lot of work in not only this season but the last four years. He was a great representation of Luther Cross Country."
Jensen explained that as a senior, he is happy to end his collegiate running career on such a positive note.
"I'm pretty pleased with the way that it ended up playing out," Jensen said. "I feel that I was able to execute my race strategy and was able to put together as good a race as I could have hoped to. I'm very glad to end my cross country career here on such a good note. It was a ton of fun and a really good opportunity to get out and put together a great race."