Baseball players mentor local kids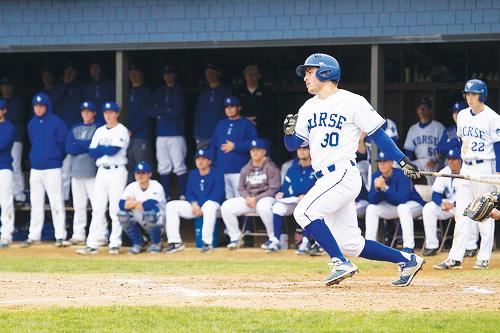 Nora Felt, Staff Writer
February 17, 2017
Hang on for a minute...we're trying to find some more stories you might like.
Luther Men's Baseball teamed up with Helping Services for Youth and Families at the Regents Center to mentor local youth by teaching wiffle ball and starting a pen pal program on Feb. 11. The baseball team approached Helping Services after learning about their partnership with the Women's Basketball team. The event emphasized the importance of community, mentorship, sportsmanship, teamwork, and healthy living.
Head Baseball Coach Brian Nikkel explained the value of the experience for his players.
"I think it's a good way for our players to give back and to get involved in the community and try to help kids," Nikkel said. 
To start the day, the kids drew nametags from a hat. They were paired with a baseball player to conduct "get-to-know-you" interviews throughout the North Gym. Questions like "What's your favorite food?" and "What do you like to do for fun?" echoed in the gym.
After the interviews, the kids went on tours of the Regents Center with Cody Reimer ('17) and Teddy Klingsporn ('17) to familiarize the kids with the facilities and welcome them into the Luther community. Following the tour Klingsporn and Reimer led a discussion on sportsmanship. They urged kids to be good teammates in the classroom and on the field.
"We say 'hi' in our community," Klingsporn  said. "High fives are always good."
Reimer expressed his excitement for this unique opportunity to be able to interact with the Decorah Community.
"I hope these kids learn what it is like to grow up in this community," Reimer said. "I think it will be fun to get to know some local youth. It's something I have not been able to do in my past four years."
The players and kids teamed up to play wiffle ball, a game which many of the kids had never heard of. The players gave basic instructions and ample encouragement.
Max Uetz ('18) gave a talk on a healthy lifestyle during the day. He explained the importance that the whole program has to the team.
"I think that it will really help us grow as a team to see the overall impact that we can have on the community," Uetz said. "The community does so much for us; they buy our gear, they support our team, they come to games. We can see how we can return that positively back to the community." 
Nikkel sees this event as a way to continue building a positive team atmosphere and to teach Luther players about how fortunate they are.
"I think the realization of how fortunate our kids are and how much it means to someone just to interact with them is important," Nikkel said. "We like to challenge our kids all the time, if you see someone on campus say 'Hey, how's it going?' You never know, that person may have been having a bad day. I think the realization of what a small act can do to brighten someone's day, or week, or life is important."
The baseball players plan to write to the kids as a way to continue the conversations that began on Saturday, to continue to be good role models, and to give back to the Decorah community. They aim to exchange letters with the kids once per week and hope to invite them to attend games in the spring.
The baseball team has been practicing hard and has just started doing live pitching. They will travel on March 1 to the US Bank Viking Stadium in Minneapolis, MN to play a double header against Carleton College.