Four athletes break Luther records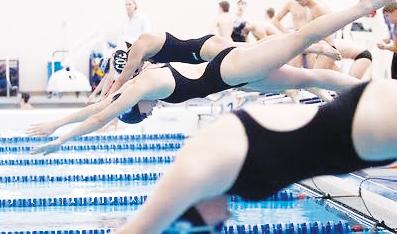 Madeline Ajack, Staff Writer
February 28, 2017
Hang on for a minute...we're trying to find some more stories you might like.
Four Luther athletes have recently broken school records in both Track and Field and Swimming and Diving. Members on the Luther Track and Field Team Collin Kern ('20) and Andrew Millan ('20) have both recently broken the school's 1000m record. Swimmers Samantha Kraft ('18) and Matthew Staver ('20) broke school records in the 1650m freestyle and the 400m individual medley respectively.
Kern and Millan both gained important experience from such remarkable success so early on in their athletic careers.
Millan, the first record-holder, explained the importance of this success.
"It improves confidence knowing that we have been able to make a comfortable transition from high school to this program," Millan said.
Kern and Millan both broke the 1000m run record, however, Millan holds the new record, having beat Kern by .04 seconds in the race. Kern described the value in his record-breaking performance.
"I guess to know that I've broken a record means that I am capable of performing well at Luther and it is just another reminder to trust in the guidance of my coaches and the training on my team," Kern said.
Kraft is looking forward to next season with added confidence.
"Although our season is over, it gives us excitement going into next year knowing we can crush those records again," Kraft said.
According to Head Swimming and Diving Coach Nicole Kaupp, Kraft's performance and endurance exemplified how all of her hard work has paid off in training since her first year.
"For someone like Sam Kraft, she has been chasing the school record in the 1650 free for three years," Kaupp said. "Yes, she broke the school record. But more importantly, she set a personal best time in the 1650m by over 13 seconds. The school record was just a byproduct of her outstanding swim."
Breaking a school record is an impressive feat, especially for Staver, Millan, and Kern as first-year students.
Team support is a huge factor to the members of these sports teams, especially on the track team. Millan explained the importance of all the teammates during a race.
"Having Collin right there to race with is a large part of us as a team," Millan said.
Luther swimmers and divers also value teamwork in their success. Staver explained how his teammates helped contribute to his success.
"Holding a record is definitely a confidence booster, but it goes both ways, I wouldn't have broken any records without my team cheering me on," Staver said.
This success helps both the Swimming and Diving and the Track and Field Teams with their ability to perform with more confidence and to encourage their members and their team to push their limits.
In the end, the performances came down to the team environment. Staver expressed his gratitude for his team members.
"I'm so glad that I have been able to contribute to Luther's swimming legacy," Staver said. "Our team has such a great environment. We all push each other to be the best we can be. I would not have been able to put in the necessary work this season if I did not love this team as much as I do."