Norse of the Week: Trent Schneider ('18)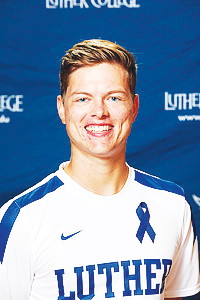 Katrina Meyer, Sports Editor
April 5, 2017
Hang on for a minute...we're trying to find some more stories you might like.
The Luther Men's Tennis team won a decisive early 9-0 victory against Wisconsin Lutheran. Trent Schneider ('18) guarunteed the win with a powerful performance. He and his doubles partner Anders Jensen ('18) won 8-2. Schneider also posted a 6-0, 6-0 win to place first in singles. This brings the men's tennis record to 3-0 for the spring season.
Chips: How did it feel to start off the spring season so well?
Schneider: It was good. We had a meet against Saint Johns the week before. That was a good meet that we pulled out 5-4. This past weekend it was good to get some matches in and we got everyone playing. It was good to get match playing early on, and it was good to start our season 2-0.
How do you guys handle the transition from fall season to spring season?
It hasn't been too much of a transition. We worked really hard in the off-season. We hit quite a bit and stayed outside as long as we could. We continued to work really hard with our workouts throughout, so the transition hasn't really been bad at all. We feel like we have been ready all off-season.
When did you start playing tennis and why?
I started when I was five. My mom put me in tennis and I ended up liking it and have played it ever since. I started playing tournaments when I was around 12, so that's when I got a little more competitive.
If you could take tennis lessons from anybody in the world, who would it be and why?
Definitely Rafael Nadal. I always loved him growing up, and I use the same racket as him. I always enjoyed watching him growing up. It was really fun to see him and Federer this past January in the Australian Open finals.
What is your favorite part about playing tennis here at Luther?
I would say the team aspect. We have a great group of guys. We are very close, and that makes me enjoy everything even more. I just love playing and I like being around great teammates. It's good to have a team atmosphere because tennis can be an individual sport sometimes. You're out there by yourself in singles and you only have one partner in doubles, so it's fun to have a team atmosphere in a sport that can seem so individualized.
What is your favorite memory playing tennis here at Luther?
I would say last year, my sophomore season, we were playing Coe at home. We had a big crowd and that was fun. My partner, Kyle, and I got a big win. Even though that was the only match we ended up winning, I thought that everyone played pretty well. That was something special for me. We all played really well together, and we beat a really solid Coe doubles team.
If you could have a superpower, which one would you want to help you play tennis?
Being able to read my opponent's mind would be the most helpful, so I can know what they are thinking strategy-wise. Hopefully they are also thinking about where they are going to hit the ball right before they do, so I could get there early. Reading minds would be great.