Norse of the Week: Bailey Hocker ('18)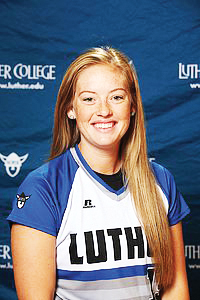 Katrina Meyer, Sports Editor
April 5, 2017
Hang on for a minute...we're trying to find some more stories you might like.
Bailey Hocker ('18) helped lead Luther Softball to a decisive 13-2 victory over Dominican University. The game only lasted five innings when the mercy rule came into effect after Luther scored seven runs in the second inning. This game brought Luther's record to 6-0 after Hocker went 2-2 with a walk, driving in a game high three RBIs and one run.
Chips: How does it feel to start the season off so well?
Hocker: It's incredible. This is my first year at Luther. I just transferred here in August, so to be a part of the program and having such a good start is amazing. It just makes me a lot more excited for the rest of the season.
How have you guys been training to get ready for the season?
We train hard every day. It's either two workouts per day, lifting, or working specifically on defense or offense. We are pushing ourselves to become better and better every day.
Do you have a go-to pregame song?
Not a specific song, but we have one girl on our team who is in charge of the aux. She has a play list that she put together that she spent a lot of time on.
When did you start playing softball? Why?
I started when I was six or seven. My mom had played in college also, so that was the sport she put me into. I ended up loving it so much that I stuck with it through college, too!
What has been your favorite moment playing softball here so far?
My favorite moment was probably our first day of official practice this semester. You could just see the excitement in my coach's eyes as well as my teammates. We were all hyped up and everyone was so excited to kick off the season.
Do you have a favorite softball player that you look up to?
I look up to my mom a lot. I don't really have any specific players other than that. I do try to watch a lot of Big 10 softball. That gives me a lot of inspiration and motivation. I have a couple of friends that play for Big 10 teams like Minnesota, so I like to keep up with how they are doing.
If you could play any other sport, what would it be and why?
Probably soccer. I played soccer when I was younger and it was a lot of fun. It's another team sport and I really love that feeling of being with a team.
If you could have a superpower while playing softball, what would it be and why?
Super speed. It would help me get around the bases and it would be very useful in the outfield.