Get to know Luther Track and Field's newest coach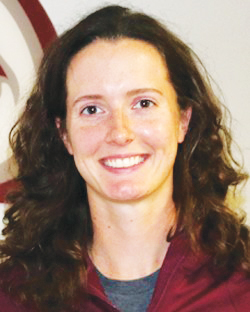 Katrina Meyer, Sports Editor
April 5, 2017
Hang on for a minute...we're trying to find some more stories you might like.
Assistant Track and Field Coach Rebecca Wesley is an addition to the staff this year. She graduated from Bethel University in 2015 where she was a multiple-year letter-winner in cross country and track. She got a Master's in Education in Applied Kinesiology from the University of Minnesota and then served as an assistant cross country coach at Augsburg College for a year before joining the track team at Luther.
Chips: When did you decide that you wanted to be a coach?
Wesley: I knew that I wanted to do collegiate coaching at some point because I had such a good experience with my collegiate head coach. He really motivated me to believe in myself and helped me to know that I could do it because being a woman in the coaching field is kind of rare. My coach in college helped me because he allowed me to be his student worker, so I got to know a lot of the ins and outs of track that way.
What is your favorite thing about coaching?
I just love watching kids get better, reach their goals, and become better people through the sport. I think sports are more about the educational process than athletics. It teaches you a lot about overcoming obstacles and adversity in certain ways.
What made you decide to come to Luther?
The first thing that comes to my head sounds so trivial: my favorite color is blue. I love that all the tracks are blue here. But above that, meeting [Head Track and Field Coach Jeff] Wettach ('79) played a big role. Before Luther, I was helping coach cross country at Augsburg College in Minneapolis, and I came down for a student-athlete visit. It was a really last minute decision. Coach Wettach set up a student-athlete meeting, lunches with some of the coaches, a drive around town to get to know the area. It was a very warm and welcoming experience. Also, I came from a region that competed with Luther in cross country, so Luther in my head has always had a very good supportive background with great sportsmanship. That is something I really like and appreciate.
Has anything surprised you about Luther?
I wouldn't necessarily say surprised, but one thing that I have noticed is that the student-athletes here are really hardworking. They are dedicated to the sport and they communicate a good amount if something is bothering them in terms of injuries. They are hardworking and knowledgeable about how to help themselves be successful.
What was your favorite event when you were competing?
In high school, it was definitely the 400m dash. In college, it went up to the 800m run. I'm one of those people that like to challenge themselves. I like to feel like I really gave it my all at the end of the race. My coach in college recognized that I had good endurance, so I moved up to the mile as well.
What are you most looking forward to for the rest of your first season?
I'm just really looking forward to the outdoor season in general. I think that we built a lot of speed and strength during the indoor season. That is going to translate well going forward. I'm also looking forward to being on the outdoor track. Our field event people will get to actually throw things and jump outside. The track here is so nice and I am looking forward to the athletes being able to train and compete on it.
Do you have a favorite athlete or role model who you look up to?
They aren't popular athletes, but I would say the coaches that have coached me along the way. They have all been a good group of positive people that have been really influential for me.
If you could create a new event, what would it be?
Maybe a steeplechase that incorporates long jump and pole vault. On the straightaway there is a pole vault. You vault over and land on the mat, roll off and run on to the water barrier on the curve. On the other straightaway there is a long jump pit where you land in the sand and keep running. On the other curve there is just a normal steeplechase barrier. Honestly, that's a lot, so maybe just one lap. I think it would be called the Crazy Man's Race or something like that, and basically only one person at a time could run this race for it to be safe.