Wrestlers advance to NCAA D III Nationals
Shannon Baker, Staff Writer
April 5, 2017
Hang on for a minute...we're trying to find some more stories you might like.
  Luther wrestlers Justin Kreiter ('17), Tristan Zurfluh ('17) and Javier Reyes ('17) competed in the NCAA Division III wrestling championships March 10-11 at the La Crosse Center in La Crosse, WI. Of the three Luther competitors, Kreiter placed second overall, becoming the national runner-up, two-time All-American, and two-time Scholar All-American. As a team, Luther finished 22nd nationally.
Kreiter entered the national tournament with an overall season record of 24-2, Zurfluh with a record of 21-10, and Reyes with a record of 27-16. The 2017 tournament was the second national tournament appearance for all three athletes during their time at Luther. Both Kreiter and Zurfluh were 2016 All-Americans, finishing in the top eight of last year's tournament.
To qualify for the national tournament Kreiter, Zurfluh, and Reyes had to wrestle well and advance in the NCAA regional meet on Feb. 25. Fifteen schools competed at the regional meet, including all of the schools in the IIAC conference. According to Wrestling Coach Dave Mitchell, this regional tournament is one of the most difficult in the NCAA since it includes several nationally-ranked teams such as Wartburg College, the number-one ranked school in the country. Despite the high level of competition, Mitchell was impressed with his team's success at the regional meet.
"We made great strides," Mitchell said. "We came into the year thinking our team would be a bit different than it [ended up being]. We had definitely wrestled the best we had all year at the NCAA regional."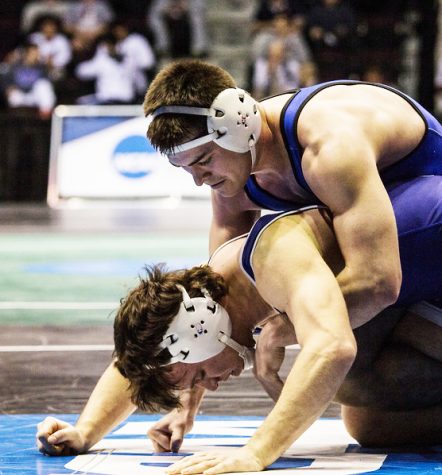 Kreiter, who was seeded fifth, beat the undefeated No. 4 seed in the quarterfinals, won against the No. 1 seed from Augsburg in the semifinals, and then lost to the No. 2 seed from UW-Whitewater in the finals, earning second place. Zurfluh and Reyes did not place at nationals.
Zurfluh and Kreiter had high expectations prior to the national meet. Even though many teams sustained injuries  early on in the season which prevented initial competition, both athletes were optimistic about their performances leading up to nationals.
"It started out kind of slow," Kreiter said. "I was battling some injuries early and basically had to sit out the first couple of tournaments we had like the Luther Open and the Augsburg Open. I only had two losses in the year, and those were low spots, but after that it picked back up and I was wrestling the best I ever had all year."
Zurfluh's health also hindered him at the start of the season, but he believes his previous knee injuries are not a factor in performing well at a national level.
"My record is probably not the best because I lost during the injuries," Zurfluh said. "But all that matters is peaking at the right time and making sure you're focusing enough when it counts, which is right now."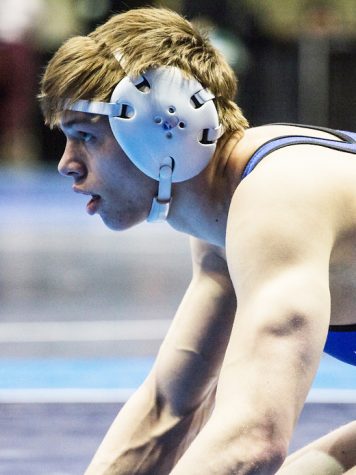 According to Mitchell, sending three athletes to the national competition is an accomplishment not just for those three, but also for the entire Luther Wrestling team. Mitchell said that having a team atmosphere that focuses on working to make each athlete better was an important component in helping Kreiter, Zurfluh, and Reyes qualify.
"I am just really proud of this [team] overall," Mitchell said. "We've challenged them, we've pressed, we wanted to be better than what we were, and so we pressed on a daily basis to do that."
In addition, the success of the three athletes at nationals is something that Mitchell said will positively impact his future teams.
"It sparks this excitement and this goal that others want to accomplish and sets a standard that is really important for us," Mitchell said. "Their accomplishments will really help fuel the fire for next year's team."
With all three of the national qualifiers graduating this spring as well as six other seniors, Mitchell's goal for next season is to increase recruiting and continue to develop the remaining athletes on the team.