Isaac Jensen awarded NCAA Postgraduate Scholarship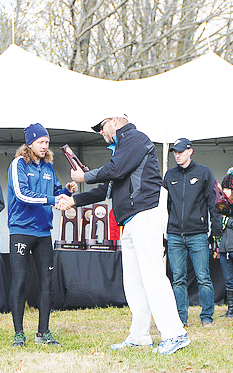 Katrina Meyer, Sports Editor
April 6, 2017
Hang on for a minute...we're trying to find some more stories you might like.
Isaac Jensen ('17) was chosen to receive the NCAA Postgraduate Scholarship as a cross country student-athlete for the fall season of 2016. He is one of 58 athletes, 29 male and 29 female, across all NCAA divisions to receive the award.
According to the NCAA website, the Postgraduate Scholarship is a $7,500 scholarship for postgraduate studies for student-athletes who excel academically and athletically. Those who are nominated must be in their final year of competition at their college, maintain a minimum GPA of 3.2 throughout their academic career, have a distinguished athletic career, be excellent role models in their college and intercollegiate sports in general, and intend to continue their studies after college.
Faculty who work with student-athletes can nominate students who fit this criteria for consideration. Luther has the ability to sponsor one athlete that they believe is worthy of the award. Faculty Athletic Representative and Vice President for Communications and Marketing Rob Larson then coordinates the recommendations and submits the applications to an NCAA committee that picks the athletes who receive the award.
Jensen is the sixth cross country and distance track athlete scholarship recipient that Pasche has worked with during his 12 years at Luther. Pasche accredited the team's success to the athletes' work ethic and dedication and the attitude of all student-athletes at Luther. Jensen fits into that culture well and is very deserving of the award, according to Pasche.
"We already knew that he was a special guy," Pasche said. "This is a physical representation of something that we already knew. He has outstanding credentials. He is a tremendous student; he was 10th in the country in running; he is a great teammate and person around campus. This is a really neat recommendation for all that. I am happy for him that he gets recognized for that."
Jensen expressed his gratitude to the people at Luther who helped him get to where he is and nominated him for the honor.
"I really appreciate the fact that Luther would consider me for that award," Jensen said. "I think it is a reflection of the fact that during my time at Luther, I have been able to deeply involve myself with academic and athletic pursuits. It was nice to have that recognition, but it's not just about me. It is also reflection of all the people that have helped me over the course of that process."
Jensen is planning on taking a gap year before he continues his studies. During the gap year, Jensen plans to do service work while working as an assistant researcher in the biology field. After that, Jensen hopes to use his scholarship to pursue a conservational biology program in graduate school. He is still considering how cross country will fit into his future.
"I would potentially coach," Jensen said. "I really love the sport and it is something that has been really important for me. If the right situation came along and I was able to incorporate that into my life, I would definitely be interested in that."