Track competes in Viking Olympics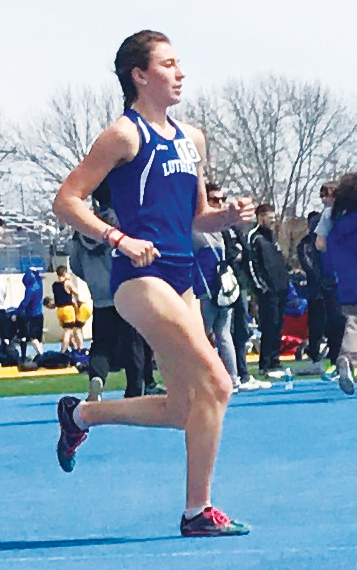 Emma Busch, Staff Writer
April 6, 2017
Hang on for a minute...we're trying to find some more stories you might like.
The Men's and Women's Track and Field teams competed in their first outdoor meet of the season at the Augustana-Rock Island Viking Olympics in Rock Island, IL, on April 1.
The men's team took fifth place out of nine teams with 64.5 points, while the women's team took ninth place out of eleven teams with 60 points.
Top finishers for the men included Elijah Kane ('18) who finished third in the decathalon, Lucas Kane ('18) who finished third for javelin, and Patrick Finnegan ('18) who finished third in the 3000m steeplechase. Top finishers for the women included Morgan Sammons ('18) who finished second in the heptathlon, McKenzie Carney ('18) who finished second in the 5000m, and Stephanie Murray ('17) who finished fourth in the 800m.
According to Head Coach of Track and Field Jeff Wettach ('79), this meet was an important opportunity for both teams to get into a competitive mindset.
"This meet in particular is more detailed than others because we haven't had a competition since February, the end of our indoor season," Wettach said. "From that perspective, everything we've done since the end of February has been geared towards the outdoor season in general, but I consider this meet the biggest on our schedule."
Wettach also said that this meet in particular is interesting to compete in because of the team's close ties to Augustana.
"A unique thing about this meet is that we have a close relationship with Augustana College," Wettach said. "Their head coach for their men's team is a Luther graduate. We have a really close relationship with the college, and this is the 76th Annual Meet of the Viking Olympics, so it's fun to be part of that."
According to Murray, the transition from the indoor track and field season to the outdoor season is exciting, but it is not without its challenges.
"It's great to be able to run with my teammates and it's an exciting time to finally be out racing again," Murray said. "I think we always see a lot of improvement from indoor to outdoor because we build upon our training. Outdoor track gets a little tricky, because sometimes the field events aren't in the same location as the track, whereas in indoor track everything is all together and we can all support each other. When we transition to outdoor, we have to be more intentional about going out to cheer for the people in the field events."
According to women's distance runner Martel DenHartog ('19), the outdoor season is also more competitive than the indoor season.
"The main difference is just that we get to compete outside and usually these events are a little more competitive than indoor meets," DenHartog said. "We have a lot more training in us and a lot more miles that we've run, so we kind of tailor or season to outdoor and try to be more competitive."
Men's distance runner Grant Sparstad ('19) says that the amount of training the team does in preparation for the outdoor season allows them to work towards improving their times.
"I think the guys overall are a little bit fitter [during the outdoor season], so we run faster times," Sparstad said. "We compete more with the other teams in our conference because we train to run our best times outdoors, whereas other teams might try to win an indoor title. We choose to go for the outdoor and compete during this season. We have a really deep team and a lot of talent, so I think it'll be fun to see if some guys rise to the occasion and put in some good times." 
Wettach says that he stresses the importance of individual growth and improvement to his athletes rather than the amount of points they earn in competition.
"I don't worry about points," Wettach said. "We work more on process and performances versus results. One of the topics I like to focus on is pursuing excellence because everybody on the team, regardless of their ability, has the chance to become more excellent than they are right now. So we look to just keep progressing and getting better and building our team as we grow."