Norse of the Week: Joe Fewer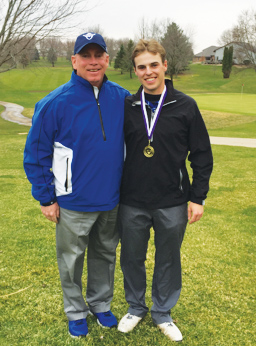 Katrina Meyer, Sports Editor
April 28, 2017
Hang on for a minute...we're trying to find some more stories you might like.
Luther Golf attended the Loras Invitational April 2-3. The team placed second out of 11 teams scoring 598 through 36 holes in the two-day tournament. Luther turned the tide after being in fourth place after the first day of competition. In the end, Luther finished only six strokes behind UW- Stout. This amazing finish was due in part to a first place finish by Joe Fewer ('19). Fewer won the title by one stroke over Loras first-year Jake Grabner. This was Fewer's first individual tournament victory.
Chips: How did it feel to win the Loras Invitational Meet?
Fewer: It was very rewarding. Golf is one of the few sports where you can continue to get better and move up without ever winning. This is actually my first career victory. It felt very good and rewarding. It was a great feeling.
What are your goals for golf at Luther?
Golf is both an individual and a team sport. Individually, I'd like to help the team win. Our number one goal for the team is always to win the conference tournament and qualify for the national tournament. That is always the first thing we want, but beyond that, I just try to put up a good number on the scoreboard each time.
When and why did you start playing golf?
I've played golf ever since I was little. My dad introduced me to the game and helped me fall in love with it.
What is your favorite part about golf in general?
There are a lot of things that I love about golf. I'd say that the main thing is that the challenges that you face on the golf course really draw a parallel to the challenges that you face in life. One of my favorite players Ben Hogan said 'Golf is a great game and it might be the closest game to the game we call life.' I just think that all the challenges you face, like sometimes when things aren't going your way, you have to learn how to adapt. I won the Loras tournament, but the practice round before that I was struggling with putting. Then I went into the tournament and I was putting really well. Nothing is ever the same, and it is constantly changing. That makes it exciting.
What is your favorite part of golfing at Luther?
My favorite part about golf here at Luther is definitely the team atmosphere. It's really a great bunch of guys. We all really push each other to get better. [Head Men's Golf] Coach Scott Fjelstul ('83) has been a really big help to me both on and off the field. He's just a great guy. He has put so much into Luther, and he makes me want to go out and put up a score for him because of all his dedication.
Do you have any role models or athletes that you look up to?
I have quite a few role models. The first and most important is probably my dad. He's always been there for me and supported me. He taught me the game and has helped me get better. I would also say that John Van Dyke has been a big influence to me. He was my dad's friend who just recently passed away. One quote that I remember that he said that I think of every time that I'm on the golf course is 'Keep on smiling and the world will smile back.' Every time that I am struggling on the course I think of John and what John would do. He really has made me a better person and golfer. I would also say my favorite golfer is probably Jordan Spieth. I feel like his game is very similar to mine, so I enjoy watching him and seeing how he approaches the game.
What is your favorite hole of golf that you have ever played?
My favorite hole of golf is at my home club. It's the sixteenth hole and it's a Par 3. There are 200 yards over the water. If there's one hole that I could play for the rest of my life, this would be it.