Norse of the Week: Anna Strien ('18)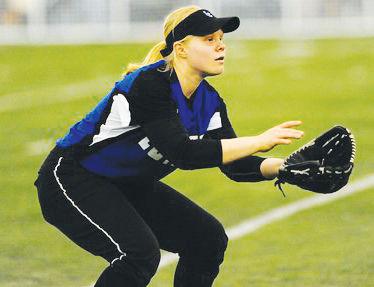 Katrina Meyer, Sports Editor
May 13, 2017
Hang on for a minute...we're trying to find some more stories you might like.
Anna Strien ('18) was recently named one of the top 25 finalists for the Schutt Sports/National Fastpitch Coaches Association Division III National Player of the Year award. Strien is having an incredible season as short stop for the Norse. The National Player of the Year will be chosen from the pool of 25 athletes at the end of the year. Strien is a member of the number four-ranked Norse softball team. Strien is batting .544 with 44 RBIs, 11 doubles, three triples, four homeruns, and an .867 slugging percentage. Strien is nationally ranked in the top-11 for batting average, RBIs, and slugging percentage.
Chips: What does it feel like to be named a finalist for player or the year award?
Strien: I am very honored, to say the least. This was not something I was expecting, and I have to give the credit to my team for the hard work that we have all put in trying to get better every day.
How does it feel to have had such a successful season thus far?
Well it is always an awesome feeling when we come together on game day and get to put into practice everything we have trained for. All of the off-season workouts, 6 a.m. lifts, conditionings, batting practices, and fall-ball practices are done to prepare for game day. It's an amazing feeling to see how all the team's hard work has paid off. You can't dwell on all the games you have played in the past because we need to be ready for the ones right in front of us, but it's very rewarding when you look back at what we have accomplished thus far and see the results we strive for everyday in our practices!
When and why did you start playing softball?
I started playing ball when I was about three, with t-ball. Then in kindergarten I began playing actual softball, but only coaches could toss the ball because we weren't old or strong enough to pitch yet. I would have to say it was my father who got me into the sport. My family has always been a baseball family. My dad played college ball here at Luther and coached high school as well. My brothers both play, and my grandpa played town-ball, so baseball and softball were always a constant in my life.
Do you have any role models or athletes that you look up to?
Growing up as kid I was, and I still am, a huge Derek Jeter fan! He is my favorite baseball player by far and he played on my favorite baseball team: the New York Yankees. He was the reason I wanted to become a shortstop. Besides his athletics, he is a very good person.
What is your favorite part of playing softball at Luther?
I could go on for days trying to explain all of the reasons I love playing softball at Luther, but I would have to say one of the biggest reasons is that from the moment I stepped on this campus, I was given not only teammates, but a group of people who have become my best friends.
Does the team have any pre-game or pre-practice rituals?
We tend to follow the same routine of pre-game hitting and fielding and our eight minute warm up just before games. I don't know if you can call that a ritual but we do do a 'Big LU' just after our coach and the opposing coach meet at home-plate before the games. Honestly a lot of baseball and softball is ritualistic in a sense because you try to follow the same routines whether it's in the batter's box or warming up just before the game. 
If you could have a superpower that would help you with softball, what would it be?
I would have to say the ability to jump really far [would be helpful]. I'm not exactly the tallest, so it would be nice to get some of the balls that are just a little bit too out of reach for me above my head!