Professor Anderson to explore art in Massachuesetts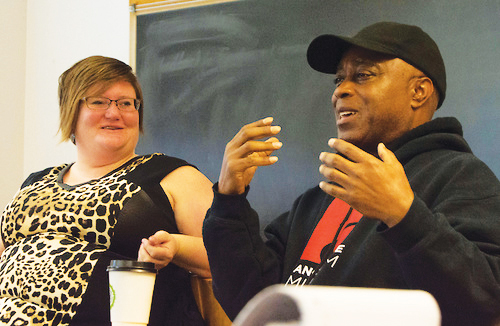 Emma Busch, Staff Writer
May 14, 2017
Hang on for a minute...we're trying to find some more stories you might like.
Assistant Professor of Africana Studies and History Lauren Anderson announced that she will leave Luther at the end of this semester after five years of teaching at Luther.
In a statement made prior to her interview with Chips, Anderson said she reached this decision due to concerns for her own ability to prosper at Luther and for the ultimate well-being of her family.
"I'm leaving Luther for my own health and well-being and in the best interests of my family," Anderson said. "Though there are elements of the Luther community that I have appreciated since I arrived five years ago, I have come to realize that I cannot be a healthy and productive member of the community here and that is why I am leaving so abruptly."
According to Associate Professor of History Brian Caton, the Africana studies and history departments are searching for a candidate to fill Anderson's position temporarily and hope to recommend an appropriate replacement to Dean of the College Kevin Kraus before the end of this semester.
"At present, the search process for a temporary replacement position is at the stage of bringing a candidate to campus for an interview," Caton said. "This includes interactions with the Dean, the two departments, representatives from the Paideia program, and students. Our objective is to make a recommendation to the Dean regarding the hiring of this candidate before the end of classes this term."
Anderson and her wife plan to move to Massachusetts where she will focus on pursuing art in a community she believes will be more receptive of her creations.
"I'm going to pursue art and take a break from academia," Anderson said. "I've already started to make some connections to the art community out there. Also, my art is increasingly taking a queer focus and there's a much bigger audience out there for queer-focused art. The place we've chosen in Massachusetts is Northampton, which is historically [an LGBTQI-centric] community."
Anderson is specifically interested in making art for gay families to display in their homes, as well as creating children's books with LGBTQI protagonists.
"I'm thinking about creating art that people would want to have in their homes, particularly gay families, and there's a big space there for that," Anderson said. "There's art for individuals who are really exploring the sexuality piece of it, but not really the family-building, having kids in the house, that kind of thing. I'm also thinking about creating a series of children's books that would either have queer parents or queer kids."
According to Professor of Africana Studies and English Novian Whitsitt, Anderson has been indispensable and will be deeply missed.
"We are deeply sad to be losing Lauren Anderson from Africana Studies," Whitsitt said. "She has been an amazing colleague over the last five years. Her intellectual, pedagogical, and disciplinary approaches have been invaluable, benefiting the campus at large."
Whitsitt believes Anderson has made a large impact on the Luther community — particularly minority students. 
"Her ideas about programming for our Africana studies events and her keen contributions about recruiting students for Luther College, especially students of color, have left significant imprints on Luther's life," Whitsitt said. "Her commitment to social activism and social justice has served the campus well; her voice has echoed all over Luther.  Her absence won't be easily filled, but we have grown a great deal because of her contributions."
Anderson believes that she has grown as an educator at Luther and is proud to have been a part of her students' growth as well.
"I feel like I developed as a teacher and became much better at it," Anderson said. "I'm really proud of the students I got to work with and some of the ways that I've seen them grow. I've tried to be an advocate for students of color and LGBTQI students here. When I first came just five years ago, there were individuals who were doing that well, but it felt a little bit disconnected and piece-meal across campus. But I've been proud to be a part of trying to help students who might not immediately feel connected at Luther feel more connected."