Luther stars waltz to victory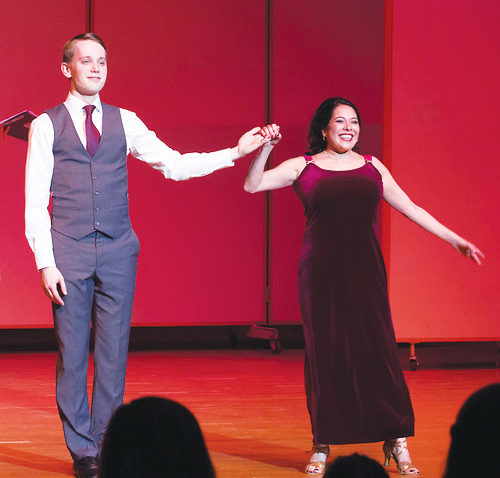 Ana López, Staff Writer
May 14, 2017
Hang on for a minute...we're trying to find some more stories you might like.
Luther performed its own version of Dancing with the Stars on May 3 in the Center for Faith and Life. Luther College Ballroom and Swing, Student Activities Committee (SAC) Special Events, and Student Senate sponsored the event.
The event was the culmination of months of practice on behalf of the couples to present two different dances. Each couple was composed of a Luther star and a member of Luther Ballroom & Swing.
The Luther Stars were Head Women's Basketball Coach Amanda Bailey, Director of Bands and Associate Professor of Music Joan de Albuquerque, and Ylvisaker Hall Director Kevin Wenger ('13). The pros from Luther College Ballroom & Swing were Jessica Skjonsby ('17), Stephen Ster ('17), and Joshua Weisenburger ('17). They also choreographed the dances and taught the Luther stars how to dance.
Each of the couples presented two dances: rhythmic and smooth. The genres varied from the cha-cha to the waltz.
The panel of judges consisted of Assistant Professor of Music Jennaya Robison ('96), Founder of Luther Ballroom & Swing Joe Carey ('11), and Assistant Director of Student Activities Kasey Nikkel. The Luther stars emphasized how the performance was a learning experience and challenge.
"I have really enjoyed this experience and getting an inside look at the hard work and dedication it takes to be a dancer," Bailey said. "I would also say that I have really liked the challenge."
De Albuquerque echoed the sentiment.
"I learned so much," de Albuquerque said. "I had no idea that dancing was so incredibly difficult but so much fun. Dancing has helped me realize that even at my age I can still challenge myself to do something out of my comfort zone and have fun doing it."
The winner was decided 40 percent by the judge evaluations and 60 percent on student voting. The winners of this year's Dancing with the Luther Stars were de Albuquerque and Weisenburger.
According to Ballroom & Swing member Deanna Grelecki ('19), organizing the event was intense but rewarding.
"I think that Dancing with the Luther Stars allows us to connect more with the Luther community as well as Decorah's community," Grelecki said. "We are able to work side by side with faculty and staff through sharing our love of ballroom dance and also have the outside community aspect since they donated their services to help us run the show."
Besides the dances from the Luther Stars, Ballroom & Swing also showcased several other dances performed by club members. Member of Ballroom & Swing Jason Hu ('19) shared why the event was important for him and the community.
"I think we proved a lot of things that night" Hu said. "We proved that [de Albuquerque], [Bailey], and [Wenger]  are fabulous dancers. Our club proved how much a student-led organization can accomplish with passion and commitment."
Audience member Kelsey Ott ('18) attended the event to support Wenger.
"I thought all the contestants were really good, but the winners brought it all," Ott said. "I came to support [Wenger] and even though he didn't win, it was still really fun."