Students research monarch migration patterns in North America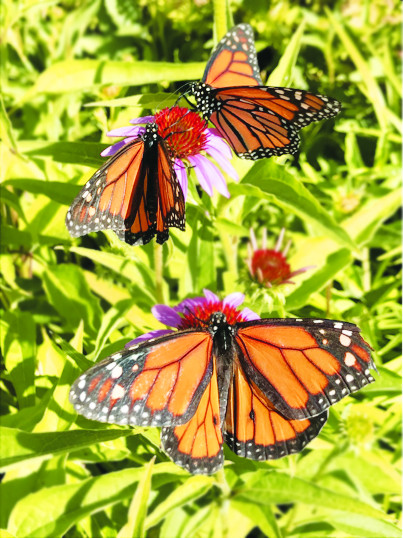 Emma Busch, Staff Writer
September 29, 2017
Hang on for a minute...we're trying to find some more stories you might like.
This summer, environmental studies major Anna Li Holey ('18) and biology major Elizabeth Glennon ('19) had the opportunity to take part in ongoing monarch butterfly research regarding migration patterns led by Professor of Biology Kirk Larsen and funded by a grant provided by the Howard Hughes Medical Institute (HHMI).
In 2012, the HHMI Science Research and Education grant awarded Luther $1.5 million to assist in the development of future elementary and secondary school science educators. The grant was to be carried out through various workshops, enrichment programs, and summer research opportunities with Luther faculty. This year marks the end of the HHMI program, but Larsen is in the process of searching for other sources of funding in order to continue the now three-year-long monarch butterfly study.
As an invited founding member of the Iowa Monarch Conservation, Luther's entomology lab works in collaboration with Iowa State University to study environments favored by monarchs in order to keep track of their population and develop more suitable habitats for the species. The research group conducted their study in a number of prairies in the Decorah area and the Luther College Gardens. According to Larsen, one aspect of their study consisted of keeping track of the number of caterpillars on different types of milkweed, the only plant caterpillars are known to consume.
"We have a number of plots over at the Luther Gardens," Larsen said. "We have five different species of milkweeds, and there were a number of plots of each of these species. Every week the students would go out and count all the caterpillars and all the eggs that they found on each of those milkweed plants. That would typically take one day a week."
Glennon said that this region of the Midwest has been historically valuable to the monarch population because of the amount of milkweed grown in agricultural-based areas. The recent decrease in the amount of these plants may have adversely impacted the monarch population.
"This region is really important for monarchs because there's a lot of milkweed around here," Glennon said. "They've been keeping track of how many monarchs are overwintering in Mexico because they all migrate down there. But [the monarchs] always come back up here throughout North America and anywhere they can find milkweed. But with the use of more herbicides and different agricultural practices, there's less milkweed [here.]"
According to Holey, understanding which types of plants monarchs enjoy most is key to understanding how to increase the local monarch populations.
"The monarch population is decreasing, [so] it would be interesting to know which kind [of milkweed they prefer] in order to plant more of it," Holey said. "We're also comparing native prairies and planted prairies to see if more butterflies are [drawn to] native Iowan prairies."
Holey is referring to another significant portion of their research, which consisted of surveying nine tallgrass prairies around Decorah and documenting the number of butterflies present.
"Every other week we go and walk through those prairies and make sure the weather conditions are pretty similar," Larsen said. "We walk through and count every butterfly we see. We're identifying all of them [down to the] species, so it's more than just monarch butterflies, but then we take the monarch data out and look just at [those] abundances. Since we walk the same route, we can compare those from week to week to see what's happening with the abundances over time."
Larsen believes that during summer research opportunities, his students learn how involved the research process is and realize how often variables outside of their control impact their work.
"They're experiencing scientific research and realizing that it's not just this cut and dried little experiment where you walk into the lab and you get your data, analyze it and walk out," Larsen said. "We don't know what's going to happen. Every year is different. We don't know when the monarchs are exactly going to show up, if there's a disease going on, or what other kinds of things might be affecting their populations. It gives them the idea that this is a process and we have to collect the data carefully."
The group is currently in the process of analyzing their data and will present their findings at the Entomological Society of America's national meeting in Denver this November and later next year at Luther's Student Research Symposium.