Flip FabriQue wows the crowd with tricks, tumbles, and tales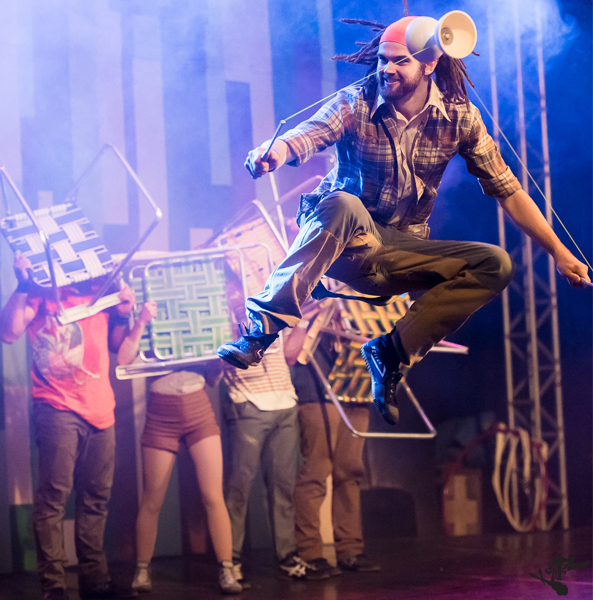 Cara Keith, Staff Writer
October 7, 2017
Hang on for a minute...we're trying to find some more stories you might like.
Flip FabriQue exhilarated the crowd with acrobatic talent and circus skills in the Center for Faith and Life (CFL) on Saturday, Sept. 30. 
Flip FabriQue, as a part of the Center Stage Series, formed in 2011 as a group of friends who attended Quebec City Circus School in Quebec City, Canada. Throughout their time as a group, they have performed with Cirque du Soleil and Cirque Éloize, two award-winning performance companies based out of Montreal.
Before the members of Flip FabriQue joined together to create their own show, they worked for separate companies. Flip FabriQue member Francis Julien said the group came together to create their own show because they did not have much creative influence in the other shows they were working for.
"We came back and we wanted more," said Julien. "When you work for other companies, you're basically an employee, and it's hard to have your own flavors. We decided to create a show that would be a tool to express our happiness towards finding each other again."
The title of Flip FabriQue's show was "Catch Me" or "Attrape Moi." Julien explained that the title refers to the time that the members were seperated. They rarely saw each other and would consequently try to "catch" time together whenever possible.
The members of Flip FabriQue want their show to tell a story about friendship and freedom. Julien explained that the friendship between the members of Flip FabriQue allows them to work together to create something magical.
"We created our own things," Julien said. "We had an idea and we went for it. The fact that we have that freedom makes it become more than a circus. It becomes entertainment. It's a beautiful platform of expression for us."
Flip FabriQue used a variety of tricks, props, and music to tell the story of their friendship with an upbeat style. The show begins with the seven performers running into each other during a rainstorm. Then performers showcase a variety of skills to music that best fits the emotion of the particular part of the show.
Each performer showcased a specific talent. Flip FabriQue member Yann LeBlanc performed a hoop act to the song "To Build a Home" by The Cinematic Orchestra. During his performance, fellow members of Flip FabriQue looked at photos in an album, which they later stuck to the wall that acted as the backdrop of their show. Next Flip FabriQue member Jade Dussault's hoop act included a total of 12 hoops that she performed a variety of tricks with simultaneously. Later in the show, two members had a diabolo battle after an argument that was caused by a popsicle eating contest. The entire performance included stunts using diabolos, yoyos, and sleeping bags. The show ended with tricks performed on the trampowall.
In order to prepare for Flip FabriQue's performance, the main hall of the CFL required a full week of work by Luther College technicians because they were required to build a new grid from scratch. Director of Campus Programming Paul Atkins said the technicians spent 120 hours of work in order to transform the CFL into a space that could host Flip FabriQue.
"We needed to make the CFL look and feel and operate like a typical theater," said Atkins. "It's not a typical theater. We got it to a point where the artists come in and they'll be none the wiser. They'll think that's the way it always looks and functions."
Although the technicians did all that they could to accommodate Flip FabriQue, the show was customized because the structures needed for some of their acts were unable to be installed in the CFL. According to Julien, Flip FabriQue put forth the effort to create new acts for Luther's venue and elaborate on acts that were already included.
"There's no aerial possible," said Julien. "So we have to take two acts out and create another one to do it here. Sometimes we create other acts for certain venues or situations."
Even without the aerial acts, Flip FabriQue put on a show that impressed the audience with the amazing feats they performed using hula hoops, a trampoline, and their bodies.
Attendee Jacob Barsness ('21) was impressed by the flawless stunts.
"I enjoyed Flip FabriQue because it was a really cool experience," said Barsness. "It was my favorite event on campus thus far. They did stuff that I've never seen people do before, and it was amazing."
Flip FabriQue will continue their tour across the United States, stopping at a few more cities in Iowa before continuing on to Columbia, Missouri.