Amy Weldon to publish two books in 2018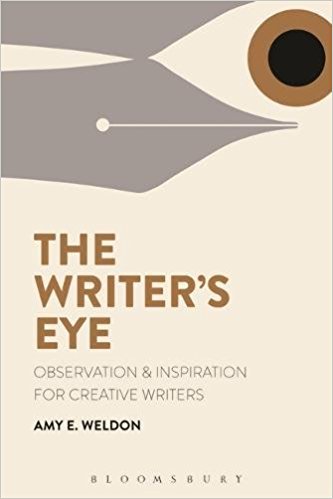 Piper Wood, Staff Writer
February 26, 2018
Hang on for a minute...we're trying to find some more stories you might like.
Associate Professor of English Amy Weldon will publish two books in 2018. "The Hands-On Life," available in February and "The Writer's Eye," available in July.
In "The Hands-On Life: How to Wake Yourself Up and Save the World," Weldon questions and explores technology's role in everyday life.
"Human consciousness and the human way of being in the world is being sold away without our knowledge or consent," Weldon said.
Weldon focuses on the importance of noticing the world, and finding time to unplug from technology.
"The Writer's Eye" is Weldon's guidebook for creative writing. Weldon offers exercises and writing prompts across creative genres to inspire serious writers. Both texts underscore the importance of observation in life and literature.
Her work on "The Hands-On Life" began in 2010, while "The Writer's Eye" is the product of four months of writing. Weldon said she approaches each genre differently.
"I write bits and pieces of drafts and work through sources and other texts to create cohesive chapters," Weldon said.
She recommends this method of gathering and synthesizing data to her Paideia students to help them organize their spring research papers.
When writing "The Hands-On Life", Weldon focused on getting all possible content on to the page to create a rough draft, and then revising from the work that she had on paper. 
"I try always to just keep connecting with the page regularly, a little bit at a time, every day," Weldon said.
Another writing tool Weldon utilizes is a writing partner to offer feedback and constructive criticism. For the last decade, Assistant Professor of English Rachel Faldet has played the role of Weldon's friend and writing partner. Faldet's advice for "The Hands-On Life" began in the conceptual details of the work, helping Weldon decide what to keep or remove in early drafts of the piece.
Weldon also relies on the advice and opinions of fellow writers and students. Following a recent writer's conference, Weldon was inspired to rewrite the introduction in "The Hands-On Life" to recount a personal classroom experience.
In all aspects, Weldon employs the opinions and advice of her students in writing.
"Student fingerprints are all over this book," Weldon said.
Weldon's engagement with her students gave her insight into how technology affects her students, and she wrote both texts with a student audience in mind. With "The Hands-On Life," Weldon hopes to empower young students to assess the negative consequences of a life constantly behind a screen.
Weldon connects with her students through her classes, especially her January-term course that follows Mary Shelley's life through Europe, "In Frankenstein's Footsteps." During her latest trip, Weldon used student feedback to help change her books' cover design.
Emma Schlabach ('19) completed Weldon's British Romanticism course and went on the 2018 J-Term with Weldon. Schlabach appreciates Weldon's innate desire to absorb the world around her.
"[With Professor Weldon], everything is a learning opportunity," Schlabach said.
Schlabach looks forward to "The Writer's Eye," and the opportunity to use Weldon's creative writing techniques after she leaves the classroom.
"I'm extremely honored to learn from her," Schlabach said.
Weldon's "The Hands-On Life" is published through Wipf and Stock Publishing and "The Writer's Eye" is forthcoming from Bloomsbury Academic. "The Hands-On Life" is available for order through Dragonfly Books. On March 12 at 7 p.m. Weldon will have a reading of "The Hands-On Life" at Dragonfly Books in downtown Decorah.