Gates Madsen wins Katherine Kovacs Prize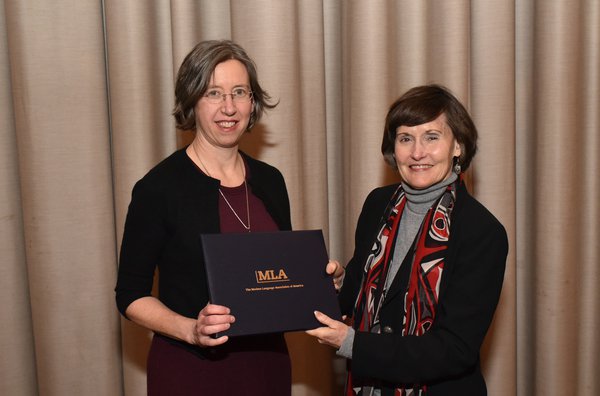 Olivia Enquist, Staff Writer
February 26, 2018
Hang on for a minute...we're trying to find some more stories you might like.
The Modern Language Association awarded the Katherine Singer Kovacs Prize to Associate Professor of Spanish Nancy Gates Madsen for her book "Trauma, Taboo, and Truth-Telling: Listening to Silences in Postdictatorship Argentina." The award was given at the Modern Language Association's annual convention in New York City on Jan. 6.
The Katherine Singer Kovacs Prize honors outstanding books published in English or Spanish in the field of Latin American and Spanish literature and culture. Only one book is recognized every year.
In "Trauma, Taboo, and Truth-Telling: Listening to Silences in Postdictatorship Argentina," Gates Madsen discusses the role of silence in the articulation of cultural trauma after Argentina's Dirty War. During the period of 1976 to 1983, Argentina was controlled by a dictatorship which resulted in the disappearance of an estimated 30,000 people often referred to as the "desaparecidos," the disappeared. Although Argentina's administrations and human rights groups worked to encourage public exposure of past crimes and traumas, there are still taboos and unanswerable questions surrounding the Dirty War. Within the book, Gates Madsen analyzes Argentinian cultural texts to understand which individual stories are told and which are silenced.
The committee described Gates Madsen's book as innovative and important in how she explores the issues of historical memory after cultural trauma.
"The work weaves together the silences that surround the Argentine dictatorship while giving voice to their several meanings, revealing silence as an expressive phenomenon rather than oblivion or absence," The Katherine Singer Kovacs selection committee said in their press release. "This is an original, well-written, and important contribution to the body of research on memory and trauma studies in Latin America."
Gates Madsen explained what made writing about the Dirty War a difficult task.
"I'm delighted the book is receiving such recognition," Gates Madsen said. "The topic is a difficult one as the book addresses the legacy of systematic human rights violations in Argentina, in particular the lingering taboos that surround representations of torture and disappearance."
Samantha Rabang ('18) described her reaction when she heard that Gates Madsen had been awarded the prize.
"She is an amazing Spanish professor," Rabang said. "Even though I haven't been in her class for a couple of years, she is still very interested in my life and she cares about her students. I'm so happy for Spanish Professor Gates and I congratulate her for her book and award."
Gates Madsen's faculty assistant Jen Stanley ('18) explained how Gates Madsen speaking about the book in class inspired her to travel.
"The topic of Gates' book was something we discussed in a class I took with her two years ago, and her knowledge and insight about the dictatorship in Argentina was one of the things that got me interested in studying abroad in Buenos Aires," Stanley said. "I'm so lucky that I got a chance to learn about this subject from Professor Gates and then go to experience parts of the memory and history that she talks about in person in Argentina."
Along with the Katherine Singer Kovacs Prize, two other books were awarded honorable mentions within the category: "Alva Ixtlilxochitl's Native Archive and the Circulation of Knowledge in Colonial Mexico" by Amber Brian and "Latin American Cinema: A Comparative History" by Paul A. Schroeder Rodríguez. Gates Madsen expressed the importance of having her work appear among these authors.
"The list of past winners of the Katherine Singer Kovacs Prize represents some of the finest works published on Latin American and Spanish cultural production," Gates Madsen said. "I'm honored that my book appears in such good company."
The Katherine Singer Kovacs prize was established in 1990 as a gift from Joseph and Mimi B. Singer, parents of the late Katherine Singer Kovacs. The prize rememberes Singer Kovacs after her death in 1989. She was a specialist in Spanish and Latin American literature and film.