"Facing the Strange" through art
Martel DenHartog, Staff Writer
April 11, 2018
Hang on for a minute...we're trying to find some more stories you might like.
Gallery Coordinator David Kamm and Professor of English Lise Kildegaard finished the 2018 Paideia Texts and Issues Lecture Series with a presentation titled, "Turn and Face the Strange: Creative Activity as a Catalyst for Change," in the Center for Faith and Life Recital Hall on March 20. Inspired by David Bowie's hit song, "Changes," Kamm and Kildegaard invited the nearly 100-person audience to consider how art can be used to confront the realities communities face.
"Be the Change" is the Paideia Texts and Issues theme this year, and one of its guiding questions, "How can we confront the feeling that nothing can be done?" prompted Kamm and Kildegaard's presentation. Kamm's art exhibit, displayed on the second floor of the CFL, was used as a springboard for the conversation.
"Part of what we're talking about is the strangeness of the times we live in, where school shootings, for example, seem to start feeling routine, almost expected," Kamm said. "We're using creative response — the art exhibit  — as a lens to  face issues that seem strange or even beyond the reach of any individual to somehow deal with."
During the presentation, Kildegaard and Kamm discussed Kamm's creative process and pieces from his show. The show consists of pieces constructed with hateful or violent materials, such as bullet casings and strips of paper from "The White Man's Bible." Kamm and Kildegaard acknowledged the transformative nature of this art.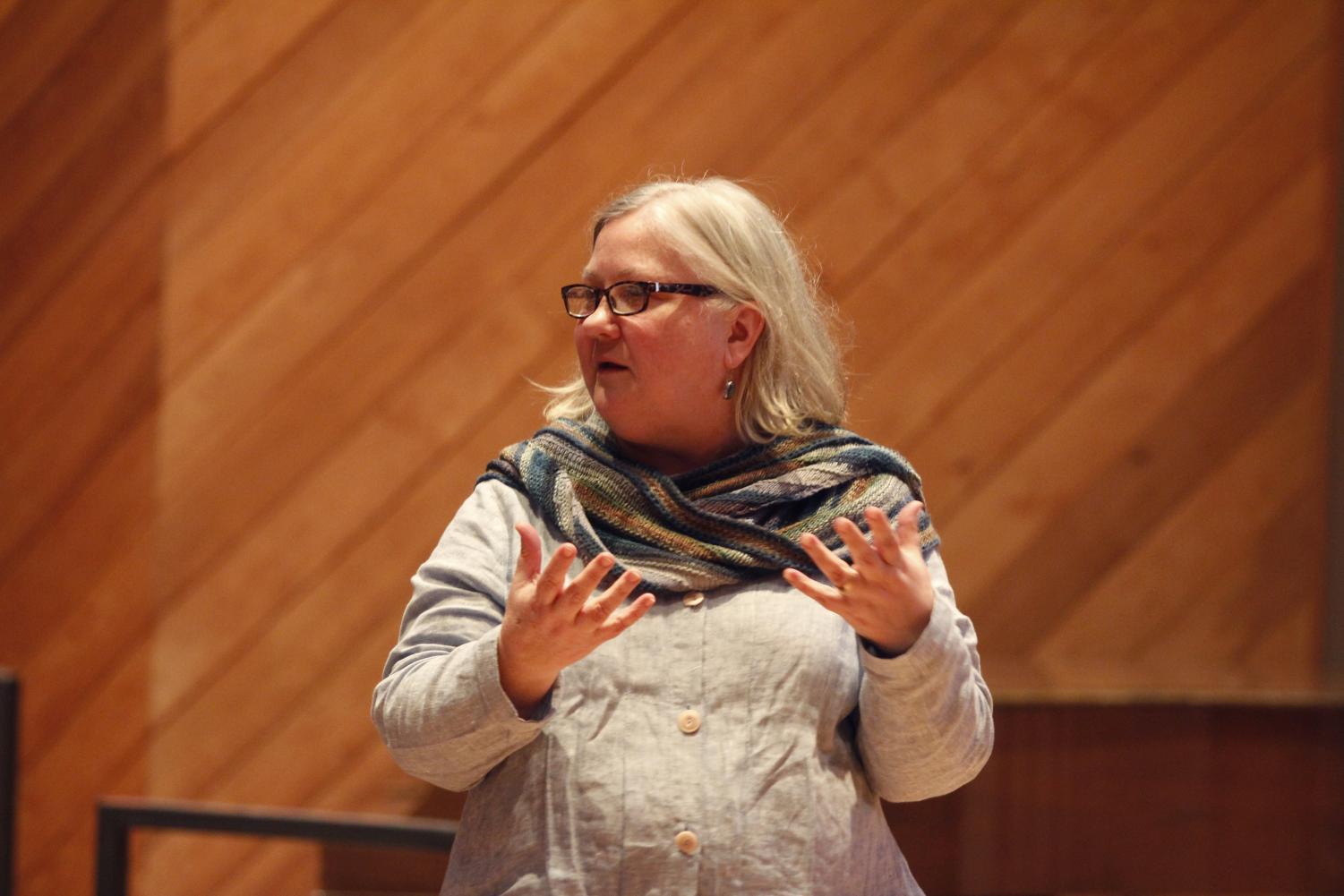 "His art demonstrates how materials can be transformed," Kildegaard said. "The art is not reducible to a message, but he is trying to reveal something. And one of the things I think he reveals is that hateful objects can be transformed. And if that's true, that does help us imagine a world where a hope is more productive than hate — where hope is possible over hate."
The presentation engaged  listeners and encouraged reflection on Kamm's work. Comments from the audience noted a resemblance between guns blowing objects to bits and pieces that looked like broken, radiating, oscillating fragments. Some said that though the pieces are composed of words from "The White Man's Bible," the meaning has dissipated in the mosaic patterns.
Attendee Max Skrzypek ('19) articulated how although those hateful words have been transformed, conversations are not over.
"It's important to talk about topics related to violence," Skrzypek said. "Violence fueled by hate is something that needs addressing… If we want a more inclusive society, we need to fight for the reduction of hate."
When their proposal for a Paideia Texts and Issues Lecture was submitted over a year ago, Kildegaard anticipated reminding the audience of racism and gun violence that may have slipped to the back of people's minds. However, in the wake of a hate incident on campus on March 11 and 17 school shootings in the US where someone was injured or killed so far this year, according to CNN on March 24, the audience needed no reminding.
"There is a constant presence of these terrible elements that are visible in our lives," Kildegaard said. "We're in a rather different place right now than when we first planned this talk — unfortunately."
Kamm reiterated this sentiment, and throughout the lecture called for attendees to really "turn and face the strange" throughout the lecture.
"This isn't somebody else's problem, it isn't their problem and they live far away," Kamm said. "It is our problem, and it is our problem very close to home."
Paideia Program Director and Associate Professor of Library and Information Studies Rebecca Sullivan was impressed with the presentation and student responses.
"It was everything that we hoped it would be," Sullivan said. "Actually, it was more. The depth of David's comments about his process and the sensitivity to which he talked about how he brings messages to his art, particularly considering current events was profound. I appreciated the way that Lise contextualized his work aesthetically and philosophically."
Sullivan also expressed the relevancy of this presentation to Paideia's overarching commitment to discussing issues of diversity and life in community.
"It's important to be able to draw the lines between substantial texts, even if they aren't from the present, to messages that have meaning for current issues," Sullivan said.
Kamm closed the lecture with an offering. He held a brass bowl filled with 80 bullet casings. Forty of them were empty. Forty held small pieces of paper. Some pieces of paper were blank, and others contained the names of victims from the Sandy Hook shooting in 2012. Facing the strange does not mean ignoring or accommodating hate but confronting it.
"That's why we're saying 'turn,'" Kildegaard said. "Turn away from complacency. Turn away from fear, turn away from ignorance, and face. Face up to what's strange in our world."