Enrollment increases slightly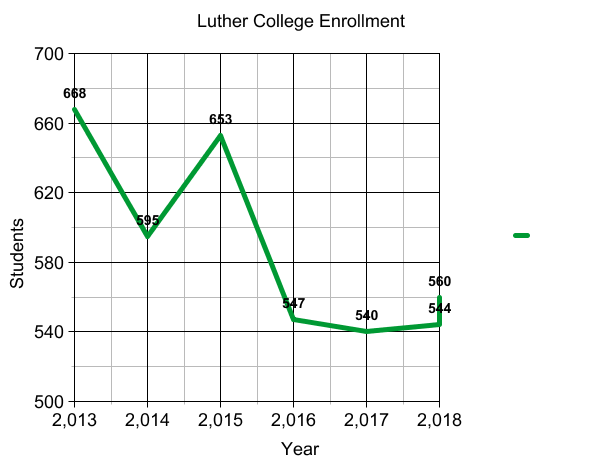 Forrest Stewart, Staff Writer
May 9, 2018
Hang on for a minute...we're trying to find some more stories you might like.
As of May 4, 544 incoming students are enrolled for the 2018-2019 academic year. This number is up from 526 at this time last year and 540 students at the beginning of fall semester. This represents the first increase in enrollment at Luther in several years.
According to Vice President for Enrollment Management Scot Schaeffer, this number will grow even more as additional students enroll later in the spring.
"We're already ahead of year-end [enrollment] last year and our projected enrollment, based on knowing how many we usually admit from this point forward, indicates we'll be at 560," Schaeffer said. "It will go up, I know that for a fact."
Schaeffer credits the increase to systemic changes in Luther's admissions process designed to attract more students.
"We implemented some new things in our financial aid programs," Schaeffer said. "We upped our scholarships and we've put in a program called distinction which looks at certain areas where students might be able to get other aid."
Additionally, Schaeffer noted that tweaks in Luther's student recruitment strategy have helped draw in prospective students.
"We put more emphasis on [prospective student] search in Iowa and Minnesota specifically," said Schaeffer. "Those are the two top states we get students from and the data shows that most students typically go to school within 100 miles of their home. It doesn't mean we're ignoring other places, we just reallocated [funds] to make sure we get the most bang for our buck."
Admissions worker Bethany Larson ('19) highlighted the aspects of Luther's admissions department that she thinks are most influential in attracting new students.
"I hear a lot about how welcoming all of our admissions student workers and our admissions faculty are," Larson said. "We try really hard to have a very personal and individual relationship with everyone who walks through the door."
While the increase in enrollment this year is good news for administration, Schaeffer added that enrollment remains below ideal levels.
"We would like to get where every year we're bringing in about 600 new students," Schaeffer said. "I believe we'll get there but it's going to take things like the strategic plan and other initiatives."
A student body of 600 students per class would translate to a total enrollment of 2,400. The current student population is about 400 students shy of that goal.
President Paula Carlson stated in an email that there is still work to be done in improving enrollment numbers.
"Enrollment, as well as student retention, continue to be areas the campus is focused on improving," Carlson said. "The Luther College Admission team continues to address the enrollment challenges that many colleges and universities are experiencing across the country."
According to Schaeffer, the higher education marketplace has changed considerably in the last decade.
"When the bubble burst in 2008 people became more conscious about return on investment in regards to education and costs keep going up," Schaeffer said. "So there's a lot of pressure from that. Last year for the first time in the 11 years I've been here, five of the top ten schools that prospective students chose instead of Luther were public institutions. We've never had that before; it's a whole different market."
Schaeffer added that various factors pose challenges specifically to Luther's enrollment.
"Three of the biggest things that are challenges when you're recruiting students are being a rural school, a small school, and a religiously-affiliated school," Schaeffer said. "Those three things cut down on the pool that will look at Luther and those are things we're never going to change.
Despite these challenges, Schaeffer is confident that the institution will maintain viability and attract students.
"We have a very high 4-year graduation rate," Schaeffer said. "We have a very low default on our loans which means our students graduate, get jobs, and can pay those back. We really have to be able to demonstrate and show that there is a return on investment."
Carlson echoed this optimism.
"Luther campus visits are up by 13 percent, applications from Iowa, Minnesota, Wisconsin, and California have significantly increased, and international applications are up by six percent," Carlson said.