Stephen Fleagle
Track and Field welcomes new head coach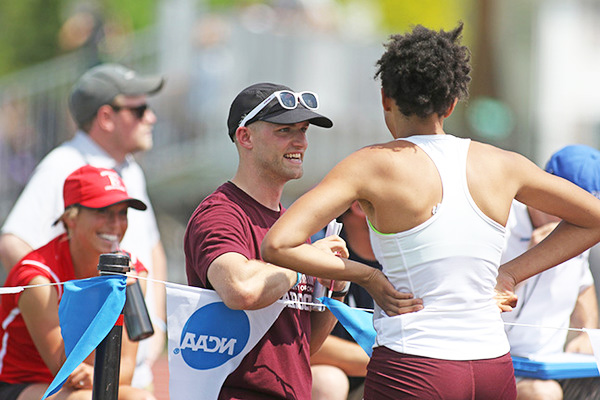 Gillian Klein, Sports Editor
September 13, 2018
Hang on for a minute...we're trying to find some more stories you might like.
Stephen Fleagle was hired as the new Head Men's and Women's Track and Field Coach on Aug. 15. Fleagle will replace former Head Coach Jeffrey Wettach ('79) who retired after a 33-year coaching legacy.
Fleagle talked about why he is excited about the upcoming track season.
"Change brings challenges, but it also brings growth," Fleagle said. "The challenges are what I am most excited about and getting to see what we can build off of."
Fleagle began coaching a variety of sports teams at his former high school after graduating from North Central College in Naperville, Ill. He returned to North Central while as a graduate assistant simultaneously working as the recruiting officer for women's track and field and cross-country.
Eventually, Fleagle was promoted to working with pole vaulters, long jumpers and high jumpers. He stayed with coaching and eventually discovered he had a passion for track and field, too.
"The neatest thing for me was finding out that track and field is an inclusive and collective sport," Fleagle said. "A variety of people with various skills and talents come together and compete in versatile competition."
While in Illinois, Fleagle coached 11 athletes and seven relay teams to 31 NCAA national meet appearances, leading to 10 All-American honors. Most notable was Fleagle's coaching of Michael Bennett, a University of Chicago pole vaulter, to an undefeated season and national championship at the NCAA Men's Division III Indoor National Championships.
It was here that Fleagle first heard about Luther College, as one of Fleagle's athletes was a transfer from here.
"This particular athlete spoke highly of Luther," Fleagle said. "I also heard good things from my graduate assistant program mentor and boss in Chicago, so I kept my eye on position openings here."
When the head coach position for the Men's and Women's Track and Field Teams opened up, Fleagle interviewed with the Head Softball Coach and Director of Intercollegiate Athletics Renae Hartl. Hartl was part of the hiring committee and upon meeting him, knew there was something unique about Fleagle that he would bring to Luther.
"We are so excited to name Stephen Fleagle as the next head track and field coach at Luther College," Hartl said. "He is bringing fantastic Division III experiences as a student-athlete and [a] coach with him that I know will be instrumental in his team culture right away."
Members of the track and field teams were also excited that Fleagle would be taking over for Wettach. Distance runner Vera Lindhorst ('20) appreciates the various ways Fleagle and his wife, newly appointed Assistant Men's and Women's Track and Field Coach Kristen Fleagle, have already integrated into Luther athletics.
"During our cross country practices currently, Fleagle and his wife will join us on our runs," Lindhorst said. "It is through these interactions that he and his wife already know all our names and make every attempt to connect with us as athletes and as people."
Another member of the track team, Maxwell Tapp ('19), shared similar sentiments about Fleagle.
"Wettach brought a family aspect to our team," Tapp said. "Upon meeting Coach Fleagle, I can already tell he will bring the same mentality Jeffrey Wettach did: it's person before athlete."
A new legacy for Fleagle will begin on campus this upcoming winter with the indoor track season. He is striving for consistency in one area: camaraderie.
"I want my athletes to feel supported by one another in every endeavor" Fleagle said. "In turn, those who are supported choose to support another teammate until every teammate is supporting every teammate. That's the goal."