Luther releases new security report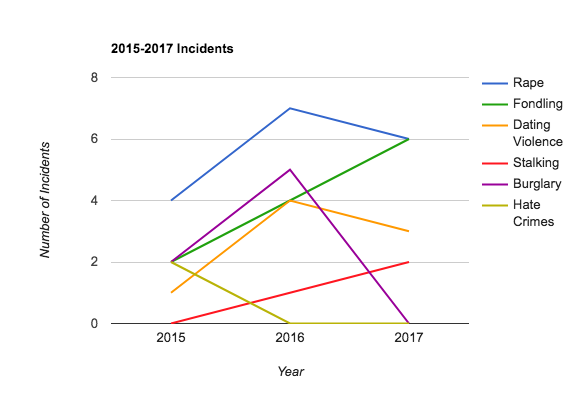 Natalie Nelson, Staff Writer
October 10, 2018
Hang on for a minute...we're trying to find some more stories you might like.
Luther has released the 2017 security report, which includes crime statistics from 2015-2017. The 2017 report lists six reports of rape, six of fondling, three of dating violence, and two of stalking.
The report is released annually in accordance with the Clery Act, which instructs campuses to compile and publish statistics about campus crime along with current policies and practices.
Director of Campus Safety and Security Bob Harri said that, though unfortunate, it is typical for these crimes to occur on college campuses, and that numbers routinely fluctuate from year to year. He said that campus security is the community's responsibility.
"The entire community coming together to create and maintain a safe environment is critical," Harri said. "We must demonstrate and express an expectation for behavior that is respectful and intolerant of acts of interpersonal violence."
Harri encourages anyone with knowledge of interpersonal violence offenses to report them and to intervene when there is a potentially risky situation.
"Our office will continue to work hard to maintain a safe environment that is conducive to learning," Harri said. "We have worked hard in conjunction with other departments to effectively address those offenses that have been reported as well as to increase prevention efforts. As far as the annual report goes, I think we should constantly strive for zero offenses."