Men's Soccer captures ARC title
Kelao Charmaine Neumbo, Staff Writer
November 8, 2018
Hang on for a minute...we're trying to find some more stories you might like.
The Luther Men's Soccer team defeated Wartburg College 2-0 at home in the semifinal round of the American Rivers Conference Tournament on Oct. 31. Luther then went on to beat Loras College 2-1 in Dubuque for the ARC Championship match on Saturday  Nov. 3. 
The win against Loras resulted in Luther's eighth conference title in the team's history and qualified Luther for their ninth NCAA III National Tournament appearance. The two wins also put Luther at an overall season record of 16-3-1 and 6-1-1 in the ARC.
During the ARC Semifinals, center forward Ben Keller ('20) scored the first goal in the 28th minute on a header from a corner kick by Brunno Colon ('19). According to Keller, the team struggled with controlling the game in the first half, despite the 1-0 lead.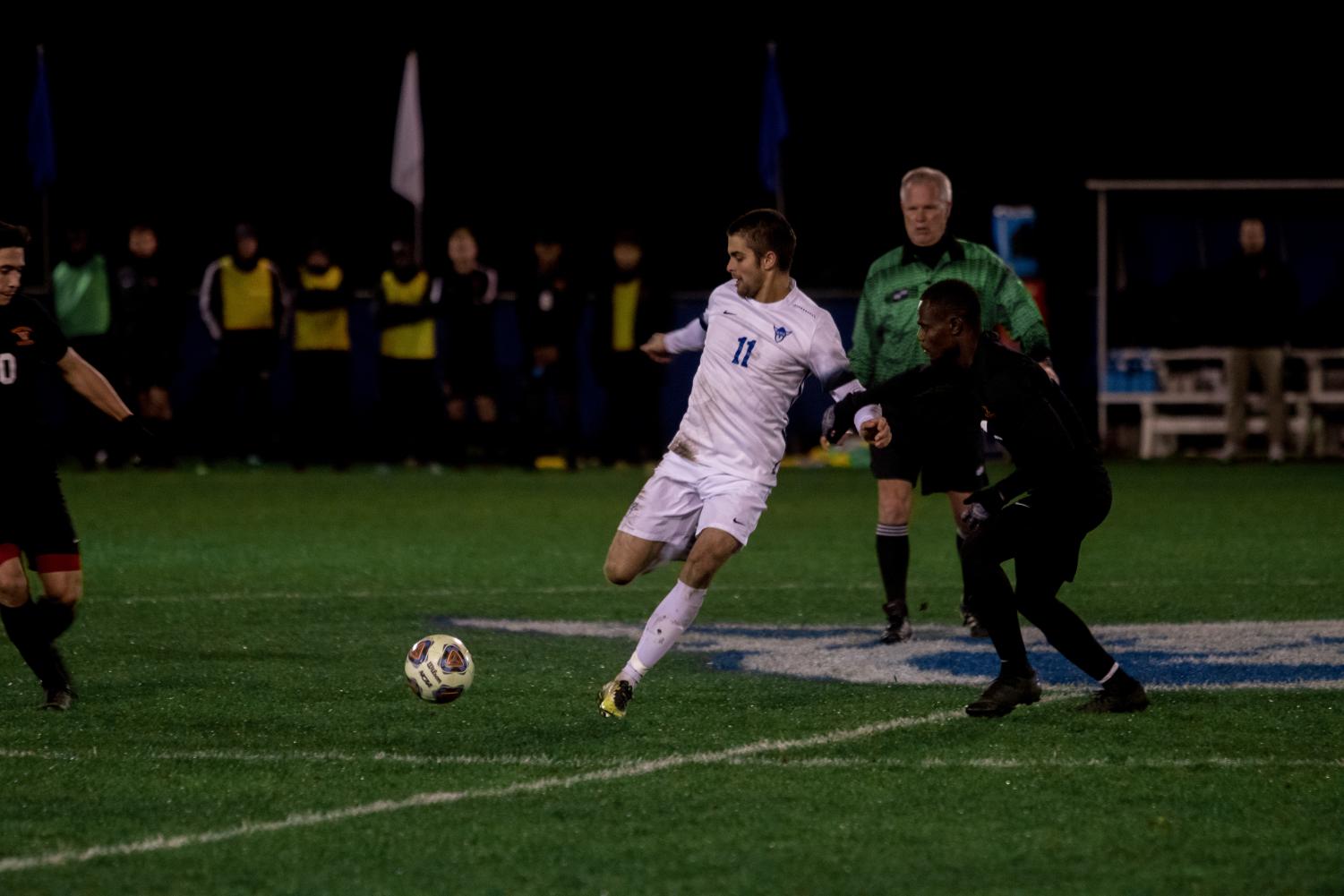 "We were slow to start the game and weren't able to possess the ball very well," Keller said. "Defensively, we were pretty sloppy at first."
At the end of first half of the match, Luther proved to have a stronger attack with nine shots and three corner kicks that resulted in one goal and one save, in comparison to Wartburg who attempted nine shots on goal with two corner kicks and one save.
Keller thought Luther improved in the second half.
"We were able to dominate the game and possess the ball and [Wartburg] didn't get out of our half more than, maybe, 10 times," Keller said.
In the second half Marc-Arthur Shapiro ('21) scored off an assist from Faydane Ouro-Askondo('22). Shapiro's goal was his first of the season.
Keller went on to commend the center backs from Wartburg for their strong defense.
"Both their center backs were strong and they were quite a challenge," Keller said. "They were able to muscle me out a few times."
Earlier in the season Luther and Wartburg tied 2-2 in a match and a Luther victory was highly anticipated.
"It is really hard to tie, [it's] a bad result, but tonight we redeemed and justified ourselves," Keller said.
Ruivaldo Viana ('22), a spectator at the game, was impressed with the players.
"The pressure from Luther was really strong, but I think Wartburg was a good team too," Viana said. "Luther was playing offensive because they were playing on home soil, and they were doing a great job."
Ayo Adebayo, one of Wartburg's star players, congratulated Luther on their win.
"Luther is a great team, they have lots of good players all around," Adebayo said. "They deserved to win that game today. The atmosphere was great too, everyone was going pretty hard, it was just a fun atmosphere."
Wartburg Head Men's Soccer Coach Mike Madigan wished Luther success as well.
"I think that the guys stuck to the game plan and stuck to building their strengths," Madigan said. "But you always pull for team in your conference and so we wish Luther the best of luck. Hopefully that goes beyond our conference and into the NCAA tournament."
In the ARC Championship match, Loras had a 1-0 lead in the 63rd minute off an unassisted goal, but Luther scored twice in the last 17 minutes to secure the victory.
Keller scored Luther's first goal in the 74th minute off an assist  from Harry Merz ('20). Marcos Vila Valdivieso ('22) scored the second goal in the 87 minute, which was assisted by Keller.
Head Men's Soccer Coach Chris Garcia-Prats has confidence in Luther.
"My belief in my team and the belief in what we do is very strong. I never think we are going to lose," Garcia-Prats said. "We have a great team and very good leadership. Luther compares very good to other schools in the conference."
Luther will host Knox College for the first round of the NCAA III National Tournament on Sat Nov. 10 at 3:00 pm. If Luther wins, they will face either Gustavus Adolphus College or Dominican University (IL) at home for the second round of the national tournament on Sunday Nov.11 at 5:00 pm.