The Removal Period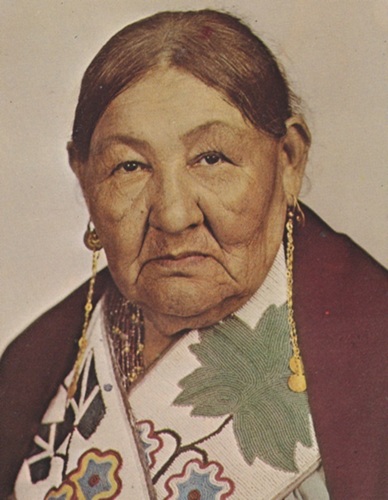 Grace Onsrud, Staff Writer
December 3, 2018
Hang on for a minute...we're trying to find some more stories you might like.
Professor of English David Faldet ('79) gave a lecture titled "Emma Big Bear: Reversing Winnebago/Ho-chunk Removal" on Nov. 13 at the Decorah Public Library. The lecture covered the years of conflict and struggles that the Winnebago/Ho-Chunk people faced as they were forced to move around the Midwest, including an eight year period spent in what is now Decorah. Faldet linked this history with the story of a Winnebago woman named Emma Big Bear, who returned to the Decorah area in 1917, resisting the long series of removals that preceded her.
Faldet became interested in Ho-Chunk history while working on his book, "Oneota Flow," which covers the natural history of the Upper Iowa River Basin. He had a difficult time with the chapter on Winnebago history in the area because they were only here for about eight years.
"There was so much there I felt overwhelmed," Faldet said in his lecture. "And so I've gone back to that material, trying to continue to figure out that part of Winnebago/Ho-Chunk history."
Faldet started the lecture by placing Emma Big Bear in the context of her history and framing her story as a survivance story. The term survivance describes the act of self-expression that demonstrates the active presence of Native Americans in the world.
Born in 1869, she was the granddaughter of Waukon Decorah, who served as an orator for the tribe in dealings with the federal government in the first half of the 19th century. Big Bear's birth in 1869 occurred at the end of a series of 10 different removals forced on the Ho-Chunks over a 50 year period.
The federal government's strategy for removing Native Americans during this period involved waiting for Native American groups to strike out in violence first as settlers claimed more territory in Wisconsin. This provided the government with an excuse for military interference and ended with dishonest treaties ceding land to the United States.
The Winnebago/Ho-Chunks banded together with other tribes and fought in a series of battles against the United States in the early 19th century, incurring numerous fatalities.
President Andrew Jackson had strong views on how the government should relate to Native Americans, encouraging forceful relocation.
"Established in the midst of another and superior race, and without appreciating the causes of their inferiority or seeking to control them, they must necessarily yield to the force of circumstances and ere long disappear," Jackson said in his 1833 State of the Union Address. "It can only be done by a general removal."
Leaders of the Ho-Chunk tribe were summoned to Washington in 1837 because the government wanted access to their land in Wisconsin. They refused to sign the treaty at first, but were held hostage until they signed and ultimately agreed on the condition that they would have six years to move. However, the treaty said six months and not six years. Waukon Decorah's brother Big Boat Decorah was one of the signatories on this treaty.
In 1840, the Ho-Chunks were forcibly relocated from Wisconsin to Northeast Iowa, which was then known as a neutral ground unclaimed by any one tribe. Only a few years passed before they were moved again, this time to Minnesota. The Ho-Chunks did not want to leave Northeast Iowa and feared that it would be a struggle to survive in the different environment they would face in Minnesota.
In his presentation, Faldet included a quote from Waukon Decorah describing his reluctance to leave Northeast Iowa in the 1830s.
"We don't call it ours for we did not make it, nor could we make it so pretty and fair," Waukon Decorah said. "The Great Spirit made it and we cannot sell it. We have never sold any country, but have given up our homes to our Great Father to make room for his white children."
The Ho-Chunks went to Long Prairie, Minnesota and then to Blue Earth, Minnesota, where they attempted to assimilate and adopt the farming practices of the white settlers. However, the settlers resented their presence and had them removed again to Crow Creek on the Missouri River, where over 100 died within the first few weeks, and then ultimately to a reserve in Nebraska. After each removal, some of the Winnebago/Ho-Chunks resisted and returned to their original home in Wisconsin.
While the Winnebago/Ho-Chunks were in Decorah a short time, they are namesakes for places around Northeast Iowa. Winnebago Street in Decorah has its name because there was once a Winnebago grave at the intersection of Winnebago Street and Main Street. The grave was moved to make way for the streets. Winneshiek County is also named after a Winnebago/Ho-Chunk family.
In light of this troubled history, Faldet found Emma Big Bear interesting because of her place in this wider context and sees her choice to come back as a symbol of resistance.
"It's significant to me that halfway through her life, she was 49 years old, she has her only child, and at that significant point in her life she decides to leave Nebraska and come closer to Wisconsin, her original home," Faldet said during the lecture. "But interestingly enough stops here in Northeastern Iowa and stays on the western side of the Mississippi where there was not a large support network of Winnebago community."
For many years, Big Bear, along with her only child and her husband, lived in a traditional way inhabiting an open structure in the summer and a more closed structure in the winter. Seasonal housing was typical of how the Ho-Chunk people lived in the past. Big Bear made a living through weaving and selling wood baskets in a traditional Winnebago style. In the late 1940s after the death of her husband and daughter, Big Bear moved to McGregor, Iowa and then to Marquette, Iowa where she died in 1968 at the age of 99. Some audience members at the lecture had known Emma Big Bear personally and shared stories after the lecture.
Audience member Alex Brandt ('16) was interested in the lecture because he had not heard very much about the Native American history of Decorah and Northeast Iowa before.
"People like to think about Decorah as a nice town and a nice area, but they don't always think about the things that happened here, like [Faldet] talked about moving graves," Brandt said. Faldet closed the lecture with his interpretation of Emma Big Bear's choice to settle in Northeast Iowa.
"I see it as an assertion, really of her strength and her defiance," Faldet said. "There was a lot of that happening in this period and I see her as an example of somebody who really is seeking to live on her own terms, in her own life, in a very admirable way."