The history of Christmas at Luther
Juhl Kuhlemeier, Staff Writer
December 12, 2018
Hang on for a minute...we're trying to find some more stories you might like.
The Luther community continues to celebrate the holiday season with its annual tradition of Christmas at Luther. This tradition dates back to 1921, originally consisting of a choral and orchestral performance of George Frideric Handel's "Messiah." This performance was organized first by Luther's legendary band director Carlo Spirati (1888), who also conducted the orchestra and choir at the time.
The entirety of this work of music was used for this annual performance. Even back then the celebration brought together the community through song.
"Students performed it alongside community members," College Archivist Hayley Jackson said. "And that became an annual tradition that they did every year."
The event gained more significance when Weston Noble ('43) began directing Nordic Choir in 1948. Noble himself had participated in the event as a student and then conducted it for 56 years. Noble made a point to make this annual performance a special opportunity for both members of the Luther community and the wider Decorah community.
"He would invite community members, faculty, and staff [to] come and sing in the 'Messiah' as well," Jackson said. "And alumni who had graduated could come back. And apparently they had a couple times like a thousand people singing this."
In 1981, then junior member of the music faculty Craig Arnold decided to organize a Christmas concert entitled "Juletide," along with the "Messiah" performance. As it gained popularity through the years, the "Juletide" concert was put on three times from Thursday to Friday, and the "Messiah" was performed once during the weekend. Once Noble retired in 2005, the tradition of the "Messiah" was brought to an end, making room for more performances of the popular "Juletide." The name of "Juletide" was changed to Christmas at Luther in 2002.
Traditions of Christmas at Luther include candle lighting during a mass piece in the concert and the devotions given to the ensembles before the concerts by members of the ensembles. These devotions act as times for the members to bond together and to share some thoughts before each concert. In recent years, new traditions have started, such as student narrators throughout the concert.
"A pattern that has evolved in recent years is to have student narrators," College Pastor Mike Blair said. "Things fit together so that the program has a larger message. And the students' narrations are a viable part of that, which kind of helps enrich it quite a bit and that gives some depth and also helps people hear things in multiple ways."
The Artistic Committee begins planning Christmas at Luther the previous spring semester. The Artistic Committee is currently composed of Director of Choral Activities and Associate Professor of Music Andrew Last ('97), Assistant Professor of Music Jennaya Robison ('96), Professor of Music Daniel Baldwin, Professor of Music and College Organist Gregory Peterson ('83), Instructor in Music Mark Potvin ('01), and Blair.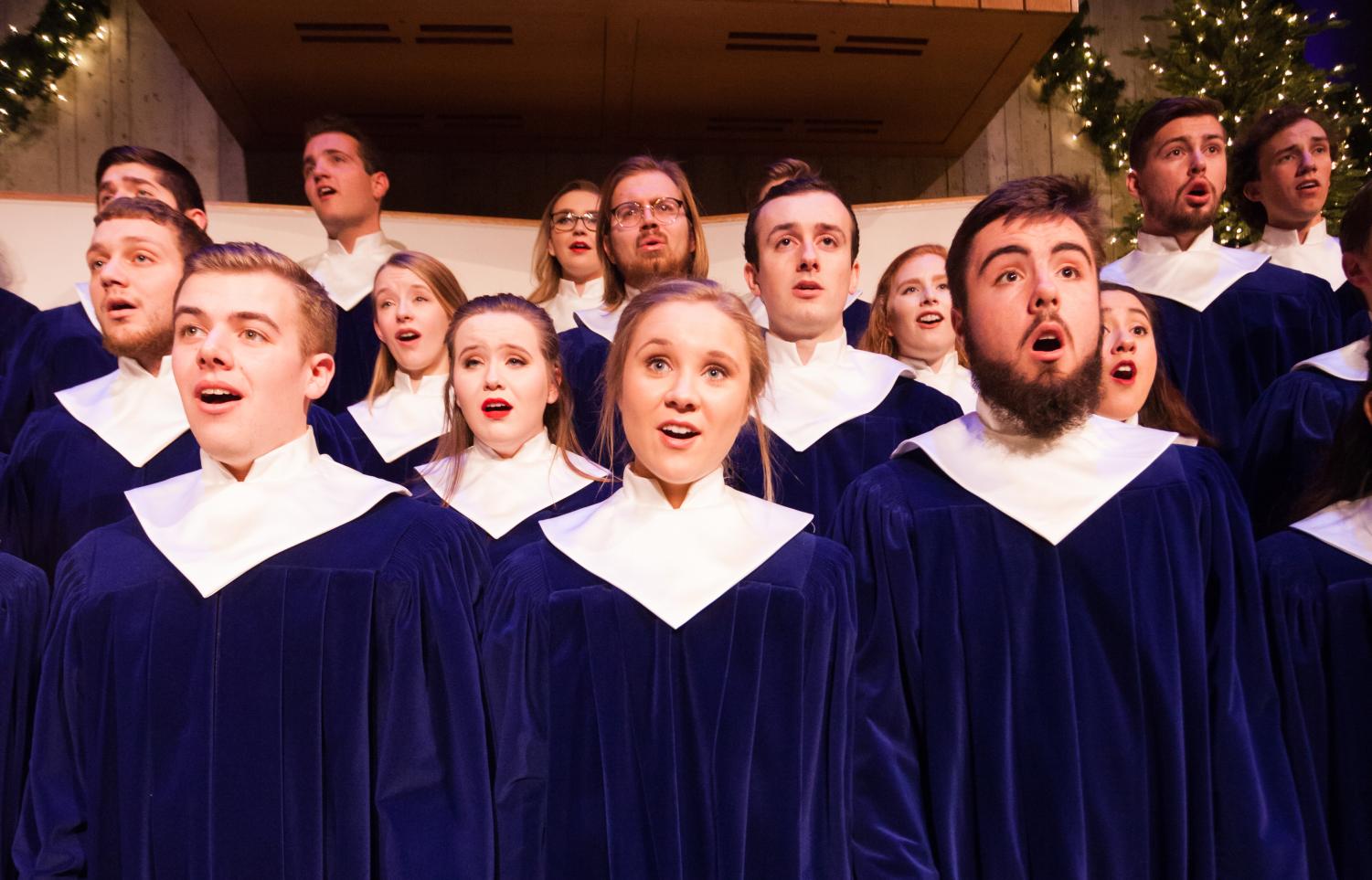 Photos courtesy of Danica Nolton ('22), Emily Turner ('19), Madie Miller ('19), Visual Media Fellow Nathan Riley ('18), and Director of Visual Media/ Staff Instructor in Art Aaron Lurth ('08).
"For the mass repertoire, we start spitballing in April about themes and then after we talk about themes and get that set, we try to figure out what mass music is going to fit," Potvin said. "Stuff that's both a departure from the previous year, but also stuff that harkens to the history of this event."
Christmas at Luther traditionally follows a certain theme that changes every year.
When considering potential themes, the Artistic Committee keeps more than just the music in mind. Community-wide and campus-wide events and anniversaries are also taken into consideration.
"There's a mix of things looking at what's happening; are [there] global events or themes that connect with the celebration of the Christmas at Luther?" Blair said. "This is one of the times when such a big cross section of Luther community comes together, so it's important that we lift up the whole community as much as we can."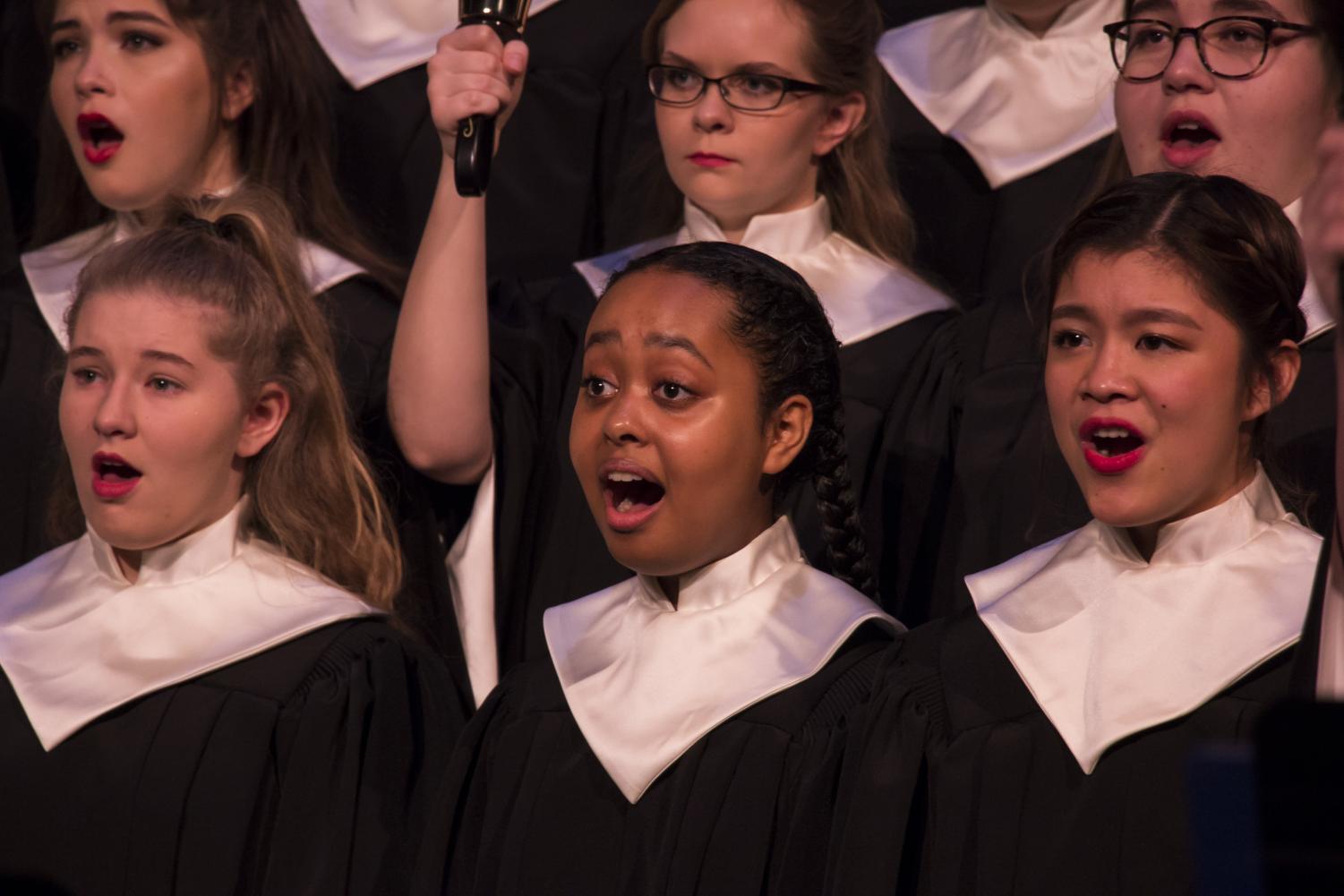 Photos courtesy of Danica Nolton ('22), Emily Turner ('19), Madie Miller ('19), Visual Media Fellow Nathan Riley ('18), and Director of Visual Media/ Staff Instructor in Art Aaron Lurth ('08).
Another recent tradition added to Christmas at Luther was the creation of the three-dimensional backdrop for the concert. Professor of the Theatre Jeff Dintaman has designed both of the backdrops for the 2017 and 2018 Christmas at Luther performances.
In 2017, a tree was built against the center wall of the Center for Faith and Life located behind the performers. This year, the church bells and stained glass window were built as the background for the concert. According to Dintaman, the design came from suggestions by Last to incorporate these church-like images.
Unfortunately, due to cuts in staff, this year will be the last that the theatre department will be able to make such a contribution to Christmas at Luther.
"It's been fun working for them the past two years," Dintaman said. "I enjoyed working with them. It's kind of fun to do that, but just physically we can't do it."
With this year's Christmas at Luther coming to an end, the recordings of the performances will be edited, released, and ready to purchase by Dec. 19. After a brief break, the Artistic Committee will reconvene in the spring to begin thinking about the themes and music for next year's Christmas at Luther.