The Westerlies: Four friends offer new perspectives on chamber music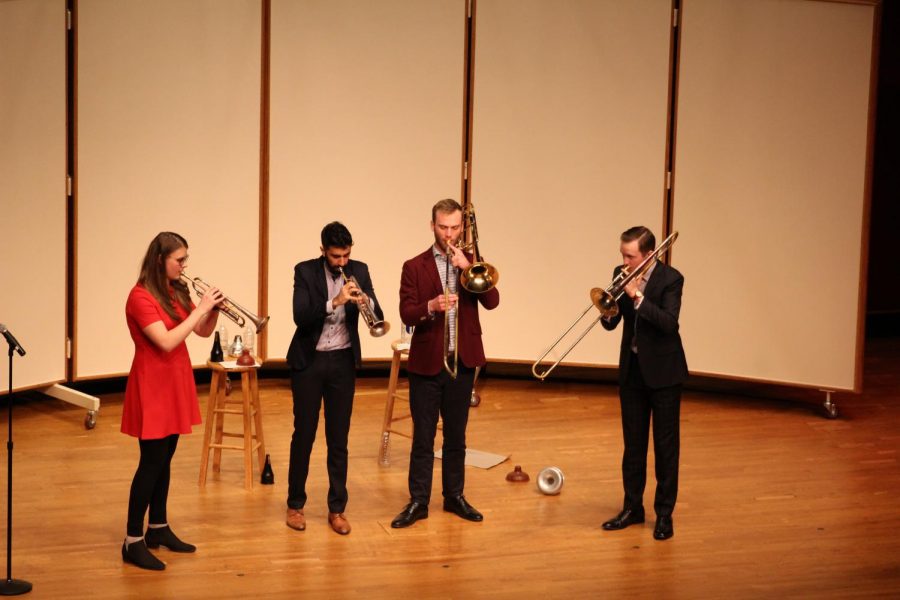 Ursula Damtse, Staff Writer
February 20, 2019
With fresh faces and a new approach towards ensemble playing, composition, and arrangement, a New York-based brass quartet, The Westerlies, brought their unique perspective on chamber music to the Center for Faith and Life as a part of the Center Stage Series on Friday, Feb. 15.
The ensemble is composed of four instrumentalists: Riley Mulherkar and Chloe Rowlands on trumpet and Andy Clausen and Willem de Koch on trombone.
Their performance began with the members playing a series of individual original compositions. A personal story inspired each piece. "Robert Henry" by Clausen was a tribute to his first nephew and tells a story of the first few years of his nephew's life. "Chickendog and Woodylocks" by de Koch is a tribute to his grandmother, named after a club she created for him and his little brother.
Because of their unusual instrumentation, The Westerlies often have to arrange their own music. In their Friday performance, The Westerlies performed arrangements of art pieces by their self-described personal hero Charles Ives, jazz melodies by Duke Ellington, and spirituals by the Golden Jubilee Quartet.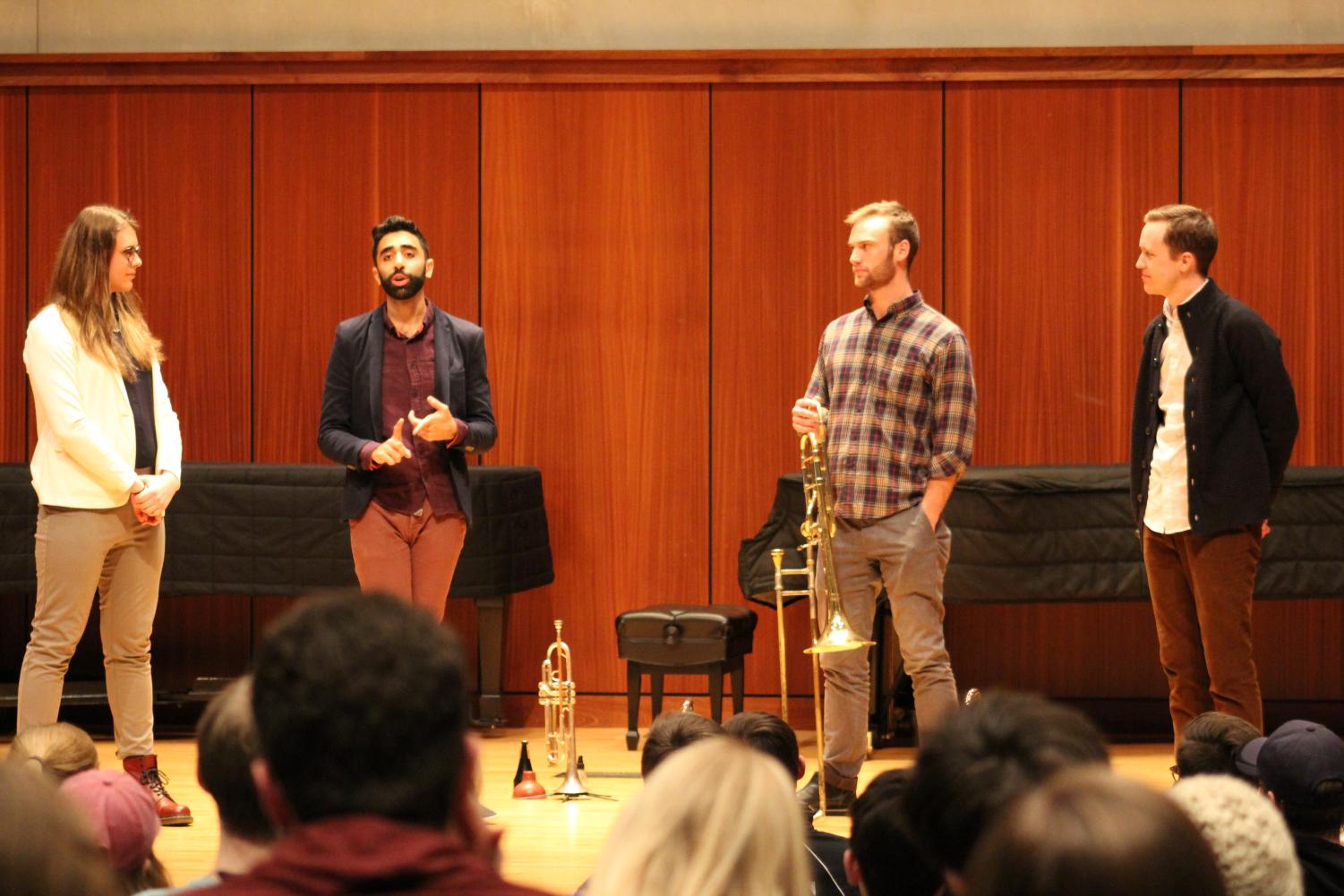 "We really try to be deliberate about not just playing repertoire by one group of people and trying to have diversity in the composers we're representing on stages and the genres we're representing on stages," Clausen said. "That's something that's very important to us, and we have a lot of conversations about that when we're deciding what repertoire to perform."
The ensemble started in 2010 when the members moved from Seattle, where they were all born, to New York.
"We had all moved to New York for college and we were all hanging out together," Mulherkar said. "We would cook together, we would eat together, listen to music together, go to shows. Then it was Willem who had the idea. He said, 'Why don't we try playing music together?' It is a bit of an unorthodox instrumentation with two trumpets and two trombones, so it didn't sound great at first. But after years of figuring out all the unique things we can do with our unique instrumentation and perspective on music that's sort of how the band came together."
Their move from Seattle to New York is also the inspiration behind their name. Riley explained that they got the name from the wind that blows from the West to the East.
All the members had an early start in music. Rowlands, for example, began playing the trumpet when she was just seven years old.
"I was visiting my uncle who is also a musician," Rowlands said. "He has a big bin full of random instruments and random things. And there was a bugle in there and he pulled it out and handed it to me. I remember I tried to make a sound and I played a note and my whole family [around] me just got [really] excited. I always knew I wanted to play trumpet after that, and I knew from a very early age that I wanted to play for a living."
Luther's Center Stage Series has presented young acts like The Westerlies in the past. Director of Campus Programming Paul Atkins says performances like The Westerlies expose the student body to something new.
"The worst thing that can happen when you come along to something you're not familiar with is that you'll learn something," Atkins said. "I can always guarantee you that even though you might not be aware of the style or performance or anything about them, we program performers that are exceptional in their craft [so] you can't help but be intrigued and entertained by what they do."
The next Center Stage Series event will be Goitse, an Irish music group that will perform on March 14.