Black History Month: Diamond Jenkins ('19)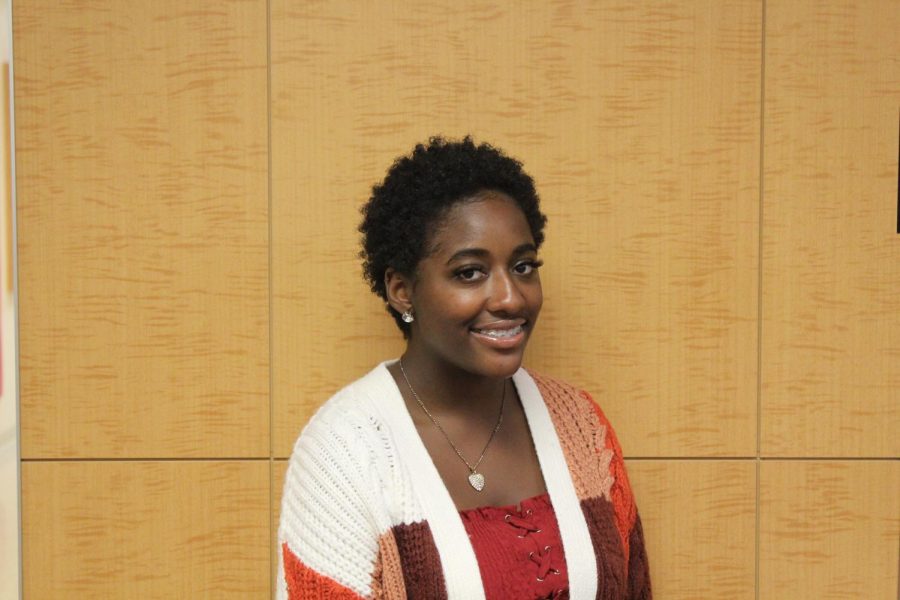 Aidan O'Driscoll, Staff Writer
February 20, 2019
February is Black History Month and, to celebrate, Chips is sharing two student profiles of significant Black women in order to highlight their impact and achievements.
Diamond Jenkins ('19) is honest. Refreshingly honest. The type of honest that unapologetically alerts people as to what-is-what. Jenkins is the type of honest that — to her friends and colleagues — has made her someone to admire.
Tamar Tedla ('20) has encountered that honesty first hand in her interactions with Jenkins on campus.
"I think with a lot of people — especially in the Midwest — we lack that upfrontness and honesty, and I think that Diamond provides this realness that a lot of people can't," Tedla said.
Catalyze Coach Daniel Brown ('18), who knew Jenkins before she came to Luther and has remained friendly with her during their time at school together, agrees with Tedla.
"She makes a very conscious decision to be honest and to do that very authentically but while considering other people still," Brown said. "She is woke and her eyes are open."
Jenkins grew up in a suburb of Chicago called South Holland in a Christian household. Her father was a pastor and her mother was a minister. In high school, she attended Perspectives Leadership Academy and applied to Luther through the Common Application.
When she first arrived on campus, Jenkins remembers being met by excited Luther students, faculty, and staff, clapping and waving, shouting greetings toward incoming first-years as they strolled into the Center for Faith and Life to be formally welcomed.
"I was like, 'Oh man, I hope this is what college is going to be like every day,'" Jenkins said. "Of course, I was wrong."
For Jenkins, navigating life at Luther has posed challenges. As a woman of color coming from a diverse and eclectic Chicago background to the predominately white campus of Luther, Jenkins has had certain uncomfortable realizations.
"Freshman year, the race thing kind of hit me," Jenkins said. "Some people have never seen Black people, some people don't like Black people, some people have parents who may have told them stereotypical things about Black people, so that was one of the biggest issues being here for all four years."
Yet, despite these realizations — and how she has seen racism manifest in incidents of hate on campus, like the incident in which the letters 'KKK' and a swastika were stomped into the snow on the football field — Jenkins has simultaneously felt an overwhelming sense of pride in her culture and identity.
"Though it is a big factor at Luther, I don't want to think of race as the biggest defining factor," Jenkins said. "When I came to Luther it was like, 'Oh my gosh. I love being a Black woman. I love my skin color. I love my culture.'"
During her sophomore year, Jenkins declared her social work major. Through the major, she has been able to work with children, the elderly, and those with disabilities. She enjoys it because she gets a broad range of opportunities; it is a field with many options for specialization.
Alongside her major, Jenkins is involved in a number of extracurriculars: Luther's Black Student Union, the International Student and Allies Association, Alpha Beta Psi sorority, Habitat for Humanity, and PRIDE. She also works two jobs — one on-campus and one off-campus.
Jenkins is excited for life after Luther. Excited to move on to the next chapter. When asked if she is worried about the future, she replied as one might expect from Jenkins: with thoughtful and reflective honesty.
"What I've learned at Luther is that you can't really prepare for everything," Jenkins said. "You have to deal with it as it comes. Luther for sure has made it so that my mental strength is so strong and I am happy with who I am now. Like, self-love. When the next tough time comes — next tax season when I'm like, 'What does this mean? What is exempt?' — I'm just going to have to love myself, figure it out and get through it. If I can make it through four years of college at Luther then taxes won't be an issue."
Jenkins has been celebrating Black History Month by championing notable Black authors, activists, and scholars through her Snapchat, some of which include Toni Morrison, Bessie Coleman, and Carter G. Woodson. She will be giving a chapel talk on March 1 on the topic of love in which she will be taking excerpts from African-American poets.