Lydia Juma ('21)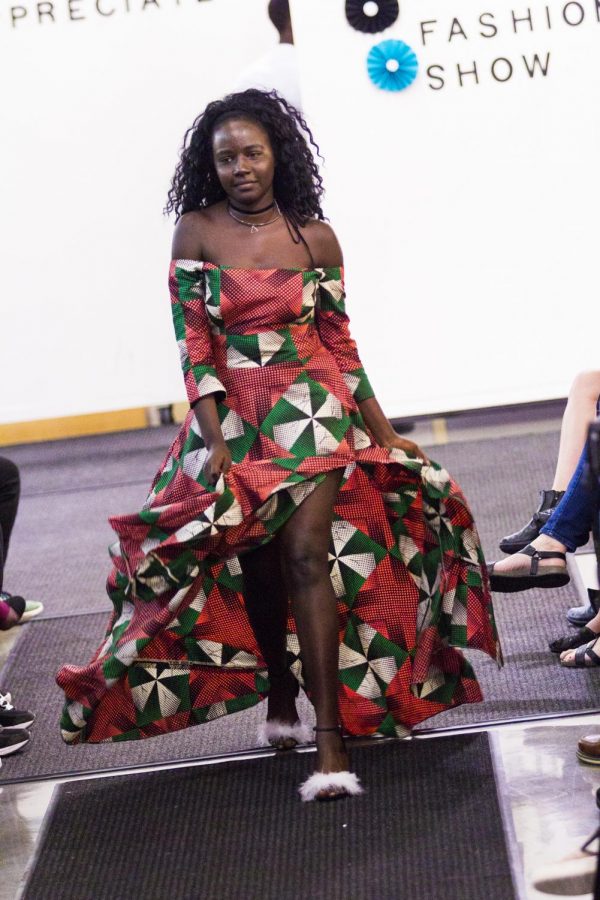 Sophie Nall, Staff Writer
February 20, 2019
February is Black History Month and, to celebrate, Chips is sharing two student profiles of significant Black women in order to highlight their impact and achievements.
Lydia Juma ('21) wore a shirt that read "Nigeria: Hustle is my middle name" as she sat on a chair in the Center for Intercultural Engagement and Student Success, highlighting her desire to express herself and her culture through fashion. Juma is known for her passion for fashion design, which was highlighted in the 2018 International Students and Allies Association International Fashion show when she designed multiple dresses for a variety of models.
Juma brought her interest in fashion design from Nigeria to Luther, participating in the fashion show as a model for the past two years. The fashion show is an annual event where Luther students express culture and educate students about other countries through clothing. Juma's first experience with the fashion show as a first-year was modeling.
"As a freshman I did model, but it was just one of my dresses [that I already owned]," Juma said. "I hadn't started designing. It was my mom who actually designed that one. It was an African print called Ankara wax print."
Juma's passion for the event is clear, especially considering how she went to the ISAA executive board and asked them to move the date of the 2018 show when she thought she would miss it. Several of her designs made an appearance in this fashion show.
Juma chose to use models from a variety of races and backgrounds, all wearing different Nigerian styles in order to allow a diverse selection of students to experience the fashion of her culture.
"I kind of wanted models from everywhere, not just my continent," Juma said. "I got someone from St. Paul, someone from Zimbabwe, [another] Nigerian girl, someone from Wisconsin too. It was just really nice for all of them to model the designs and for them to see the types of clothing we wear in my country. There's that misconception [that] Africans don't wear clothes. It was really nice, them seeing how we really do things in Africa."
Juma's desire to break stereotypes about African culture and share this culture with the predominantly white American Luther population served as influences in her clothing design in the fashion show. The style of her designs in the fashion show varied, ranging from above-the-knee to ankle-length dresses in a variety of colors such as red, blue, pink, and more.
Juma's desire to use African prints and fabrics in her clothing stems from her childhood in Nigeria.
"I grew up in a Muslim neighborhood," Juma said. "Eid is [an important holiday] and everyone comes out in their traditional wear. It's almost like a competition, even when people are going to church, [of] who has the most elaborate outfit. I think I got my inspiration from [that.]"
Tariro Chibodo ('21) is friends with Juma and also modeled a knee-length blue dress with pink floral print for her in the 2018 fashion show.
"Since I met her she has always expressed her interest in fashion and it's something that you could see through her dressing, and that's probably why we got along so fast because we shared the same interests," Chibodo said. "I've been so lucky because, as her friend, I've gotten to be her model at the ISAA fashion show and she has also made me some [clothes] to wear that she designed herself."
In all aspects of her life, Juma is able to connect with those around her through her personality and humor. Nana Anim Asante-Apeatu ('20) is a friend of Juma and loves her vibrant personality.

"I have known Lydia for two years now and I knew her through [ISAA], however we had met prior simply through the circle of international students I am friends with," Asante-Apeatu said. "Lydia was one to always bless the group with humor."
Juma is actively engaged in the Luther community as she balances meetings with Beta Theta Omega, ISAA, and the Black Student Union. She found a sense of community in the same place she was able to find an outlet to display her passion for fashion design.
"When I came here there was a huge gap between American students and international students," Juma said. "I mean there's still that gap, but it's improving way more than it was last year. I didn't feel like it was a community in this school… ISAA just made me feel so welcome. I could go there and just be so loud and laugh."
Juma is pursuing a variety of passions at Luther. While she is involved in fashion design, she is also pursuing a degree in accounting with a minor in Africana studies.
Although she plans to go into accounting, Juma still hopes to pursue in fashion design in the future. Her love for Nigerian culture and clothing pervades her style, and she wants to share it with anyone willing to learn.
"A lot of [African-Americans] might want to reconnect with [their culture]," Juma said. "For me, clothing is a very strong way of reconnecting with culture. I would also open it up to many other races… If they want African print I will give them African print!"