Eric O'Shea brings joy and laughter to Marty's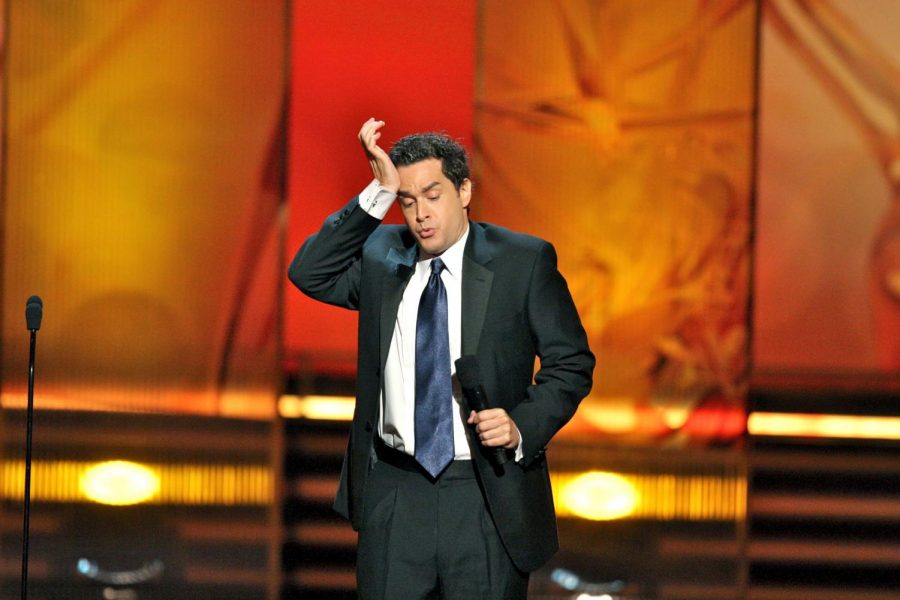 Aidan O'Driscoll, Staff Writer
February 28, 2019
There is a video on YouTube of comedian Eric O'Shea performing at the 2009 Emmy Awards. He is dressed for the occasion in a black suit, a crisp white dress shirt, and a black tie. A crowd of who-knows-how-many claps as he strolls onto center stage; a stage which is, by all metrics, resplendent — a gold, platinum, and black backdrop. Everything one might expect for the Emmy's.
O'Shea is introducing the category of Most Outstanding Commercial.
"Look at everybody automatically reach for the TiVo," he teases. There's sporadic laughter, a number of hearty chuckles, and one full-throated cackle. Then he sets up his joke. "Don't worry, they are very entertaining … But I think they need more hit songs to promote the products."
Cue the comedic bit O'Shea is most known for: "Songs for Commercials."
"Discover Card," O'Shea proclaims to all in the Nokia Theater. Immediately, "We're Not Gonna Take it" by Twisted Sister plays over the speakers. O'Shea mimes a deeply frustrated customer whose Discover card isn't accepted, met with a slew of laughs. The music stops. O'Shea steps forward for another proclamation: "Pregnancy Test." Chic's 1978 hit "Le Freak" blares and a look of panic crosses O'Shea's face. More laughter; laughter that continues with each fake commercial idea and each hit single and each miming episode. Just before O'Shea begins to introduce the nominees for Most Outstanding Commercial, and having just finished his last fake commercial proclamation — Viagra, mimed hilariously to Josh Groban's 2003 hit "You Raise Me Up" — the camera pans to Betty White sitting in the crowd, clapping and laughing and clearly enjoying herself. There's a photo of the two of them on O'Shea's website captioned, "Eric's Golden Girl."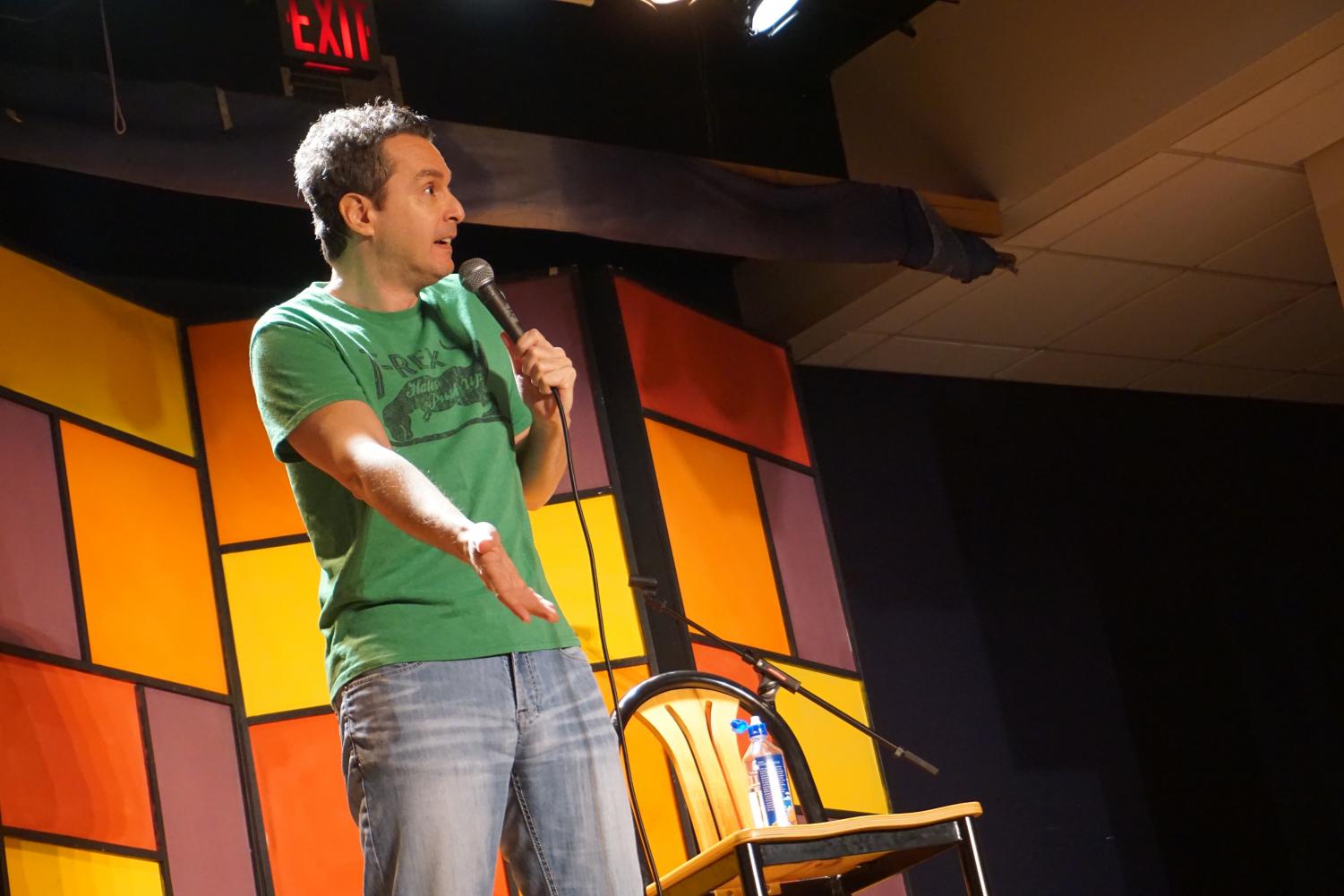 This bit, "Songs for Commercials," was how O'Shea finished the night when he performed at Luther on Friday, Feb. 22 in Marty's, this time opting for a green tee and jeans instead of the suit.
O'Shea has appeared on America's Got Talent, ABC, NBC, and VH1, among others. His primary market, however, is the college market, in which he began performing in 1997. Luther's Student Activities Council Entertainment committee decided to bring O'Shea to campus after seeing him showcase his talent at the National Association for Campus Activities-Northern Plains conference.
"In the winter, we figured when it is really cold and nobody wants to leave their room, how can we bring something that people want to go see and have fun at?" SAC Entertainment Co-Chair Olivia Enquist ('19) said. "We thought [O'Shea] had a ton of energy. We thought he was really funny and also very appropriate for a campus."
O'Shea's performance at Luther College included of a number of his established bits alongside some improvisational moments. Among the established bits were his impersonations of his nieces, his nephew, and Elmo; his "fart away" routine; and his wild talking-to-self-while-driving bit. These were punctuated by moments of improvisation — "writing on stage," as O'Shea calls it — which included conversational jokes with the audience, quips about the fragility of Luther students, and one recurring phrase in particular that showed that, although O'Shea was making the jokes, he was getting just as much out of the audience as they were getting out of him: "You guys are fun."
In an interview after the show, O'Shea shared that he still gets genuinely excited about performing.
"My whole goal is for both of us to get something out of this, and I feel blessed doing this 25 years, 70 schools a year," O'Shea said. "It's my first year [that] I'm slowing down to have a little more balance in my life but it has been a blessing, it has been good to me … It's not hard to be a good person and share some joy. That's all I try to do every night."
A number of students felt that O'Shea did just that — bring joy.
"I thought he was really funny," Sydney Maule ('20) said. "He did a good job of engaging the audience and talking about things that Luther students relate to."
O'Shea brought up an encounter with a Luther student he particularly enjoyed. A young lady approached him, he recounted, and confessed recent personal struggles before thanking him for his performance by saying how she really needed it that night.
"That is what you drive home with," O'Shea said. "That is where you go, 'I think I am making a difference.' As you get older it is not just about, 'How'd you do? Success or fail? Being cool?' [As long as] somebody got something out of it."