WARREN VISITS DECORAH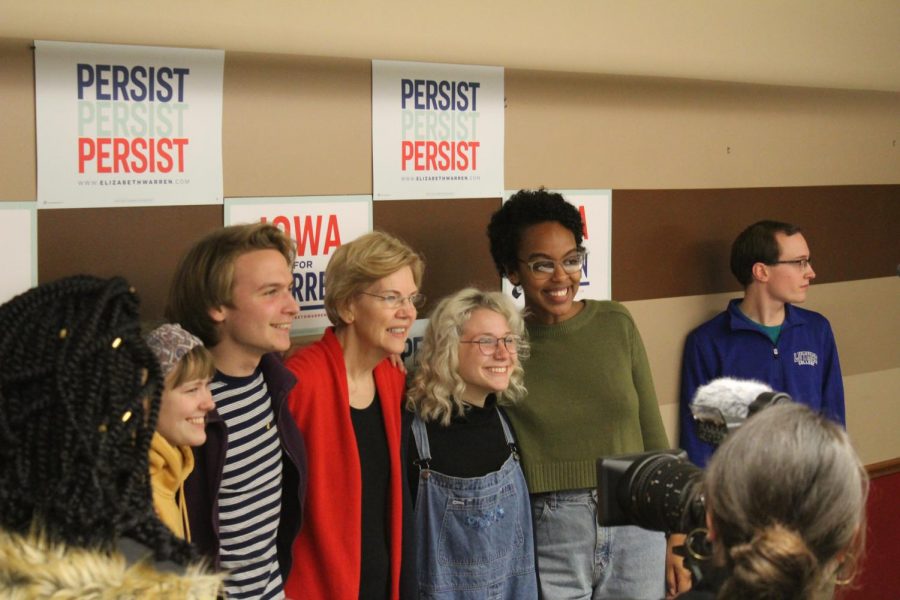 Forrest Stewart, Staff Writer
March 7, 2019
Presidential candidate and Democratic Senator of Massachusetts Elizabeth Warren held two meet and greet events to talk about the platform for her campaign in downtown Decorah on Friday, March 1. The first, hosted by Luther College Democrats in the basement of Mabe's Pizza, was primarily attended by Luther students; the second, hosted by the Winneshiek County Democrats and held at the Lingonberry, was attended mostly by Decorah community members.
On the 2016 primary campaign trail Hillary Clinton, Ted Cruz, Bernie Sanders, and Rick Santorum were several front runners to visit Decorah. Warren is the first major presidential candidate to visit Decorah on the 2020 campaign trail.
Iowa's caucus is important because Iowan democrats will be the first people in the country to have their say as to who they would like to represent them in the general election. The field of democrats currently numbers over ten major candidates with more expected to declare in the coming weeks.
During her speech at Mabe's Pizza, Warren laid out aspects of her platform, specifically highlighting issues of interest for students in the audience. Her message was centered around a rejection of politics that only strive for small incremental progress. She argued that this is an inadequate approach for fixing the issues currently facing the United States.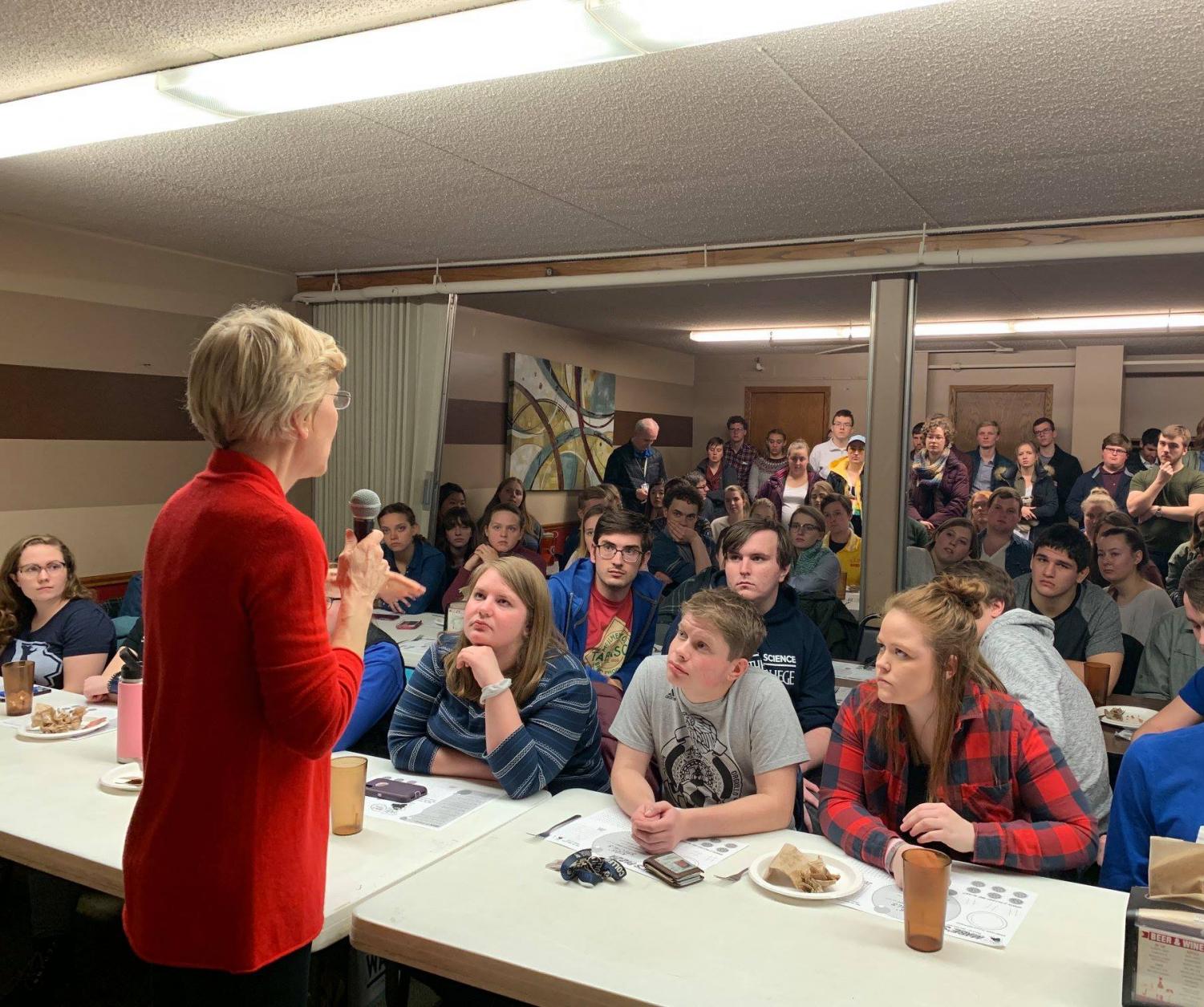 "We can't make the change we need by nibbling around the edges," Warren said. "We need big structural change."
She laid out her vision for this type of change in three main priorities. First, she broadly outlined a sweeping anti-corruption proposal which would, among other things, "end lobbying as we know it." Second, she highlighted the need for policies geared toward changing the rules of the economy so that it would favor working- and middle-class Americans rather the rich Americans and large corporations. Warren proposed to institute a wealth tax on the ultra-rich.
"If we said the 75,000 richest families in this country had to pay just 2% on wealth above $50 million, we could pay for universal childcare, pre-k, and pre-pre-k for every single child in America and still have $2 trillion left over," Warren said. "And, if we're going to have $2 trillion left over, then maybe we could reduce the student loan debt burden."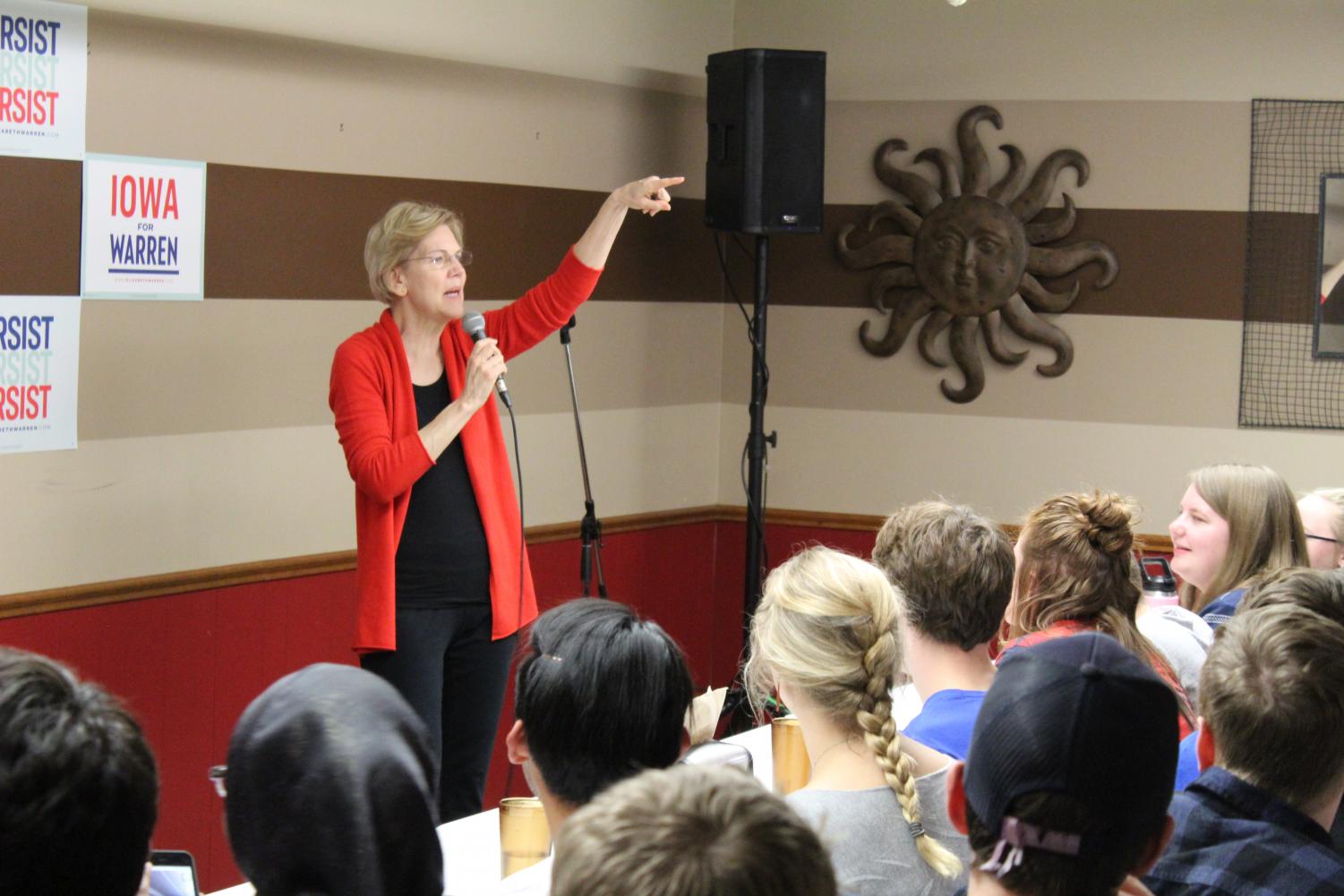 Warren's reference to student debt forgiveness was met with one of the most enthusiastic rounds of applause all evening.
Finally, Senator Warren called for a movement to protect the United States' democracy by changing the rules by which politics operate. This would include reversing Citizens United, the 2010 Supreme Court decision which made it legal for corporations, political action committees (PACs), and other organizations to spend unlimited amounts of money in order to influence politics. She highlighted the fact that she refuses to take any money from PACs and that she does not hold closed-door meetings with wealthy candidates. She encouraged voters to investigate the campaign finance practices of candidates especially as it relates to the issues that voters care most about.