Extreme cold weather and high snowfall compromises safety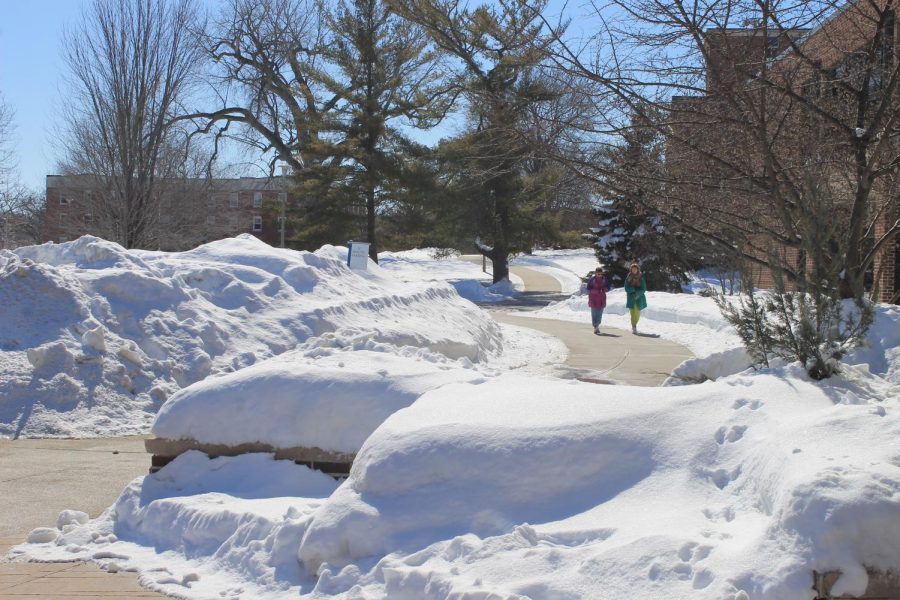 Linh Do, Staff Writer
March 7, 2019
Decorah has received record-low temperatures and unusually high levels of snow this winter, creating difficulties when traveling around campus.
Director of Facilities Services, Jay Uthoff,  says the temperatures and other events caused various challenges such as needing to clear   campus from the snow many mornings.
"During or after a snow event, our Facilities staff, custodians, grounds and   student workers work on clearing sidewalks, entrances, steps, and other areas," Uthoff said. "There is always a chance that an area can remain slippery but Facilities is dedicated to making sure the snow is cleared by early morning."
Professor of Russian Studies Laurie Iudin-Nelson appreciates that Facilities makes the effort to take care of sidewalks during extreme weather.
"Luther does a fantastic job in keeping up with conditions that are often times overwhelming," Iudin-Nelson said. "I am really impressed with the job that Facilities does in keeping our walks shoveled [to] eliminate the ice. They do a phenomenal job."
Although classes have not been cancelled due to unsafe sidewalks, Iudin-Nelson believes Luther makes necessary efforts to ensure safety while walking between buildings.
"I could cancel classes, but for those people who are here or who could be here, I don't like to cancel class," Iudin-Nelson said. "I think if the college decides to remain open, Luther took steps that they thought would certainly help people be safer."
Uthoff says that the clearing of sidewalks takes different amounts of time, depending on the amount of snowfall.
"The time it takes to work through campus depends on the accumulation and weight of the snow," Uthoff said. "With over seven miles of sidewalks to clear, it does take time. The large amount of snow will also create its own issues as temperatures warm and the snow begins to melt. Overnight, that melting snow may refreeze, causing slippery areas that are hard to see."
Levi Bird ('21) who slipped on black ice and sustained a minor head injury in the Farwell parking lot. He said that the ice was difficult to see.
"I was stepping over the snow into where my car has been parked and I didn't see that there was a complete sheet of ice," Bird said. "Unfortunately, it's something that happens a lot [but] luckily, it's something that, when it happens, not a lot of people end up falling or if they end up falling, not a lot of people end up with serious injuries."
Iudin-Nelson received several emails from students saying they could not make it back to campus for classes during the snowstorm in the past weekend.
"As a professor, for me, safety comes first," Iudin-Nelson said. "My answer to every single one of [those emails] is to be safe – that's the key thing. Because [my students] were so worried about missing class. But classes can be replaced, [while] people cannot be. And so, to me, if ever there is an issue of safety, [students] should not come to class."
Iudin-Nelson is grateful that students can tell her in advance that they cannot make it and has never seen students abuse such excuses. According to Iudin-Nelson the college has the same view on safety for faculty and staff. They do not penalize anyone who cannot make it to campus due to the weather.
"There's always going to be a risk, and you can't totally eliminate risk," Iudin-Nelson said. "I think the college does what it can, and I see both sides of whether we should cancel [classes] or not."