Samantha Bratland ('19)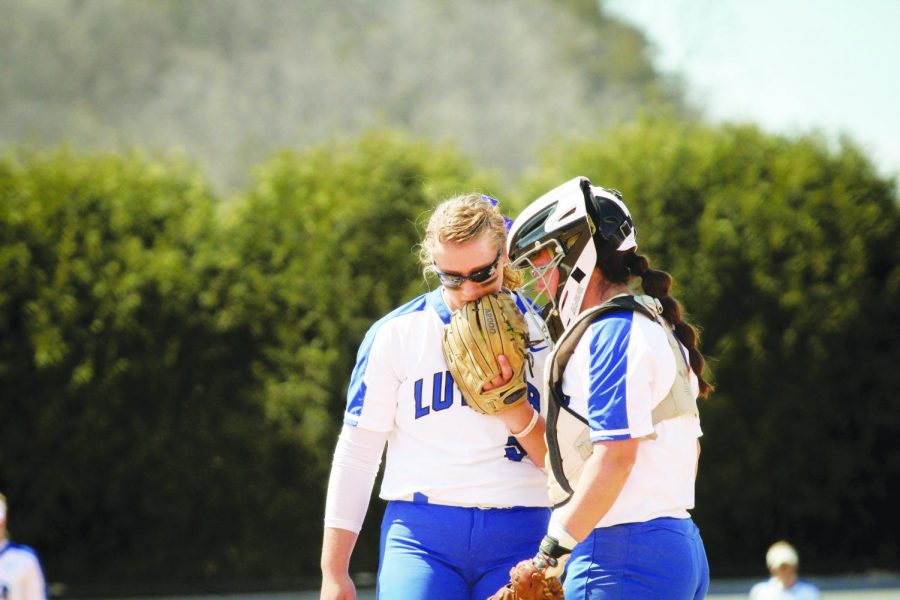 Katilynn Swanson, Staff Writer
March 13, 2019
Samantha Bratland ('19) is a two-time National Fastpictch Coaches Association All-American, has been named Luther's Pitcher of the Year for three seasons, and ranks second on Luther's all-time list for wins at 70.
When and why did you start playing softball?
Baseball and softball have been sports my family has been into since I was little. My dad is a huge baseball fan. He collected cards growing up and even played games with the cards, so it was just an easy transition. My sister played softball, and so I just grew up playing baseball and softball in the backyard and got into [it] just because it was a family tradition.
Where is your favorite place you have played and why?
Playing at home [is always great], because our home atmosphere is incredible. We have a huge stadium now and it's almost always full, so it's really cool to see all the family members come and support all of us. We also have a lot of other athletes, faculty, and other people from Luther that come to support us. It's incredible to see how much of a support system that we as a softball team have here at Luther. But also, traveling to nationals last year went extremely well. I wouldn't even say that it was the stadium atmosphere, it was the fans that usually make the experience. As long as they're there and we have that support, that's what makes the trip. It doesn't really matter where we're playing, it's who's there to watch us play or who's supporting us.
How do you mentally prepare for stepping up to the mound?
[Pitching] has been something I've been really good at my whole life. I'm always up for any challenge, and even if I don't think necessarily that I'm going to win, I give it my all and usually it ends up going better than I expected. So, knowing that I can always push myself past what I think I'm capable of tends to be what I'm going for. My teammates can expect that out of me as well.
How is it playing indoors versus outdoors?
I would say most of us hate playing indoors just because it's not the same as playing on dirt and grass. One, they are literally different surfaces; the ball does different things. Second, it's just so much more fun playing in an atmosphere where it's warmer or the sun is shining. When you think of softball, it's being played on dirt and grass. If you were to slide into a base and get a cut, [we say] "just rub some dirt in it." That saying is so huge in our sport. Playing in dirt and getting dirty is so different when you actually get to play outside versus inside.
What has been notable about this season?
The team atmosphere is really different and I love it. We've only played six games, so it's really hard to say where we're going to go necessarily, especially since we graduated so many of our starters last year. But this team has been completely different from any other team I've played on [at Luther] because we're so young. We have a huge family atmosphere, more than we've ever had before, because we're leaning on each other and relying on each other so much more than you would ever think to, which is different. It has been really fun to see all of the girls getting their firsts: their first hits, their first innings on the fields and to see those girls taking on a new challenge and watching them grow.
Who is an athlete you admire?
I wouldn't necessarily say that I have one particular athlete, but I've always been a huge fan of Jenny Finch. She is a huge influencer in the softball community, and she was probably the first player that I ever really looked up to when I was little. I always had her glove brand, I always wore her cleats, she was the one I looked up to as a little girl and really pushed myself and strived to be.
Do you find yourself training even more this season?
I would say that I've been doing a lot more endurance training than I have in previous years with extra biking so I can make sure that I can pitch more innings and making sure my body isn't giving out at all when we're in tough situations where I need that extra umph at the end.
What is your favorite sports brand?
I would say Mizuno or Nike are my two favorites, but at Luther we're sponsored by Nike, so I have a lot of Nike. Growing up I was always a Mizuno [fan], and then my glove brand, that I will never change, is Wilson.
What are some of your personal goals and team goals for the season?
My biggest [goal] is always giving everything that I have even when I don't feel like I have everything, and always being there for my teammates whether it's on the field or off the field. I always know my teammates can count for me on the field but I want to make sure that they know that it's off the field as well. So being a cheerleader when I'm not playing per se, or even in the classroom, or having lunch with the girls, or literally anything to make sure I'm being the best teammate I can be. [For the team], we obviously want a winning season. Most of the girls that have returned this year want to make it back to the national championships, like we did last year. Coming out on top in the conference is another goal as well. Ultimately, we're just trying to have fun playing.
If you could change one rule in softball what would it be and why?
Recently, a lot of people have wanted to push back the bases to 65 feet in softball because they're currently at 60. Because the game is so fast, and with the technology of the bats and pitchers usually throwing harder now, the game is just played so much faster than baseball is. I love that it's played fast, but at the same time there are points where it does get to be dangerous because we are so close. The infielders are standing super close to the batters, but also giving us more time as fielders to get runner out, whereas a lot of people just get safe because the placement of the ball and all that. So I would say the bases would be the biggest thing that I would change.