Paideia Lecture on finding the Hjemland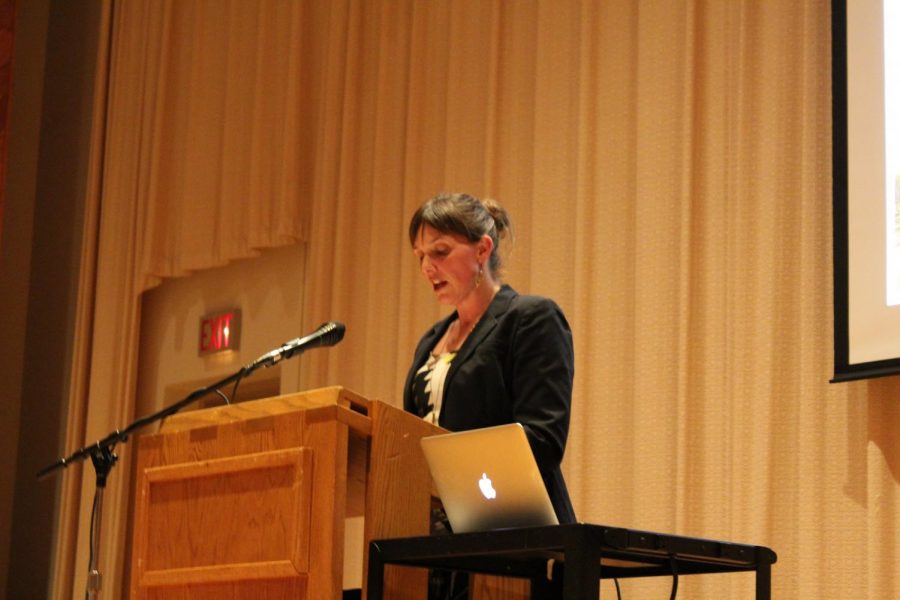 Kyle Brusco, Staff Writer
March 13, 2019
Associate Professor of Art History Kate Elliot gave a Paideia Text and Issues Lecture titled "Finding the Hjemland: Herbjorn Gausta and the Immigrant American Artist Experience" on March 5. The lecture detailed the life and times of Herbjorn Gausta (1875), a former Luther student and famous Norwegian artist.
Gausta painted landscapes, portraits, and scenes from rural settings in Norway. Elliot's lecture detailed Gausta's life while providing insight about the purpose behind some of his works, and how his works influenced Norwegian- American culture.
In 1854, Gausta was born in Norway, and immigrated to the United States with his family when he was 13. His family settled on a farm in Minnesota and he attended Luther to become a teacher.
"He entered the Luther teaching program in 1872, where, by all accounts, he did not distinguish himself as a scholar," Elliot said in her lecture. "He did, however, draw the attention of Reverend Koren, who recognized the artistic potential in Gausta. Reverend Koren and his wife Elizabeth took up a collection of money among the Norwegian community to send Gausta back to Norway for formal training in art."
Gausta attended the Academy of Art in Oslo, Norway and was taught by the Norwegian artist Knud Bergslien. He then attended the Academy of Fine Arts in Munich, where he learned to produce professional art. When he eventually returned to America, he made a living by painting portraits and altarpieces for Lutheran churches. One of his altarpieces hangs in the First Lutheran Church in Decorah.
Elliot also made several proposals about his work, one of them being that, rather than being motivated by nostalgia, Gausta produced many of his paintings for the greater community and for financial gain.
"The common notion that Gausta recreated scenes from his youth out of a psychological need just doesn't hold up to be the full story, and if we can set aside nostalgia and longing for a moment, I believe the possibility of his Norwegian images doing some other important work may emerge," Elliot said. "I am beginning to believe that Gausta's repeated return to painting the Norwegian landscape has much to do with building social cohesion among Norwegian-Americans, and, quite frankly, paying the bills."
Meta Miller('21), an attendee of the event, also believes that Gausta's work may have different motivations.
"Like [Elliot] mentioned at the end, I think it's probably somewhere in the middle," Miller said. "It seems like some of it was probably for nostalgia, whether it was his or the community's, and some of it was for money, because there wasn't a lucrative market for art in the Upper Midwest at the time."
Part of the title of the lecture, Hejmland, is the Norwegian term for homeland, and the talk covered the topic of finding the nostalgia in Gausta's art.
According to Elliot, Gausta made some paintings to sell, as he had to support himself, but he kept some paintings such as the ones that contained imagery of his homeland. During the presentation, Elliot showed the audience two landscapes by Gausta. While one was based in Norway and the other in Minnesota, they both look very similar. Elliot argued that this meant Gausta was nostalgic for his homeland in these paintings.
"Gausta isn't just painting his environment wherever he is," Elliot said. "He [was] consciously producing images of his dual homes, the Upper Midwest and Norway.  So his penchant for repeating Norwegian landscapes regardless of where he physically is lends itself to the idea that he produces this work out of a sense of longing and nostalgia for the place that he left behind."
Tyler Brandau ('22), an attendee, was interested by this claim in the Elliot's Lecture.
"When she talked about Gausta seeing the landscape and [how] it reminding him of home, I thought that was really interesting because it was very relatable," Brandau said. "Those feelings of loneliness aren't limited to just Gausta, and my favorite part of the lecture was definitely her focus on that."