Professor Emeritus Marv Slind gives lecture on the "parrothead" lifestyle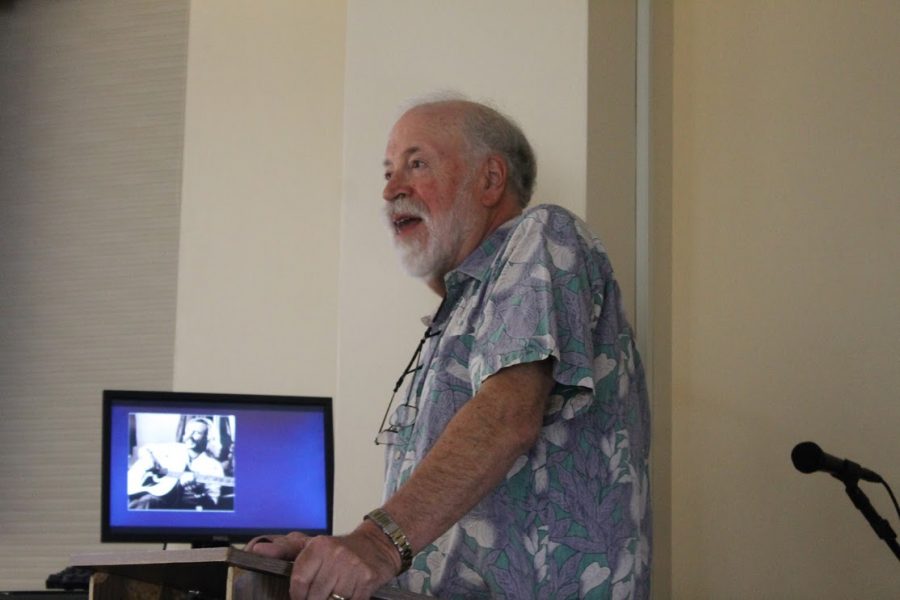 Olivia Schmidt, Staff Writer
March 20, 2019
Thirty-one former staff and community members attended retired history professor Marv Slind's Emeriti Colloquium, "Growing Older without Growing Up: The Parrothead Life," on Thursday, March 14, in the Mott and Borlaug rooms in the Dahl Centennial Union. The presentation focused on the music of American musician, novelist, and entrepreneur Jimmy Buffett and how his work could be used to understand the concept of ageing, and the appeals of the "Parrothead" lifestyle.
The term "Parrothead" refers to the fans of Jimmy Buffett, who are known for their colorful dress at his concerts, including "Hawaiian shirts", grass skirts, and eponymous Parrothead hats. The Parrotheads are considered largely responsible for the establishment of the "Margaritaville Empire,"  which includes Buffet's multiple different corporations and subsidiaries that allowed him to capitalize off of his art, even though his age and fading vocal ability prevents him from engaging in more live performances.   
Slind was first approached to give the talk by Emeritus Jim Eckblad, a fellow Buffett enthusiast, who was aware that Slind formerly conducted a J-term seminar centered around the music and fiction of Jimmy Buffett and the geography of his songs.
"It's not the kind of music that the Luther music faculty would necessarily be endorsing wholeheartedly, but many people would enjoy it, and that is a big part of [the presentation], to make it an enjoyable hour as well as an informative one," Eckblad said.
The lecture began with a brief overview of Buffett's original blend of country and Caribbean music, and the assertion that many of his songs feature older individuals who are looking forward to new things after experiencing a midlife crisis.
To highlight his point, Slind played the song "Growing Older But Not Up," a song about the tendency of older people to follow a particular pattern as they age, but also about the perks of that time. Heralded as the "Patron Saint of Escapism", Buffett has written various number one hit singles, the most popular of which being "Margaritaville."
Slind also explored Buffett's inspirations, in particular his interest in Mark Twain, from which his song "That's What Living Means to Me" takes its form. The song's opening lyric is a Twain quote, with many allusions throughout to his other works. But Slind argued that Buffett improved upon Twain's cynical epithet "Be good, and you will be lonesome." Buffett added a second clause after the phrase, "Be lonesome, and you will be free, live a lie and you will regret it, that's what living means to me."
Slind proposed  that Buffett tended toward a more hopeful and carefree outlook on life, which is reflected in his music. These morals are passed on to his listeners, and thus he is encouraging others to relax and live in the moment.
Attendee and Decorah resident Gary Minert was intrigued by the presentation.
"I've always listened to the music, but only superficially, so it was interesting to actually dive into the lyrics and learn some of the deeper meanings behind the writing," Minert said.
Marv Slind enjoyed the process of creating the presentation.
"I enjoy sharing something new with colleagues who don't know anything about it, and also don't know that I know anything about it, or at least not enough to give a presentation about it," Slind said. "I wanted to share a little bit about my favorite music as a way of escapism, to get away from the humdrum of ordinary life, simply in your mind."
The next Emeriti Colloquium will be held on April 11 in the Mott and Borlaug rooms, where Alan Lerstrom will be delivering a presentation about Relational Dialectics.