Lisa Scott hired to new Vice President position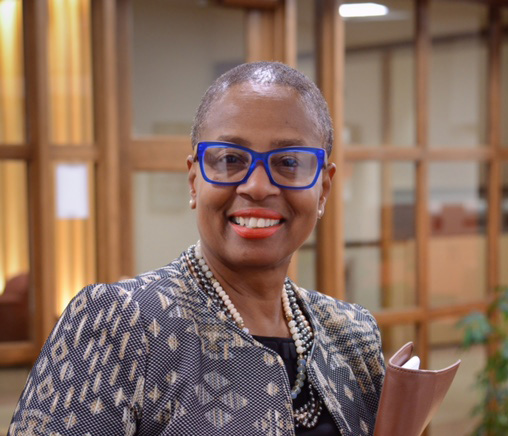 Linh Do, Staff Writer
April 4, 2019
Hang on for a minute...we're trying to find some more stories you might like.
Interim Dean for Institutional Equity and Inclusion Lisa Scott has been appointed as the first Vice President for Equity, Inclusion, and Student Success at Luther. She will start her role June 1. Scott has served as Dean at Luther since 2017.
According to a statement by President Paula Carlson in an email announcement of Scott's new position sent March 18, Scott's new role is the re-visioning of her current position as the Dean for Institutional Equity and Inclusion. She will continue to be a senior administrative leader and a key voice on diversity, equity, and inclusion issues. Scott will work with different people and departments across campus to ensure student success in all college life.
Carlson highlighted the importance of Scott's new position in connection with other changes going on on campus.
"With the launch of the new strategic plan this year, I worked with the Board of Regents to create the new position of Vice President for Equity, Inclusion and Student Success to support our vision for a comprehensive student experience that develops students who are inspired, empowered and engaged to thrive, serve and lead in an ever-changing world," Carlson said.
Under Scott's term as Dean, the Luther College Diversity Center changed its name to the Center for Intercultural Engagement and Student Success, to better reflect the objective of student engagement. Scott also served as a core member in organizing the 50th anniversary of Luther's Black Student Union during the 2018-19 academic year.
According to Board of Regents member Pete Espinosa ('81), the Board and Carlson felt confident making her a Vice President because of all the work she has put in during her time as Interim Dean.
"She operated as the interim person for a while which gave us the opportunity to get to know her and see her in our environment and see the experiences that she has and the passion and excitement that she has for this topic as well as the creativity and the connections she has with people," Espinosa said. "It has been very exciting for me to see all the Luther alums as well as the Luther community that has connected well with Lisa Scott and that has helped me get pretty excited about her being the right person for this job."
In the email announcement, Scott expressed her eagerness to do more in her new position. She hopes to build on the foundations the college has been laying out in striving for inclusive excellence.
"Student equity and success are paramount to the mission and vision of this college," Scott said. "I look forward to the essential work we will do together to create an enduring culture of inclusivity at Luther."
In the same email, Carlson expressed her excitement for Scott's new position.
"I am thrilled that Lisa Scott is assuming this new leadership role at Luther," Carlson said. "Over the past two years, she has served as a strong, invaluable senior leader at the college. In this new role, Lisa will continue to serve as a key leader in the community's work together to achieve the vision for inclusive excellence and student success the college embraced in our new strategic plan, 'Inspired. Empowered. Engaged.'"
According to Espinosa, the new job will also allow Scott to have a bigger impact on campus.
"Vice President is an important title and it means that you are a key member of the cabinet of the President," Espinosa said. "We wanted to make sure that this is a position that had a noteworthy title but also representation at the table of the senior cabinet of the president so that there is a voice at the table, so to speak, and that there is a good leadership position that is helping guide us in an important area."
Black Student Union President Asha Aden ('20) is grateful for Scott's presence and work at Luther.
"I was a part of the process to find the [Interim] Dean of Institutional Equity and Inclusion," Aden said. "I read Dean Scott's resume and I was extremely impressed with her past work … I often run into Dean Scott in the hallway or I meet with her about BSU-related issues. She has been such a great part of my Luther experience, and I am grateful and happy with every single interaction I've had with her."
Coordinator of Diversity Recruitment Josue Silva ('16) works closely with Scott, and is also excited about the potential new job offers.
"I hope Lisa continues to build off of the work she has already started and that we as an institution embrace the positive effects," Silva said. "I am proud to see Luther moving in the right direction and Lisa has been a big part of that push."
t Water To Thrive.