Vigil held to honor victims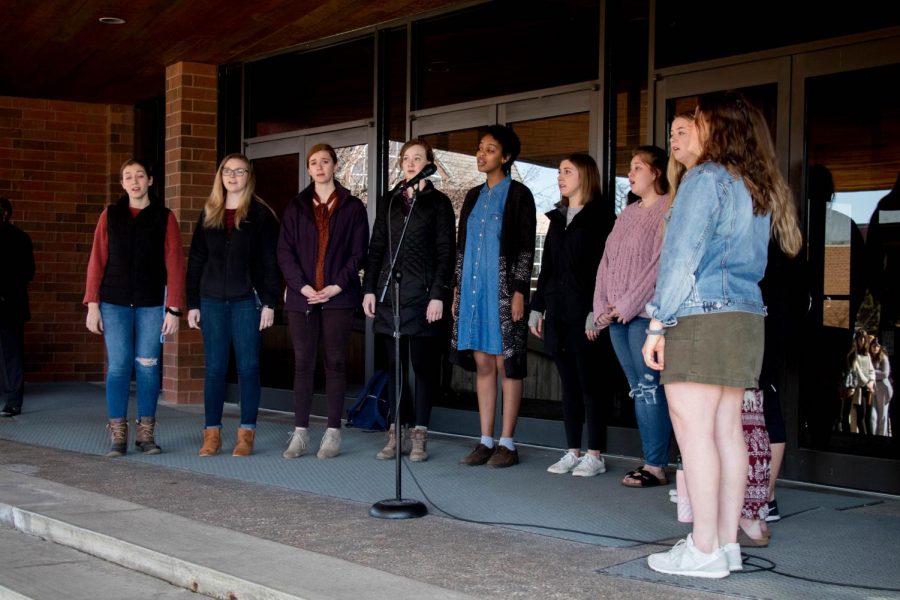 Alanna Pals, Staff Writer
April 4, 2019
Interfaith in Action organized a gathering in response to global tragedies
Interfaith in Action hosted a vigil on Thursday, March 21 at 10:15 a.m. on the front steps of the Center for Faith and Life in response to the shootings in Brazil and New Zealand, the Ethiopian plane crash, and the building collapse in Nigeria.
Students, faculty, and staff members volunteered to speak on the issues of the events and called the Luther community to action in a response to the impact of white supremacy, terrorism, and biased media coverage. A capella group Beautiful Mess sung at the beginning and end of the vigil while students passed around green ribbons that symbolized life, energy, renewal, and safety.
College Pastor Mike Blair helped organize the gathering and said that the aim of the vigil was to make sure that under- reported stories are part of the narrative.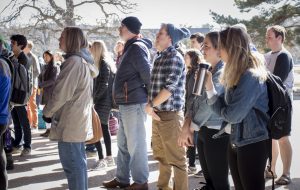 "Interfaith in Action had offered to help gather some conversation and coordinate a gathering." Blair said. "Over the last week, there have been other tragedies in the news. They wanted to be mindful of tragedies and losses of under-reporting often related to bigotry and bias that is sometimes woven into the news that we consume."
Blair also believes that people should be more aware of their actions that marginalize others and encouraged people to stand in solidarity with victims of tragedies.
"One of the ways is to be mindful of how we build and shape community every day and to be questioning ourselves about how we sometimes frame things that can, whether intended or not, have the impact of excluding others," Blair said. "Are we mindful of those who are on the margins? The first aim is to remember and to be in solidarity with people who have suffered a horrific loss and terrible evil"
After the shootings at the two mosques in New Zealand, college Pastor Anne Edison-Albright led a prayer in chapel.
"This was Friday morning when we woke up to the news of New Zealand," Edison-Albright said. "I led a prayer in chapel. We reached out right away to several groups that we thought would want to have a part in both support and input on what we might want to do as a community."
Co-president of Interfaith in Action Liz Wiebke ('19), helped put the vigil together. She said students gave their ideas to organize the vigil because they wanted to support the community.
"The reason that we like to hold visible community gatherings, vigils, is to show support for our Luther students and our Luther community that are deeply connected to some of these tragic events or that maybe are not deeply connected but are still having a hard time dealing with what to do after there is so much tragedy inthe world," Wiebke said.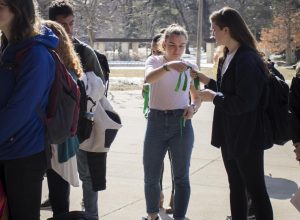 Harry Merz ('20), from New Zealand said that the shootings in his country was based on hatred and Islamophobia aimed to divide.
"It's unfortunate that we are gathered here to recognize tragedy. In Christ Church New Zealand, we suffered a terrorist attack that killed 50 innocent Muslims as they prayed. We must be sure to remember the victims [who were] innocent, good people [that were] killed. It was an Islamophobic attack. It was an attack of hatred. It should never have happened, and no one in New Zealand thought this would ever happen there. It didn't just happen out for nothing; this hatred builds up. We must tear down this hatred." Merz said.
Merz also encouraged attendees to welcome multiplicity and to stand with victims of hate crimes and other tragedies that affect communities globally.
"We must not let ourselves be divided, but instead, respect and embrace the diversity that we are gifted with. [In] Brazil there was a school shooting, in Ethiopia there was a plane crash and a building collapse in Nigeria, all tragic events leading to death and destruction. Despite hatred and tragedy, we must stay strong"
Anthony Perez Soto ('20) who spoke at the vigil, said that people are connected in an international global community.
"We are not a community where we do not express our solidarity with those who are around us even when the events do not impact us directly. We claim that we are an international and inclusive community but it is something we should aim to be on a daily basis, not only in this community, but also globally," Perez Soto said.
"The importance of expressing those sources of comfort and that solidarity, is essential in talking about those issues, calling the things by what they are, and understanding the perspective of the other person is something that can help strengthen that solidarity. We cannot afford to look away as we fail to build that community or to strengthen that community. Our comfort is with those who grieve today."
In her call to action, Ashalul Aden ('20) shared a tweet, during the gathering, from the associated press that noted the victims of the Ethiopian plane crash were listed, but that the victims from African countries were left unmentioned. She also called out the news report that covered the New Zealand shooting and called mosque that was taking place, peaceful. Aden's response showed how the media stereotypes Islamic mosques so that they can't be inheritably peaceful. The only way that someone would think to consider it peaceful is if an outsider labeled it with that adjective.
Aden asked the crowd to read, listen, or to watch the news and to be aware of who the news is talking about. She said that the adjectives that are being used to describe people and the people that are being left out are intentional.
"If we want to be better informed global citizens, we must start by holding the media accountable," Aden said. "All human beings around the world are equal and must be treated equally."
Blair also highlighted the difference in how the media reports in shootings depending on the ethnicity of the perpetrator.
"It's quick to move to the label of terrorism if the attack involves somebody that has any connection to Islam. Whereas, if it's connected to white supremacy in some way, it's almost always talked about as a lone wolf or an isolated incident. We're much less likely to talk about a threat or a movement in relationship to white supremacy," Blair said.
Attendee, Meghan Anderson ('20) said that one of the ways to prevent the news from becoming biased is to read critically and notice how the perspective of the news affects one's point of view.
"There is a lot of white supremacy in our media. I think maybe just being aware of what you're reading and noticing the rhetoric that is being used and how that can affect even your perspective and how you view the world because the media plays a big role and the way that they use rhetoric is also engrained in who you are as a person and how you speak on topics like this. I think that as long as people are being aware of what they're reading, start personally, with yourself, and the awareness of that."