Dr. Jenifer K. Ward: Luther's Incoming President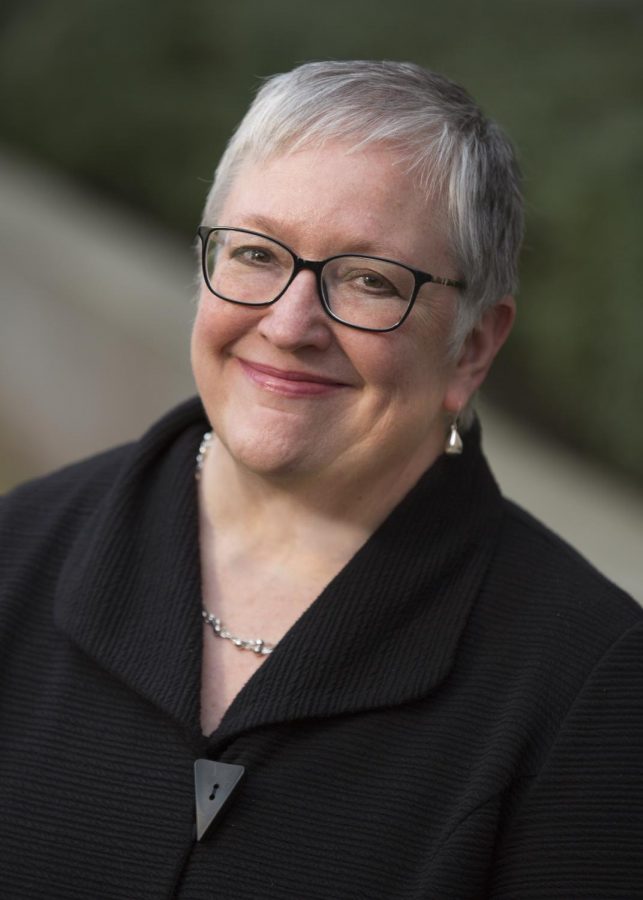 Forrest Stewart, Staff Writer
April 4, 2019
On March 18, the Board of Regents announced the unanimous election of Dr. Jenifer K. Ward, Provost and Dean of the College for Centenary College of Louisiana in Shreveport, Louisiana, as Luther College's 11th president. The decision follows a search process that has been underway throughout the 2018-2019 academic year. Ward will enter the position on July 1, 2019.
Vice chair of Luther's Board of Regents and chair of the presidential search committee Bob Paulson ('78) is enthusiastic about Ward's qualifications for the job.
"Dr. Ward is a visionary and passionate leader who has repeatedly demonstrated the ability to effectively lead transformational change with an inclusive and collaborative style that builds relationships and inspires and motivates her colleagues across campus to achieve a shared vision," Paulson said.
Ward received her bachelors' degree in 1980 from Hendrix College in her hometown of Conway, Arkansas, where she majored in German. After her time at Hendrix College, she enrolled in Vanderbilt University and received a Ph.D. in Germanic languages and literatures with a dissertation in cinema.
From 2007 to 2014, Ward worked at Cornish College of the Arts in Seattle, Washington as Associate Provost and worked as the Dean of the College from 2013-2014. After leaving Cornish, Ward began her positions at Centenary College.
She will be a president who all students can interact with and somebody who I think students will enjoy being around, hearing her stories, and just watching her be a part of this community."

-Janet Irankunda ('19)
According to her LinkedIn page, Ward's commitment throughout her career "has been to private, mission-based, non-profit institutions: small liberal arts colleges, arts colleges, artist award programs, museums, galleries, theaters, and the organizations and consortia that support them."
Paulson said that Ward's diverse past was central to her selection.
"She has an incredibly strong background of experiences," Paulson said. "And when I say experiences I mean everything from being an academic, her teaching experiences, and her many years evolving from being a professor to moving to administration."
Paulson also expressed confidence in the merit of the presidential search process and its eventual selection of Ward.
"All the different constituencies were intentionally represented on the search community," Paulson said. "Everybody had the interest of making sure that we could identify a new president who could come in and lead the college. And the fact that it was a unanimous recommendation to Regents and the fact that the Regents unanimously elected Ward is a testament both to the effectiveness with which the search committee worked and the qualifications, background, and experiences that Ward brings to this role."
Paulson added that the presidential candidate pool was very competitive.
"The search team worked extremely well together [and] our partners at Storbeck [Pimentel & Associates executive search firm] did an amazing job of helping us sort through candidates," Paulson said. "We had more than double the number of nominations and self selected applications than you often see for liberal arts colleges located in small towns. We had a very strong initial pool of candidates from which to choose and start the selection process. I feel very good about the process."
The sole student representative on the presidential search committee, Janet Irankunda ('19), was generally pleased with the search process and noted that her perspective was valued by the rest of the committee. 
"It wasn't just like 'Oh we just want the student opinion right now'," Irankunda said. "I was involved in the whole process and did everything that the other committee members did."
Irankunda noted that the responsibility of representing such a large and diverse group of students was at times overwhelming.
"It was also kind of stressful, you know? When you think about it I was representing at least 2,000 other people who currently go to Luther and then anyone who comes to Luther in the next few years," Irankunda said. "That was maybe the toughest thing but I think all the positives outweighed that."
Irankunda also highlighted the conscious steps she took in order to best represent the student body.
"The way that I start is by breaking down what Luther students look like," Irankunda said. "Having been on [student] senate was really helpful because I've had access to so many different kinds of students so it was really easy for me to pull from the experiences of some of the senators currently and also memories I have of some of the graduates senate members. I obviously looked from my perspective as a music student like 'How does this impact my life?' [but also] 'How does this impact my friends who are athletes?', 'How does this impact students who are studying abroad?', and 'How do all students want to interact with the president?'"
Chips was unable to arrange an interview with Dr. Ward until later this semester.
"As [Dr. Ward] is completing her semester at her current school, we will not be able to accommodate interviews until later this spring," Chair of the Board of Regents Wendy Davidson '92 said in an email.
Ward is, however, active on her Twitter account, @jenifer_ward, and has expressed excitement online about her upcoming role at Luther.
"An overdue but no less sincere thank you for the notes and calls congratulating me for being named the 11th President of @luthercollege," Ward said in a tweet. "[I] will savor my remaining time as Provost of @CentenaryLA and work for a smooth transition for these two great schools!"
Her Luther-related social media activity has also extended outside the academic realm. She recently tweeted about her excitement at the opportunity to expand her nature photography repertoire during walks in Decorah's natural areas and, in an interaction with @TheLutherBell1, promised to bring hot sauce and okra with her when she arrives at Luther. 
Irankunda expressed happiness about Dr. Ward's amiability and ability to engage in more lighthearted conversation.
"She's just really fun," Irankunda said. "She's not afraid to talk about Netflix and her passion for photography. She will be a president who all students can interact with and somebody who I think students will enjoy being around, hearing her stories, and just watching her be a part of this community."
Irakunda added that she thinks these attributes will help Dr. Ward meaningfully engage with students.
"I know as a student I'm more prone to listen and more prone to attend and to be a part of conversations with individuals who I know are, obviously smart and eloquent, but also who know how to let loose and chill and have fun," Irakunda said. "I think that's what won me over and I think that's one of the things students are really going to enjoy about her."
Paulson noted that she thinks Dr. Ward will be able to successfully balance preservation of culture and traditions that are important to Luther with a spirit of collaborative advocacy for necessary institutional change.
"Any time you're looking for leadership it's important that your potential leaders understand the culture and can embrace the culture and yet at the same time be very collaborative and inclusive in the process of developing solutions to challenges and leading change," Paulson said. "That's what good leaders do. They're not making decisions in a vacuum, they're building teams around what it takes to execute against a particular challenge or problem. [Dr. Ward] has demonstrated repeatedly the ability to do that."
With the selection process complete, the presidential transition committee will now start its work in earnest.
"The next step is planning the transition," Paulson said. "The transition entails a combination of giving Dr. Ward opportunities to come to campus and get to know folks this spring while she is simultaneously transitioning her responsibilities down at Centenary. And then the second part of the transition process is to celebrate Dr. Carlson's tenure and her contributions to the college. We want this to be a smooth and seamless transition: thanking Dr. Carlson for all her contributions and at the same time welcoming Dr. Ward to campus."
Paulson highlighted the importance of Dr. Ward being able to spend time on campus this spring to start meeting more of the Luther community and learning more about what lies ahead.
"Part of the transition committee's responsibility is to, across the various constituencies from students to faculty to Decorah community members to alumni, set up a transition program that will allow her to get to know the college, get to know the way the things are done and what the key priorities are as she heads into next fall's session," Paulson said. "But at the same time making sure there's an appropriate pace to all those initial conversations that she'll want to have with folks across all those constituencies."
Irakunda looks forward to watching Dr. Ward engage with the community.
"I'm super excited for her to become a part of this community—not only Luther's on-campus community but also the Decorah community and even the worldwide Luther community," Irakunda said. "I think she's going to be a president who engages so many different perspectives and engages so many different people. I think Luther is very lucky."