"Evolution"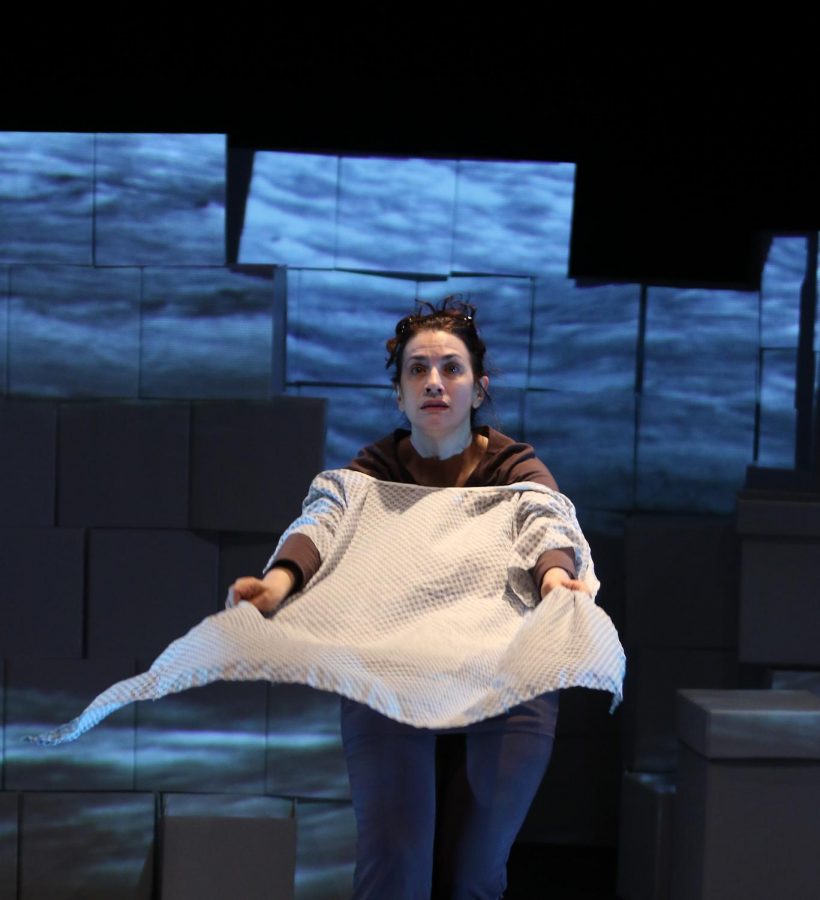 Ursula Damtse, Staff Writer
April 10, 2019
Patricia Buckley performs a one-woman show as a part of the Center Stage Series
Actor and playwright Patricia Buckley performed her solo act of "Evolution" as a part of Luther's Center Stage Series on Saturday, April 6. Approximately 125 students and members of the Decorah community gathered in the Center for Faith and Life to experience a different way of approaching discussions about mental health.
Written and performed by Buckley, a New Yorker, she played four characters. Three of them were family members — a mother and two daughters — who deal with the younger daughter Minnie's unspecified mental illness. The show opens with Minnie, who suffered a breakdown after failing to take her medication — what Buckley termed "feelgoodynol."
Buckley transitioned into the role of Minnie's warm-hearted mother, her reassuring nurse, and her self-absorbed sister Pammy. Pammy is a successful paleontologist who lectures on her whale research, which has been groundbreaking since the release of her book "Who's your Momma?" Pammy finds it necessary to visit her sister after realizing how her research on evolution is somehow related to her sister's condition.

According to Buckley, the intersection between these two topics is up to audience interpretation. Cassie Michel ('20) thought it demonstrated responses to change.
"I thought it was interesting how different people respond to change," Michel said. "The relationship between change moving forward or moving back and how both can be positive."
In an interview with "The Daily Star" in 2016, Buckley stated that one of her inspirations for Evolution was the evolution story of whales. Research states that whales first emerged on land from water only to desert the land and take refuge in water once again. Her reaction to this piece of information led her to write this performance where Minnie's illness and Pammy's research of the evolution of whales connects in one way or another. She leaves this connection up to the audience to decide.
"I think that's their business," Buckley said in an interview with "The Daily Star." "They should get what they get out of it."
Some attendees were fascinated by how Buckley was able to smoothly transition from one character to another. Garret Baumler ('20) said he found himself forgetting every character was played by a single individual.
"She did such a good job seamlessly going in between characters," Baumler said. "It was so cool."
The show's backdrop brought another unique aspect to the show. The backdrop for the entire performance was different sized white boxes. These boxes contained all the props used for the performance and served as the backdrop for her digital displays.
This effect pulled the entire show together for Baumler.
"I loved the aspects of design like how she just pulled props from all these endless boxes," Baumler said. "It was really cool to see how well it all seemed together."
Buckley is a founding member of Gams On The Lam, a theatre company based out of Syracuse, New York, which combines slapstick, satire, and dance into each performance. She was also a writer and performer with the theatre company Theatre Jeune Lune. Theatre Jeune Lune was a highly acclaimed theatre company based in Minneapolis, Minnesota and is known for their physical style of theatre.
These influences are evident in Buckley's performance of "Evolution" with its captivating soundtrack and physical activity.
The next Center Stage Series will be a performance by The Ukulele Orchestra of Great Britain on Friday, April 12.