Nikolay Suvorov brings new items to Luther's menu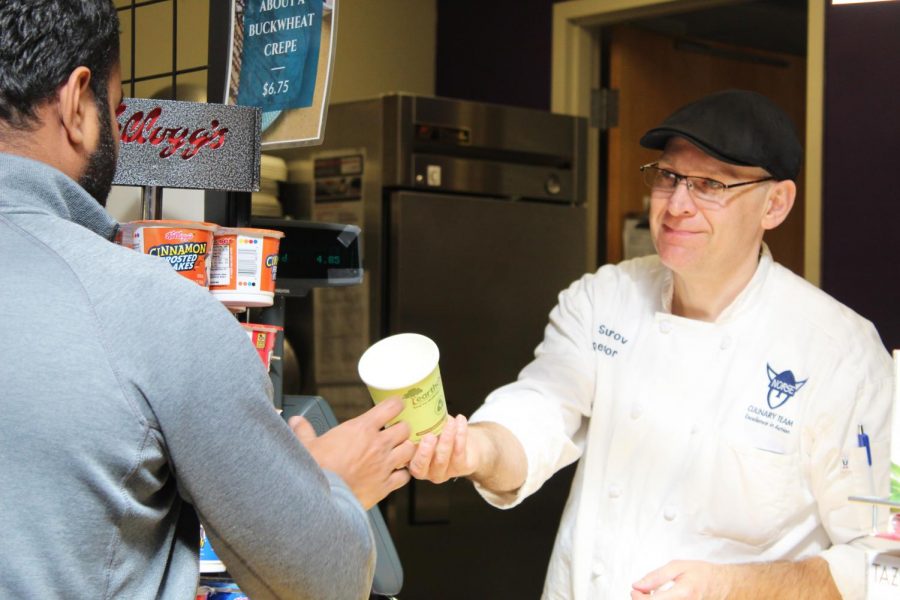 Linh Do, Staff Writer
April 10, 2019
Since arriving at Luther seven years ago, Nikolay Suvorov has impacted the food and beverage options served at places such as Sunnyside Café and Nordic Brew by adding new items to the menus. Suvorov's most popular addition to Sunnyside's menu is his crêpes and to Nordic Brew, the Moscow Fog.
Suvorov's cooking career began in Russia while studying geology at college.
"That time, all food service was closed after seven o'clock at night and students got hungry after seven, so I started cooking there," Suvorov said. "I cooked at home before, but not as much."
Before coming to Luther, Suvorov worked at a factory in the United States for ten years and was then hired by Sodexo to work at Luther. Although Suvorov does not have professional culinary training, he gained experience working at Marty's for four years and working part-time at Family Table for two years. Suvorov began to work at Sunnyside almost three years ago when he proposed the idea of making crêpes.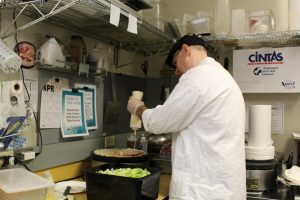 "I feel [crêpes] are a [comfort] food," Suvorov said. "When I make crêpes, sometimes they look really good, so it's like art. I feel like I'm an artist."
Dining Services Operations Manager Diane Narum ('01) thought this move was a good fit for Suvorov.
"Nik was chosen to move over to Sunnyside for multiple reasons," Narum said. "He has a great personality, a great work ethic, and a drive to always make it better. He began working for us in Marty's and was doing a great job. He showed interest in wanting more responsibility, and he suggested that doing crêpes over at Sunnyside would be a great addition. And he was right."
At Sunnyside, Suvorov makes crêpes and other food items like drinks and cinnamon rolls for students, faculty, and Decorah community members. Suvorov also gets to be creative with food and drink recipes, proposing various dishes like banana-strawberry crêpes and the crêpe dog, which is a crêpe wrapped around a banana with Nutella.
Suvorov created the Moscow Fog, which is an alternate version of a London Fog that replaces the traditional vanilla in London Fogs with honey. He encourages student workers to come up with new crêpe flavors and creative names for drinks.
"The kids create a lot of names," Suvorov said. "I like to encourage kids to be creative. I ask them what kind of crepe we should make next time and kids came up with the chicken bacon ranch crepe. If you're creative in the food industry, it's more exciting and it's fun work for the kids."
Suvorov oversees everything at Sunnyside from checking safety and inventory to managing the student workers. It was also his initiative to have student managers at Sunnyside beginning last year. Student manager Megan Johnson ('19) appreciates his positive energy.
"Nik is special because he makes going to work fun," Johnson said. "Every day is different working with him. He is always looking for something to make working more enjoyable, whether it be the playlist selection, decorating for holidays, or experimenting with coffee and crêpe recipes."
Suvorov works to create a positive environment at Sunnyside for both student employees and customers.
"You have to please customers, make sure they are happy, make sure they have fun," Suvorov said. "Some people don't want to have fun, especially in the morning, but usually I try to entertain them. That's a part of my job, I feel it so I have to make jokes a little bit, interact with people and talk with them a little bit if I feel like they want to talk with me. Most [students] are friendly and nice."
Giang Nguyen ('21) is a regular customer of Sunnyside and enjoys and interacting with Suvorov.
"I love talking to Nik," Nguyen said. "He is an amazing person with passion in food and drink. I feel his food is his soul. He takes his heart to make every drink and crêpes. So people always feel very happy and energetic when they come across Sunnyside to drink coffee and eat some crêpes."