Luther presents the first Student Directed One-Act Play Festival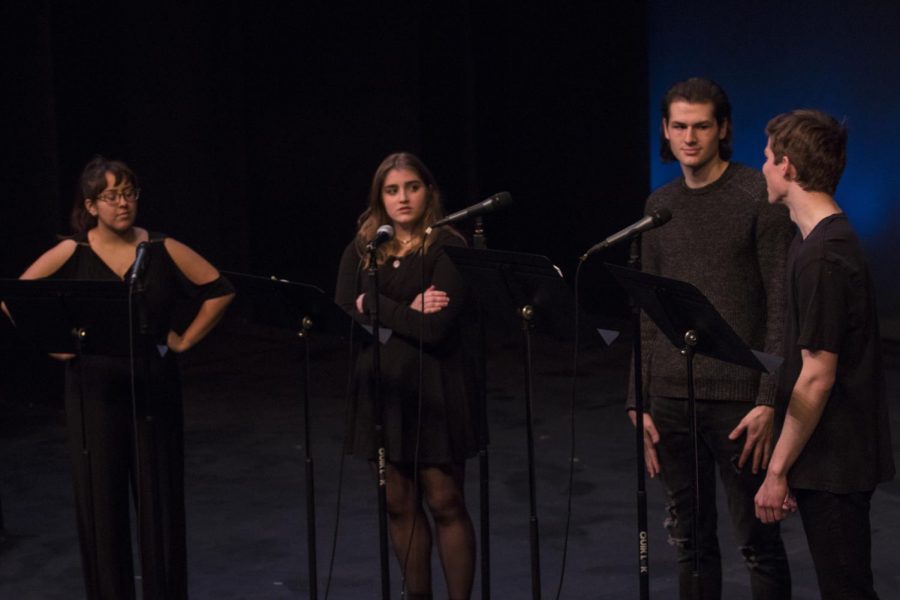 Leah Marxhausen, Staff Writer
April 10, 2019
SPIN Theatre Company and the visual and performing arts department co-sponsored Luther's first Student Directed One-Act Play Festival the weekend of Friday, April 5 through Sunday, April 7. The festival consisted of five student-directed productions.
The plays performed on Friday and Sunday were "The Giver" directed by Artistic Director of SPIN Theatre Noah Tiegs ('20), "The Man who Couldn't Dance" directed by Cleo Garza ('21), "The Last Cyclist" directed by Grace Huber ('20), and "The Summer People" directed by Sophie Nall ('22). They were presented back-to-back with 10-minute breaks in between performances.
Students, faculty, and staff attended the four-hour long event. On Saturday afternoon, the festival also presented "The Matchgirl." This show was directed by Mikaela Hanrahan ('20) and Garret Baumler ('20), was written by Matthew Espey ('19) and Andrew Tiede ('19), and the music was composed by John Kuntz ('19).
Each of the performances brought something unique to the festival, making the one-act experience much different than a stand-alone show, according to Tiegs. He highlighted that some were comedic while others were contemplative.
"There are so many different genres in this performance," Tiegs said. "If you want to laugh we got stuff for you to laugh at, if you really want to sit down and evaluate the past, we've got shows for that, we've got shows that are just fun mysteries, and we also have — especially in the musicals — shows where we can just live in this love of music that we have here on this campus."
Our cast brought such a complexity to the characters and a curiosity to learn something new about them each night."

-Mikaela Hanraham ('21)
"The Last Cyclist" is an allegory of the Holocaust, where cyclists are the primary target of mass-murder, meaning to be representative of Jewish people. This was followed by "The Summer People," which told the story of a couple who had to deal with angry locals when they decided to stay two weeks longer at their summer home. "The Man Who Couldn't Dance" explored masculine emotion through a dialogue between two past lovers. "The Giver" was adapted from the Lois Lowry novel of the same title, bringing new life to a well-known text. "The Matchgirl" showcased the work of several Luther students who adapted the larger play as a musical concert with minimal costuming and only music stands for staging.
The festival also allowed student directors to lead in ways they might not be able to throughout the rest of the year. Tiegs thought this was a unique leadership opportunity.
"I think we have somewhere over 30 actors across the five different plays," Tiegs said. "We've given an opportunity for students of all years to be able to produce this. We have first-year directors, we have sophomore directors, we have junior directors, we have senior playwrights."
Putting students in charge of these productions offered artistic freedoms for everyone involved, not just the directors. Huber thought that the festival gave a stronger voice and opportunity for the student actors to incorporate their own ideas.
"I think that the fact that I am one of their peers means that they can bring more of their own ideas to things," Huber said. "[It is] because I'm not a faculty member or a professor — and not that you feel stifled in those situations — but I think sometimes you wait for direction and you don't necessarily want to make your own choices."
Hanrahan agreed with Huber that collaboration throughout this process created strong bonds and performances.
"My favorite thing about our cast is their constant input and inquiry into their characters," Hanrahan said. "Garret and I both had our own ideas about the characters before we came in, but the actors brought new perspectives that definitely enhanced the show."
A steady audience came and went to support the festival performances, although attendee Ellie Palashewski ('22) said that she was not immediately convinced by every artistic choice in the performances.
"I thought it was well done," Palashewski said. "I think there were just a couple things that I think I would have to hear from the directors why they chose to do that."
The choices to which she was referring, such as costume changes that took place on stage in "The Last Cyclist" or the use of only music stands as staging in "The Matchgirl," were appealing to other audience members.
"I did like it a lot" Paul Priester ('22) said. "It might just be because I like anything that diverges from traditional theater. It might just be that something new feels compelling right away, but I was a big fan." 
Tiegs hopes that the Student Directed One-Act Play Festival will take place again in the coming years.
"I do think it is something that will be continued," Tiegs said. "I think that what the [visual and performing arts] department really likes is giving students that opportunity to put their own voices in their work [and] to give students the opportunity to lead — not just for resumes, but for character building. When we are put in a position where we all have to learn together, we learn all the more."