Luther hosts Interfaith forum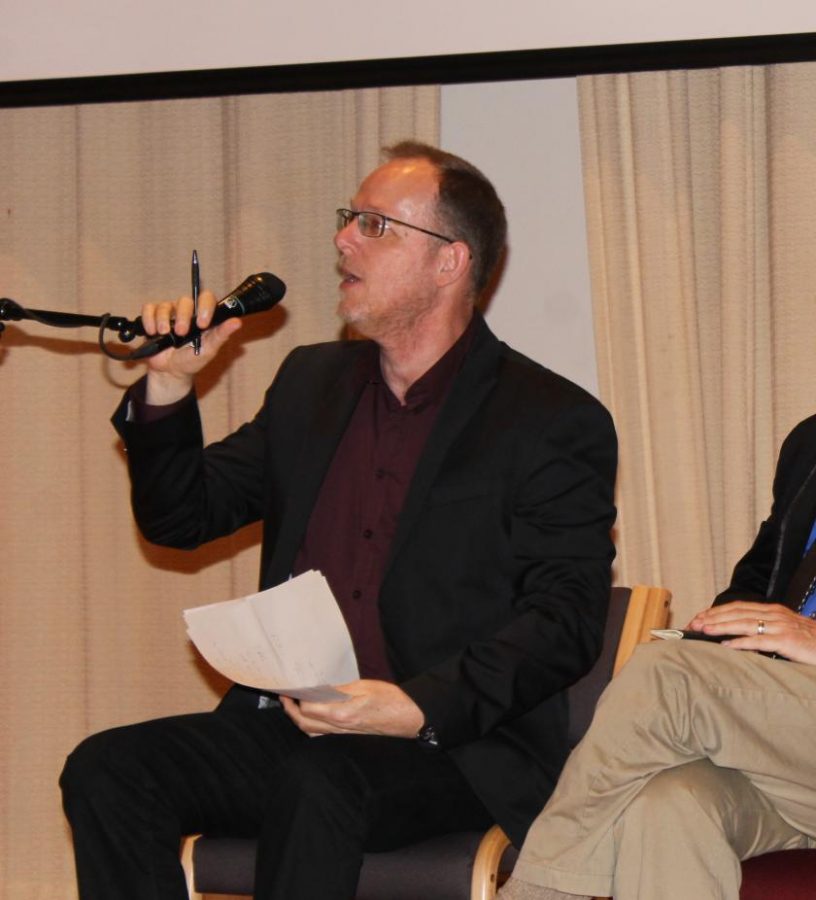 Kyle Brusco, Staff Writer
April 10, 2019
Luther College hosted an Interfaith Forum from Thursday, April 4 to Saturday, April 6. The event was a gathering of speakers, faith leaders, and students from several colleges across Iowa designed to promote collaboration and dialogue between people of different faiths. This event has been held in various colleges across Iowa in past years, including Drake University and Simpson College, but this is the first year it was at Luther.
The forum was planned by a committee led by Professor of Religion Gereon Kopf, and sponsored by the religion department, women and gender studies department, the Center for Ethics and Public Engagement, College Ministries, and The Center for Intercultural Engagement and Student Success.
"The purpose of this event is to celebrate religious diversity, to understand people from other traditions, beliefs, and those who have different practices," Kopf said. "It is hopefully going to give people different approaches to understand religious diversity. In Luther's mission statement, we not only evoke our identity but we welcome religious diversity, so it's meant to help us understand it, to learn from other people, and listen to those with other perspectives."
The event started on Thursday with a discussion from speakers who each represented a different faith. The first speaker to present was Arie Kizel, a professor from the University of Haifa in Israel. He was followed by Louis Komjathy, a professor from the University of San Diego, who brought a Daoist perspective. The final speaker was Sister Katherine Weston from St. Xenia Metochion Monastery in Indianapolis, an Eastern Orthodox worship space.
After each of these speakers discussed topics relating to interfaith dialogue and collaboration, they engaged in a discussion with members of the audience.
Friday morning, these same speakers hosted workshops about interfaith dialogues and issues specific to their areas of expertise: Kizel hosted "How to Engage Holocaust Education Outside the Jewish Domain," Komjathy hosted a talk on "Developing a Contemplative Approach to Interreligious Dialogue," and Weston hosted "Encountering the Other: Race, Faith and Culture."
College Pastor Mike Blair, who helped plan the forum, was encouraged by how many people of different faiths were participating.
"The idea is that if we work to build understanding and dialogue, that religion can be a force for good in the world," Blair said. "It's often portrayed in stereotypical ways as a source of conflict, but there are many people of good will who come from different faiths, that are looking to address human suffering and willing to collaborate for global needs. Faiths working together and becoming stronger can be a force for good in the world."
Friday afternoon there were several different faiths on display in the workshops. There was a Shamanic session with Amy Chicos, a shaman from Decorah, a zen meditation session with Laura Demuth, who is also from Decorah, and a Hindu worship with Pt. Upreti from a Hindu temple in Des Moines.
The day concluded with a special presentation called "Religious Bigotry and Interfaith Collaborations in the Midwest," led by Drake University Professor of Philosophy Timothy Knepper and Kathy Garms from the Adbelakder Education project.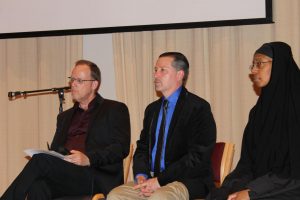 Saturday started off with three student-led panels. Students from Luther, Drake, and Simpson College led these panels, including Luther students Anila Bano ('20), Noor Bibi ('21), Vanalika Nagarwalla ('21), Cora Egherman ('19), Ben Johnson ('19), and Emily Linder ('19). Discussion topics for these panels included "Interfaith at Luther" and "The Religious Dimension of the India-Pakistan Conflict."
Johnson talked about the benefits of having these kinds of events on campus.
"I think it was helpful for students interested in interfaith to come and talk about issues that different campuses are facing and help support one another by pointing out things that different colleges have done well," Johnson said. "It is beneficial to Luther from the standpoint of learning things, and overall I think it's helpful to engage other people who are interested in interfaith."
The day concluded with two workshop forums, "Foundations of Interfaith Leadership" and "Tackling Challenging Conversations." These two events were hosted by the Interfaith Youth Core.
Associate Professor of History and Director of the Center for Ethics and Public Engagement Victoria Christman believes the diversity of these events is important to Luther.
"At Luther, we want to increase the diversity of our community, but diversity functions best when everyone involved is open to understanding the experiences and commitments of their neighbors," Christman said. "This forum is one means of moving that conversation forward and it is therefore very important to our campus."