Collegiate and Cathedral share homecoming concerts with the Luther community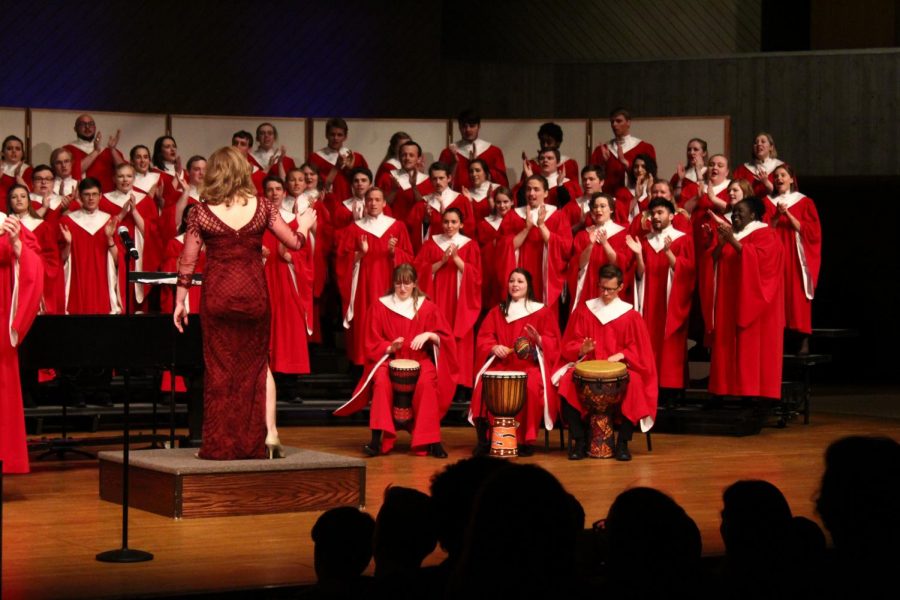 Alanna Pals, Staff Writer
April 23, 2019
Cathedral Choir and Collegiate Chorale performed homecoming concerts on Wednesday, April 10 and Thursday, April 11 to bring the music they performed on their tours to the Center for Faith and Life. Both performances presented specific themes through the repertoire choices.
Cathedral:
Cathedral Choir performed their Homecoming Concert on April 10 to wrap up their weekend tour of Wisconsin. The choir performed a concert that included four differently themed sets: "Praise and Petition;" "Adoration and Exaltation;" "Dreams, Memories, and Disorientation;" and "Faith That Abides" at 7 p.m. in the Center for Faith and Life Main Hall.
Instructor in Music Mark Potvin ('01) shared that when organizing the concert series, he did not have an all-encompasing theme in mind. With each set he had an idea of what the audience might receive. His intention with the first set of music was to showcase the Lutheran choral tradition.
"The intention of the first set was to introduce some standard Midwestern, Lutheran choral sounds," Potvin said. "The second set built on that and expanded the choir's palate and challenge[d] the audience through more modern harmonies and rhythmic patterns."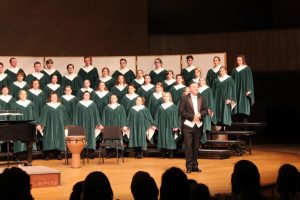 Attendee Katie Weston ('20) felt "nourished" after hearing the "Dreams, Memories, and Disorientation" set. She could feel emotions through the songs.
"Choir is this weird place where you just sort of confront all of those emotions head on, and it's okay to do that," Weston said.
For a choir that is predominately made up of sophomores, this is their first touring experience during their choir career at Luther, and the Homecoming Concert is a way for them to showcase their work with the Luther community.
Cathedral Member Kari Jacobson ('21) felt that the homecoming concert was a way for the audience to experience the moments that brought them together as a choir family.
"The homecoming concert is the culmination of all of those positive bonding moments and musical growth," Jacobson said.
Collegiate:
Collegiate Chorale finished their Minnesota tour with a Homecoming Concert in the Center for Faith and Life Main Hall at 7 p.m. on Thursday, April 11. Their concert theme was "Legacy."
Assistant Professor of Music Jennaya Robison ('96) said she was looking at the pieces they were going to sing on tour and realized that their focus was on the idea of what one wants their legacy to be.
Collegiate member Grace Huber ('20) connected to how Robison emphasized Luther's Legacy as a school that fights for social justice.
"I thought it was really interesting that Dr. Robison wanted to emphasize the legacy of Luther College as a school that wants to be at the forefront of equal rights and of human lives and rights in general," Huber said.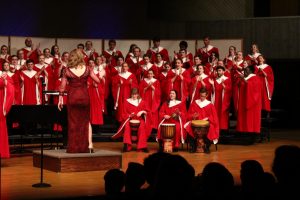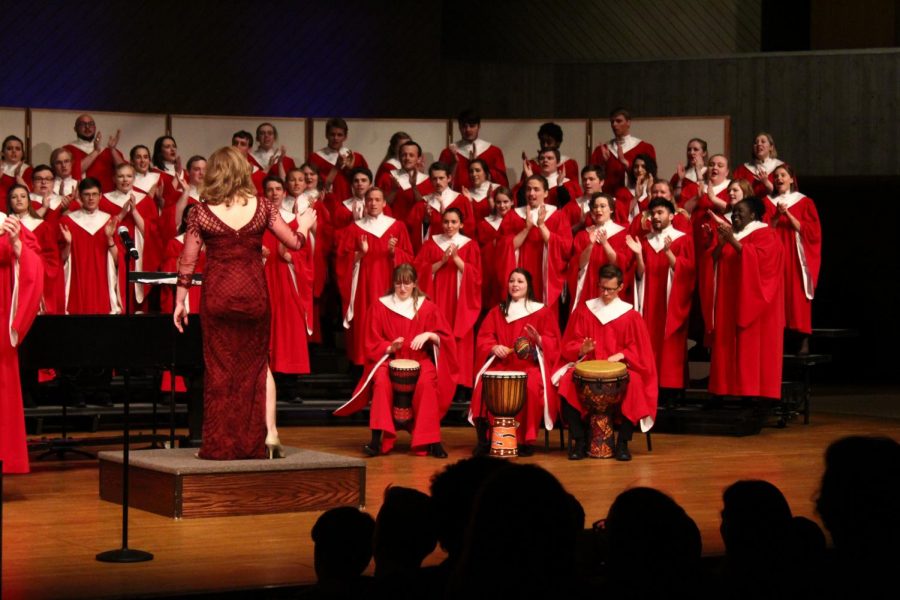 Collegiate member Lauren Eakes ('19) also thought that having a theme gave the choir direction for song preparation.
"I think it's always good if there's something for us to be intentional about with our music-making and to be able to have that reflective time and truly think about what our purpose is as individuals but also as a choir and the responsibility that we hold being at Luther and in one of the best choir programs in the country," Eakes said.
Some of the repertoire choices were not typical of a predominantly white choir, according to Anna Ruble ('20), so they had discussions on their approach to performing songs such as "Glory" or their other spirituals.
Ruble said that the discussions allowed them to listen to other choir members' perspectives and share theirs as well — each of them were given an opportunity for their voice to be heard.
Given the variety of songs that shared voices of people from all around the world and many different walks of life, Ruble felt that it gave them the opportunity to truly share their legacy.
"I think the wide variety of pieces goes to show that we want to share a big legacy," Ruble said. "Not just a legacy of your traditional Luther College choir, but a legacy of a group that fought for injustice and a legacy as a group that loved each other and loved Luther."