The Ukulele Orchestra of Great Britain visits Luther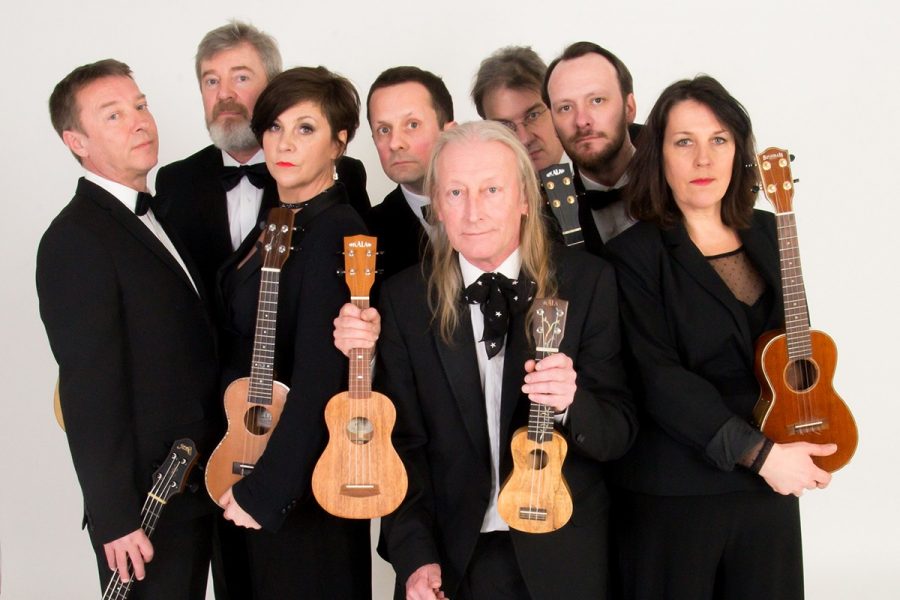 Ursula Damtse, Staff Writer
April 23, 2019
George Hinchliffe's Ukulele Orchestra of Great Britain performed in the Center for Faith and Life Main Hall on Friday, April 12 as the final Center Stage Series event.
The performance included classical music, contemporary songs, flying bananas, and laughter as the ensemble members performed an array of pieces.
Musicians Hinchliffe, Kitty Lux, Dave Suich, Jonty Bankes, Richie Williams, Hester Goodman, Will Grove-White, David Bowie, Ewan Wardrop, Ben Rouse, Peter Brooke Turner, and Leisa Rea make up the Ukulele Orchestra of Great Britain. Hinchliffe formed the orchestra in 1985 just for fun when he bought Lux a ukulele for her birthday. But dynamics changed when their first gig sold out.
"George bought Kitty a Ukulele for her birthday," Goodman said. "And they just started playing. Then they bought ukuleles for all their friends and it was just a joke really."
The orchestra played a number of songs that audience members were able to sing, dance, and clap along to. Some pieces they played were inspired by their experiences as a group, including the inside jokes they share.
After repeatedly asking for a feature, Rouse was finally given the opportunity to play his solo, which was then humorously mimicked by his colleagues' own version of the song. As Rouse played his solo, the other members sang over him. The orchestra even played pop songs like "Survivor" by Destiny's Child and "Don't Cha" by the Pussycat Dolls.
At the end of the show, the audience's applause and cheers persuaded the orchestra to play encore pieces.
Kayla Gibson ('22) said she was expecting the show to be strange since she had never heard of a ukulele orchestra.
"I didn't know they were going to cover songs from all genres," Gibson said. "I was expecting typical ukulele Hawaiian music."
The ensemble faces challenges with travelling in such a large group over an extended period of time. However, they overcome these challenges with the help of great management.
"We're quite lucky because we have Jody," Rouse said about their stage manager. "I left my iPad in the hotel the other day because I'm forgetful and Jody comes along to save the day."
One primary factor that the orchestra says is key in making their work successful is compatibility. Their relationship with each other replicates that of a family.
"We know one another quite well or a version of ourselves quite well," Rea said.
According to Performing Arts Committee President Alex Schaeffer ('20), PAC has worked throughout the school year to bring unique performances — such as the Ukulele Orchestra of Great Britain — to campus.
"In general, our whole goal of our committee is just to bring a diverse area of musical and theatrical groups to campus," Schaeffer said. "Really any way that we're able to do that and continue contributing to that environment on campus we will."
Schaeffer says they decided to bring this ensemble to Luther because they had never heard of a ukulele orchestra before.
"It's such a weird instrument to be a professional on," Schaeffer said. "But that's what makes it really cool and that's what makes people excited to see it."
This performance served as the last Center Stage Series for the 2018-19 academic year. Programing for the 2019-20 year is available in the Center for Faith and Life and on the Center Stage Series website.