Softball rallies 1-1 against Wartburg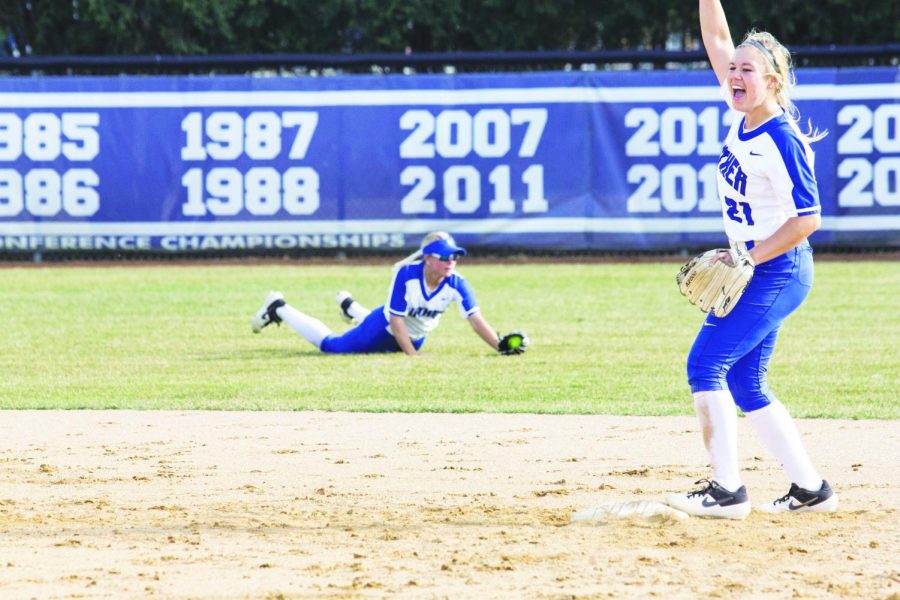 Gibby Swalley, Staff Writer
April 23, 2019
On Saturday, April 13 the Luther Softball Team played a double-header against Wartburg College resulting in a 2-1 win and a 2-5 loss. After the Wartburg games, the team now stands with a 25-4 overall record.
Every year, the American Rivers Conference is filled with talented softball teams, according to Associate Head Softball Coach Teri Olson ('05).
"This year is no exception," Olson said. "Saturday's games were a battle but I wouldn't say it was any different than playing any other team in the league. It usually comes down to getting the clutch or timely hit and we didn't get that in game two."
Third baseplayer Paige Timmerman ('20) felt similarly, that playing Wartburg was just like playing any other team.
"[Head Softball] Coach [Renae] Hartl always tells us to play our game and that's what we do, day in and day out," Timmerman said. "We trust in our practice and preparation."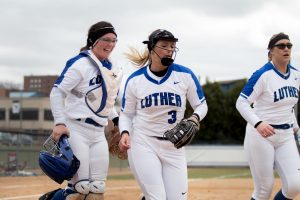 During the first game, pitcher Samantha Bratland ('19) battled Wartburg pitcher Brenna Gray for six innings until the final frame. Bratland only allowed two hits and struck out eight Wartburg Knights over seven innings. Shortstop Hannah Halverson ('21) hit her first college career home run over the left field fence in the bottom of the seventh. Outfielder Sierra Freeland ('21) followed up Halverson's run with a double, and scored the winning run of the game.
The whole team was thrilled when Halverson scored her homerun.
"One of the most exciting moments against Wartburg on Saturday was when Hannah sparked us in the bottom of the sevent inning with a home run to tie the game up," Timmerman said. "[Then] we were able to rally another run together to win the game."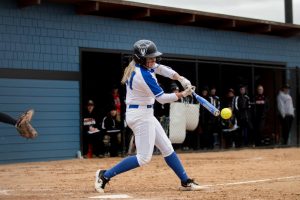 Olson has loved watching her athletes accomplish these feats.
"I wouldn't say that I have one favorite moment so far this season," Olson said. "Watching players' 'firsts' happen in a Luther uniform, [such as their] first collegiate home run, win, [or] hit can be emotional as a coach watching someone put in so much work and be rewarded on the field."
In the second game, pitcher Kendra Cooper ('22) threw the majority of the innings after her sister, pitcher Courtney Cooper ('21) pitched the first frame. Kendra Cooper allowed four runs on seven hits and struck out five Knights during six innings.
Saturday's games also recognized the seniors as part of their Senior Night, which placed some added pressure on the team. Outfielder Megan Elford ('22) said that before the games she was somewhat on edge.
"I think we did feel some pressure, not only because we were playing our school rivals, Wartburg, but also because it was Senior Night, and we all wanted to play our best for our three amazing seniors," Elford said. "We always just try [and] play our game, no matter who our opponents are."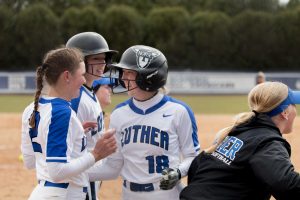 According to Elford, though the weekend ended with a win and a loss, the season has been going quite well, and the future looks bright.
"We had a great trip to Florida over spring break where we went 10-1," Elford said. "Since then [we] have been doing very well in conference play. It looks very promising for us in the post-season if we continue to get better every day and persevere as a team."
Over Easter break the team will travel to Lincoln, Nebraska and River Falls, Wisconsin to play Nebraska Wesleyan University and University of Wisconsin-River Falls before playing at home again on April 24 against University of Dubuque.