Q&A with President-elect Jenifer K. Ward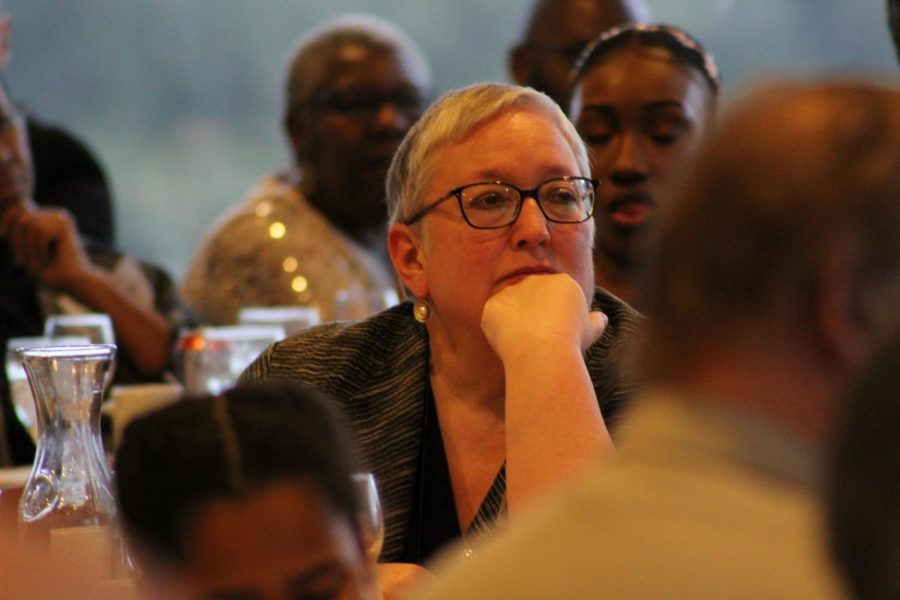 Cara Keith, Katrina Meyer, and Kelao Charmaine Neumbo
May 1, 2019
What are some goals that you have for your time at Luther?
I think that my goals for my time at Luther are to ensure that the community internally and externally is coalesced around a common path into the future. It may be that there are some changes that happen. Certainly, with any new president coming in it is a moment for reset in some ways, but it would be very important for me to ensure that whatever the important red threads through the history and mission at Luther are woven into whatever the path looks like in the future. But, they may look different because that's how adaptation works.
What do you think your strengths are that will help you in your new position?
This is going to sound like a flip answer, but it's not. I like to laugh and I like to lighten even in difficult situations. That probably serves me well and serves the communities that I lead well because I think that life is hard, decisions are hard, and the work itself is hard, so why make that even more hard by being grim and earnest?
What are you most excited about doing at Luther and in Decorah?
Today I am most excited about getting a pair of boots. I'm kidding. I used to come down to Luther when Lutheran Summer Music was here a number of years ago, and the town has really changed a lot since then in the sense that there are lots of cool little restaurants and coffee houses and things that just weren't here when I was here before. I'm really excited to explore the town and to explore what possibilities exist between Luther and the town so that Luther sees itself as grounded in a very unique place and that Decorah feels grounded in the knowledge that Luther is its college so that intersection is always present and vital.
What would you say that your greatest accomplishment at Centenary College was?
I would say that there are a series of partnerships that we have established under my leadership that have been very important. One in particular is a partnership with Louisiana State University Law School that creates a cohort program for students to come in from high school, say that they are going to be interested in law, get financial aid from the college to participate in this cohort, and then automatically go to LSU law center and also get financial aid. That's a common kind of pathway program, but the key about this is that these are for students who are interested in public interest law. So the idea is that you would, for the benefit of the state of Louisiana and for underserved communities and populations in Louisiana, you would get a leg up in financial aid and the admissions process, but you would stay in Louisiana to serve these underserved communities for a brief time, maybe not forever. Or you would commit to doing a number of hours of pro bono work in public service law. Those kinds of customized pathways that look at the mission of my current college is and how that intersects with the needs of the communities that the colleges are located in is something that I did a lot at Centenary and that I am proud of. Most recently, working with the faculty to develop a new general education program that everybody is excited about. That is enormously difficult work at any college or university, so to get that across the finish line before I left was a great source of satisfaction.
What do you think the biggest difference will be between Luther and Centenary?
Centenary is very small, so I know every single person. I can't think of a person or a part of the community or a segment of the population or an initiative or a program that I don't know intimately. I think that the scale and scope of trying to figure all that out at Luther will be a challenge. Before I was at Centenary and Cornish College in Seattle, I was at Gustavus College for many years which is similar in size to Luther, so I am familiar with that scope and scale of institution. But I was a faculty member there; I wasn't the president. I had my little area, but now I need to know all the areas and all the people. I think that is going to be a challenge, just the scope and scale.
What is the most surprising thing you have learned about Luther?
The most surprising thing that I have learned about Luther is the passion and identity of everyone I have met around being connected to Luther. The search committee will tell you that when I was being introduced to all of them at the first search committee meeting, they were all saying what their relationship was to Luther. All of the Regents for example said, "I am an alum. My spouse is an alum. My children are all alums. My parents are alums. Back 18 generations we are alums." All the way around the room, and everyone had a story about their connection to Luther. It was all very passionately presented. We got about three-quarters of the way around the room, and I said, "Is this a cult? Are you guys a cult?" After that, once it became clear that I had been named the president, I talked to a faculty member on my current campus who is an alum, and I had noticed that he wore this ring, but I didn't know what the ring was. He said, "Oh, yes. We have the ring." So that was a surprise to me. I didn't realize that. It's exciting to come into a place where people feel so passionately about it. It's also daunting to feel the weight of responsibility and accountability for a place that is so beloved by so many people.
What motivates you to want to work in higher education?
When I was a faculty member, I used to complain about administrators all the time. Part of me said that's not fair. You have some ideas about how things could work, so if you're not willing to roll up your sleeves and get in there and provide some leadership yourself, you need to sit down and shut up. And I don't do well at sitting down and shutting up.
What is your favorite aspect of Lutheran tradition?
I don't even have to think very hard about that. It's singing. Music. I took a group of students to Germany to trace Luther's footsteps for a five month program when I was at Gustavus. For the last month, we were at the Augustinian Monastery where Luther had started out. We had been participating in daily prayer with the sisters who were in residence there at the time. It was 13 students, me, and five sisters doing sung prayer four times a day in this big church. It was lovely and meditating. But at one point, this tour bus rolled up outside and it was a group from Mount Olivet Lutheran Church in the Twin Cities. They came in and the prioress, the sister, said, "Would you students lead them in a song that you all sing together in the Lutheran Church in the U.S.?" We said that we could do 'A Mighty Fortress' because you will know that as well in German. I started us off, and it was a tour bus of about 100 people, and we literally almost blew the roof off. Four part harmony. It was incredibly powerful. The sister's hair was just blown back. That reliability of group coalescing through music around mission is something that has always been very important to me in the Lutheran tradition. I think that's about how we gather. There is also a part of how we think that is important to me. That is the embrace of the notion of paradox. Of things always being in tension with each other, and the fact that things always being in tension with each other can sometimes propel you forward. That is important as well.
What are some Iowa stereotypes you have heard before?
One is that Iowa is flat and has corn. I don't see flat and corn. This is a beautiful counteracting of that stereotype just to look out this window. The fact that I am going to have an office that looks out on this view all the time, I can't even tell you how great that is.
Do you prefer deer or squirrels?
Oh man! I prefer deer. Ok now who is going to hate me? The squirrel as an animal does not offend me though.
Do you prefer burks or chacos?
Burks. But I don't love either one to be perfectly honest. One of the things that I am struggling with is that I know (and these are the kind of dilemmas that keep me up at night) that I will have to show up in grown-up clothes a lot in this role, and yet I will have to show up in grown-up clothes in snow a lot. How do I reconcile this in the shoe category? I don't know the answer to this. I'll be looking for guidance from all of you.
Who is your favorite person you follow on Instagram and Twitter?
I have both, but I don't follow a lot of celebrities on Instagram. On Twitter, there are a lot of food writers that I follow: Kim Severson of the New York Times, I always enjoy her stuff. I love Lin Manuel Miranda's tweets partly because he is my unpaid counselor. I get up in the morning and go to sleep looking at his goodmornings and goodnights. It's like, ok, this is cheap therapy. I'm supposed to say the Luther Bell, aren't I? I thought about bringing a bottle of hot sauce to leave at the foot of the Luther Bell, but I was not checking any luggage.
How do you think 'Midwest nice' differs from 'Southern hospitality'?
Well Southern hospitality is sometimes couched as "here I've made this pimento cheese sandwich for you, and I hope you enjoy it." Then will be some version of "I'm going to twist a knife in your back as I'm smiling and serving you the pimento cheese sandwich." There's an aspect of Southern hospitality that is quite genuine, but sometimes it is aligned with "as I'm doing this; I am judging you. So as I serve you the wonderful thing, you will make note of my arched eyebrow of judgement as I give it to you." That may be the same thing as 'Midwestern nice.' We're all passive-aggressive sometimes, aren't we?
What is one thing about Luther that you are most interested in learning more about?
I am interested in learning about how some of the 'stars' I see here are or are not in a 'constellation.' How do they or do they not relate to each other? And if they don't relate to each other and if there is no constellation, how do we make a constellation out of the important stars. So if you look at the music program, sustainability, athletics, Paideia, all the different things, how do we ensure that those are not singular stars but are tied up together in a constellation that people can talk about and share and elevate the identity of this institution?
Are you going to bring any customs from Louisiana to Iowa?
Yeah. No sugar in cornbread. I'm going to talk to the folks here and say "I'm sorry. You do not do that." But, no with customs, I think that, this isn't necessarily a Southern custom, but it goes back to that idea of hospitality. My hope is that there are going to be opportunities to just gather around food and song. That is very common in my family to figure out a way to have both formal and informal events that are just about gathering. Sometimes you are sharing ideas. Sometimes you are doing work. Sometimes you are battling tough issues together. But there is never an excuse to do that without making it about enjoying each other's company. Even if you are bitter, bitter enemies on an issue, you can still enjoy each other's company.
It's the 50th anniversary reunion for BSU this weekend. How do you feel about your first visit coinciding with that anniversary, and how has that shaped your view of Luther?
One of the things that I was really impressed by when I first heard about Luther, way before the presidential search, was the history of your founding as expressing an ethical stance against slavery. That was a good background. I told a lot of people that I was excited that my first actual visit to Luther was during the BSU event. One of the things that was really interesting to me is how long the history is. 50 years, that's astounding! That's really astounding. I said to someone yesterday that I was talking to the students in our BSU who were out on the big deck outside our cafeteria where student organizations set up tables to advertise. The BSU was there, and I stopped to talk to them, and I told them that I was coming up here to visit and that is was the 50th anniversary of the BSU, and they were really impressed. They said, "Will you take greetings to that BSU from us?" And I said that I absolutely would. So, the fact that I was coming this weekend, as opposed to any other weekend felt fortuitous for me.
What has been your biggest failure?
There is no giant thing where I made a decision and whole populations of people died. That kind of failure has not happened. I have had failures of recognizing the need to get people behind me in an effort that I was trying to lead. The good news is that happened early enough in my leadership career that I was able to think of it repeatedly as I moved forward. So even though it was a 'failure,' it was the source of great growth. That is often how I think about failure. It is the source of great growth. I can think of times where I was so anxious to get something done or I really needed to move something along, so I didn't do the work of getting people in line with me to advance something. So I would say that would be my example.
What is your secret sauce? What principles do you stand by? What gets you up in the morning? What enables to do the things that you have already done and the things you are doing now?
I think it is a combination of humor, integrity – I know who I am and what my values are, authenticity – I don't show up differently to different groups or say things I don't mean or make stuff up. I will say hard things that I know people don't want to hear, but I try to do it with empathy and humor.