Amy Speier gives fertility and globalized health care lecture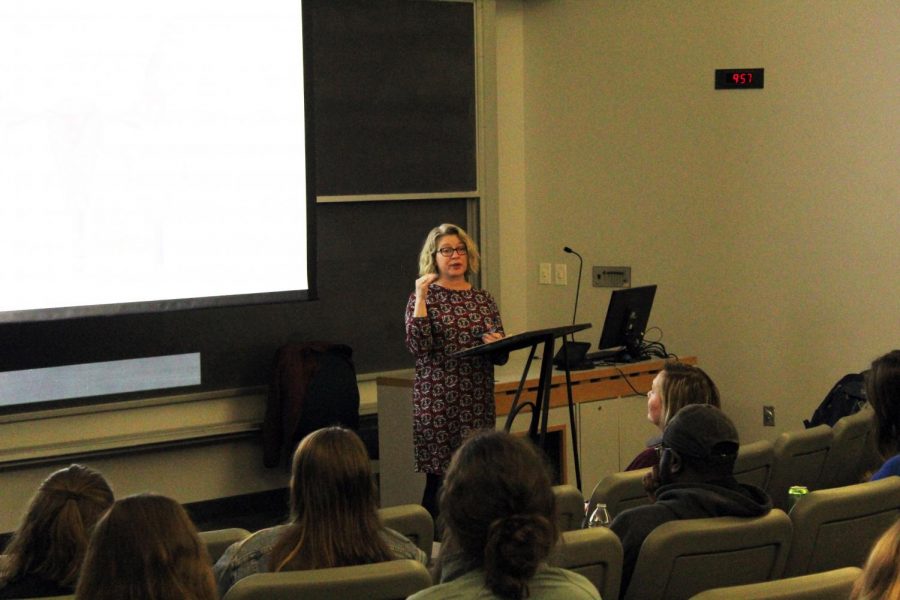 Linh Do, Staff Writer
May 1, 2019
Medical anthropologist and Associate Professor of Sociology and Anthropology at the University of Texas at Arlington Amy Speier gave a lecture titled "Fertility Holidays: Global Journeys of Family Formation" on April 18 in Olin 102.
Speier's lecture summarized the findings of her research published in 2016 in her book "Fertility Holidays: IVF Tourism and the Reproduction of Whiteness." In the lecture, she explored why many U.S. and Canadian couples traveled to the Czech Republic for in vitro fertilization treatment — the process of medically fertilizing eggs outside of the body — and how Czech clinics successfully framed this treatment as vacations or a type of medical tourism. Speier argued that this framing created a lot of contradictions for the patients.
Speier's research motivation was grounded in her background studying anthropology and her interest in examining health services in Central Europe.
"I like medical anthropology because it talks about the way that culture intersects with ideas about health and illness and the way that we should treat illness," Speier said. "A lot of North Americans, I think, are drawn to socialist countries because of the universal healthcare."
Associate Professor of Anthropology and Women and Gender Studies Maryna Bazylevych uses Speier's book in her class "Gender, Health & Medicine" and invited Amy Speier to give this lecture as a chance for students in her Women and Gender Studies class on Gender, Health, and Medicine and the public to learn more about the notion of reproductive justice — people's ability to exercise basic rights that pertain to their health and bodies. More than 40 students attended the lecture.
Bazylevych, who is from Ukraine, also thinks it is noteworthy for the lecture to address different aspects of health from a more global perspective.
"[It is important to know] where medical expertise or medical therapeutic centers originate because we often think only of North America or Western Europe," Bazylevych said. "But in fact, there are really amazing centers of biomedical expertise all over the world, like the Czech Republic and many other places."
Speier pointed out in her lecture that infertility actually affected about 10 percent of the reproductive age population, and due to different social pressures, couples felt compelled to not give up on having children. However, according to Speier, treatment practices and pricing in the U.S. are huge constraints. IVF can result in a total cost of up to $55,000 for couples, who often feel a lack of support during the process in the U.S.
"As they reach the end of their [reproductive] possibility in the United States, [couples] feel disillusioned, they feel like they have been treated like a number," Speier said. "This means that they haven't felt cared for. They feel like they reach the end of hope."
Speier also discussed how Canadians and U.S. citizens turned to global health service. She explained the role of IVF brokers, which are companies that originated in the U.S. that connect patients with Czech clinics.
"Brokers … market their services as easing couples' stress while traveling abroad, and they do a lot of the work," Speier said. "It's clear that IVF brokers frame reproductive travel as the vacation, and they are posing as travel agents. They claim to offer patients not only a more affordable but also less stressful IVF treatment. The idea is that the money that you spend on IVF is not wasted because you are going for a vacation."
According to Speier, this is not a positive system. IVF brokers promote this less stressful treatment to be more likely to succeed than it actually is. They also promise better care with the highest standard of reproductive technology. These factors serve as the motivations for people to go to the Czech Republic for infertility treatment. However, Speier believes that patients cannot enjoy a "vacation" while also undergoing stressful treatment.
"Women are trying to embody positive thinking, they are trying to take a holiday, but there is a clear moment in their trips when this holiday gets interrupted," Speier said.
Speier concluded that the clinics manipulate this idea of positive thinking and hard work to turn a profit, which creates a layer of contradiction in this type of medical treatment consumption.
"I find this [practice] aggressively self-promoting," Speier said.
Becca Buse ('19) enjoyed how the lecture contrasted the U.S. medical system with international alternatives.
"As an International Studies major, I have been intrigued by 'Fertility Holidays' [but] knew nothing about IVF abroad," Buse said. "It is extremely expensive to try a cycle of IVF in the U.S., and most couples are not privileged enough to afford it. Therefore, with options of going abroad, it raises the hopes of lower-middle-class couples."