Black Student Union celebrates anniversary with alumni reunion weekend
Ursula Damtse, Staff Writer
May 1, 2019
On Thursday, April 25 through, Sunday, April, 28, Luther's Black Student Union held a 50th anniversary celebration. The weekend was packed with a variety of events where alums, students, faculty, and staff came together to celebrate BSU's 50th year.
To kick the entire weekend off hematologist and oncologist Barbara Fuller ('72) presented a biology colloquium in Valders 206 on Thursday, April 25. This was followed by the Don Kemp Memorial Lecture by social worker, playwright, and poet, Maxie Jones Rockymore ('82) in Shirley Baker Commons.
On Friday, April 26, Sam Simataa ('13) delivered a chapel talk and performed with the Luther College Gospel Chior. This was followed with a book signing in the book shop by W.D. Foster-Graham ('74) author of a series of books titled "Mark My Words: A Christopher Family Novel."
Friday ended with an opening reception held in Shirley Baker Commons. This interaction was continued at The Cellar downtown.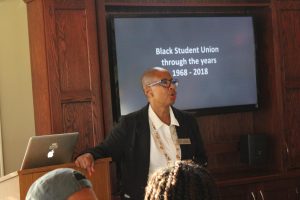 According to Professor of Religion Guy Nave, these open interactions foster relationships among current students and alums.
"One of the things we really want to do is to foster relationships," Nave said. "To foster those networks in ways that current students recognize that there are others that have come through here before them and have experienced what they're experiencing. There are alums who are available and willing to be of assistance, in whatever ways that assistance may take."
Saturday, April 27, began with a breakfast held in the Mott and Borlaug rooms. Alums, along with staff and faculty members, engaged in conversations concerned with how they were going to make BSU better.
Assistant Professor of Africana Studies and History Kelly Sharp who introduced the student presentations believes that the conversations alums had explored how they can repair relationships with the institution.
"I think part of this reunion is to explore a Black alums association and to look at how Luther can not only repair relationships with Black alums but strengthen future relationships and really make sure that Black alums feel equally valued and connected to this place," Sharp said.
Alums, students, faculty and staff gathered  in Valders 206 for a panel discussion held by the founding members of BSU and the current BSU president on Saturday, April 27. Before the panel began, Maya Makamuri ('22), Rebekah Lazzeroni ('22), Samson Masanga ('20), Diamond Jenkins ('19), and Meron Abebe ('22) put on a musical and poetic performance that garnered a standing ovation.
In the panel discussion Lorenzo Creighton ('75), Byron Dean, Jr. ('71), Fuller, Margaret (Lane) Herz-Lane ('69), and Will Williamson ('71) answered questions about why they started BSU and what earlier years of BSU were like. Former 2017-2018 BSU president, Harleigh Boldridge ('18) who was also seated on the panel, provided a perspective on modern BSU practices. They spoke on topics from institutional support to the reactions of other students on campus.
After the panel discussion, there was a screening of "Agents of Change," the third screening this year. "Agents of Change" is a documentary that explores the protest which took place at Cornell University and San Francisco State College. Both protests were in relation to racist acts which occurred at the institutions.
Co-Producer Frank Dawson — a first-year at the time of the Cornell protest — was present at the screening to answer questions and give insight as to what went into making the movie. He explained how at this period in time, he was afraid of the consequences but felt empowered to ask for change.
Later on Saturday, Janet Irankunda ('19), Fadzai Teramayi ('19), Tiwonge Chirwa ('19), Hawi Nyiera ('20), Darnelle Lyng ('20), Asha Aden ('20), and Siyabonga Mabuza ('22) presented research they had done over the summer and during the academic year.
Each student was given 15 minutes to present their findings on research that ranged from the impact of Michael Jordan on culture today to the danger of sinkholes in Decorah's topography. Mabuza said his research was aimed at showing how hip-hop music from today and the past is similar.
"What I tried to do in this presentation was show the importance of music culture," said Mabuza."How timeless music is, how we are inspired by artists from the past, and how what we do now can possibly inspire future generations."
Saturday ended with a gala dinner held in Peace Dining Hall. At the gala dinner, Kojo Amoo-Gottfried ('98) was presented with the distinguished service award for his work in Ghana, the Netherlands, and in the U.S. relating to farming and cocoa.
Also at the dinner, Interim Dean for Institutional Equity and Inclusion Lisa Scott said students of color would not have made it at Luther without the efforts of the BSU alums. After the dinner, the dance floor opened up and alums, students, faculty, and staff celebrated with each other.
The weekend  ended with a church service in the Center for Faith and Life Main Hall at 10 a.m. on Sunday morning. Herz-Lane, a pastor at St. Luke Lutheran Church in Baltimore preached at the service, accompanied by the Gospel Choir.