Special Focus: Profile on Guy Nave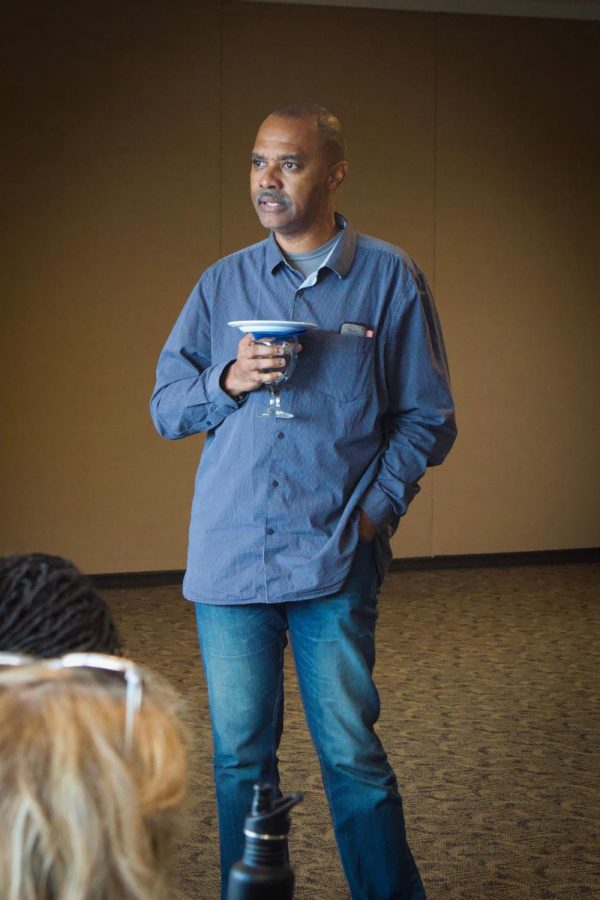 Alanna Pals, Staff Writer
May 1, 2019
Professor of Religion Guy Nave plays several roles on campus. Many students like Harleigh Boldridge ('18) learning about other aspects of Nave.
"He's got this whole life set up, and he's not just Guy Nave, radical professor and defender of the people, he's also a father, he's a husband, and he's a pet owner, he's an outdoorsman," Boldridge said. "He just really does it all."
Nave received his undergraduate degree in psychology from Oral Roberts University in Tulsa, Oklahoma. He went on to receive his master's degree from Princeton University, and his Ph.D. from Yale University. It was not until a professor at Princeton prompted him to pursue a Ph.D. that he decided to apply to doctorate programs and actually began considering Religion as an option for his career.
Nave lived most of his adult life on the East Coast while serving as an adjunct professor, teaching a few courses at Yale and doing church work the rest of the time.
When his daughter was born, his family made the decision to move to the Midwest. He thought that the only way to be able to move was to seriously look for full-time teaching positions.
Nave came to Luther in 2001 and  quickly became the Black Student Union's faculty advisor. He chose Luther because he felt like he could make the most significant contribution here.
Having found a supportive and encouraging community, Nave wanted his classroom to have the same supportive feel.
"I have stayed at Luther because I have enjoyed the academic freedom afforded me to teach what I am passionate about," Nave said. "I have also enjoyed the relationships I have been able to develop with students and faculty colleagues."
Professor of Africana Studies and English Novian Whitsitt also values the relationship he shares with Nave. They have taught together through the 18 years Nave has been at Luther through a  number of courses.
"We have a great professional relationship," Whitsitt said. "We enjoy working with each other and putting together courses and teaching together as well. We're also sort of tight on a personal level, being one of the few professors of color and, more specifically, Black American professors, there's more of a natural reason for us to meet and bond."
Through these relationships and others formed with students and faculty at Luther, Whitsitt said Nave is using his work to impact campus life.
"He is holding communities accountable for social justice," Whitsitt said. "Activism is just a part of who he is as a person."
Nave grew up in Indiana where his father used to make him get up early in the morning to remove burning crosses from their front yard. Nave contributes these memories to his focus on racial equity and inclusion.
"After moving into an all-white neighborhood at the age of  7 years old, I used to get up every morning at 3 or 4 a.m. to remove burning crosses off our front lawn so that mother would not see them when she woke up," Nave said. "Most of my childhood was spent advocating and fighting for racial justice, and all of my adult life has been committed to activism."
Students who are a part of BSU get to witness the impact he has on his students and Luther as a whole. Asha Aden ('20) said, that because of him, so many students have realized the power and potential they hold. Aden attributes all of the events and the planning for BSU's 50th anniversary to Nave, his vision, and a committee of staff and students.
"This year, Guy Nave and a committee put together the events to celebrate the 50th anniversary of Black Student Union," Aden said.  "All the events this year would not have been possible without him and his vision."