Barbara Fuller ('72) delivers biology colloquium
Practicing hematologist-oncologist, founding member of the Luther College Black Student Union, and current member of the Board of Regents, Barbara Fuller ('72), visited campus to deliver a lecture titled "A Calling to Serve" on Thursday, April 25
Fuller discussed the environmental risks and lifestyle habits of the modern-day world that increase the possibility for genetic mutations that may lead to the development of cancer. She touched on emerging treatments for the disease and preventative measures that can be taken to avoid illness, such as an increased intake of calcium and vitamin D.
Fuller, originally from Texas, currently practices at Northwest Oncology located in northwest Indiana. She was asked to speak on behalf of the biology department during the alumni weekend in honor of the BSU's 50th Anniversary, a celebration on campus taking place throughout this academic year. 
Emeritus Professor of Biology Phil Reitan, and Fuller's former advisor at Luther, hosted Fuller during her stay in Decorah.
According to Reitan, Fuller was involved in an intramural field hockey team and was devoted to her studies during her time at Luther. Reitan made sure to attend her graduation from Rush Medical School, where she graduated at the top of her class.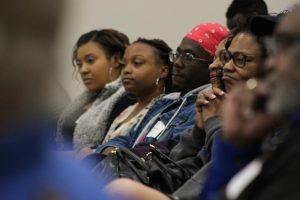 "[Fuller] was a very serious student [who] stuck with her studies," Reitan said.
Reitan remembers her determined nature, and applauded her ability to make the most of her studies and the resources available at Luther. Her originality and her independent disposition especially stood out to Reitan.
Fuller's research means more to her than a job. She believes that it involves a sense of purpose.
"My perspective of what I do is [that it is] not a job, it is a calling," Fuller said. "It's something that I do everyday. Although this is not a chapel talk, it does involve faith, because as a doctor you have to depend on others to help you along the way, to enrich your knowledge, and to help your patients."
Fuller also learned many things from her involvement with BSU such as the fact that all people are genetically the same, but programmed differently.
"Sometimes people see color before they see the person," Fuller said. "In my practice I take care of everyone, and I find that they don't care about my race so much as [they care about my] qualifications and my ability to help."
Fuller also mentioned that, although judgements based on race certainly happen in the modern world, they cannot be the thing that defines people. She mentioned that the presence of the BSU was instrumental in helping her overcome this during her time at Luther.
Fuller attributes her ability to overcome life's obstacles, to her experiences at Luther.
"A lot of things need to change," Fuller said. "That is true at Luther and true for the world at large, but I think the one thing that being a student at Luther provided for me, as an African-American, was the confidence that I needed to go forth in the world and succeed at anything I wanted to succeed in. I didn't have to be stifled by my origin. Luther was real life, and real life is a learning experience everyday."